William Shatner, 90, Becomes Oldest Man in Space
He boldly went where no nonagenarian had gone before.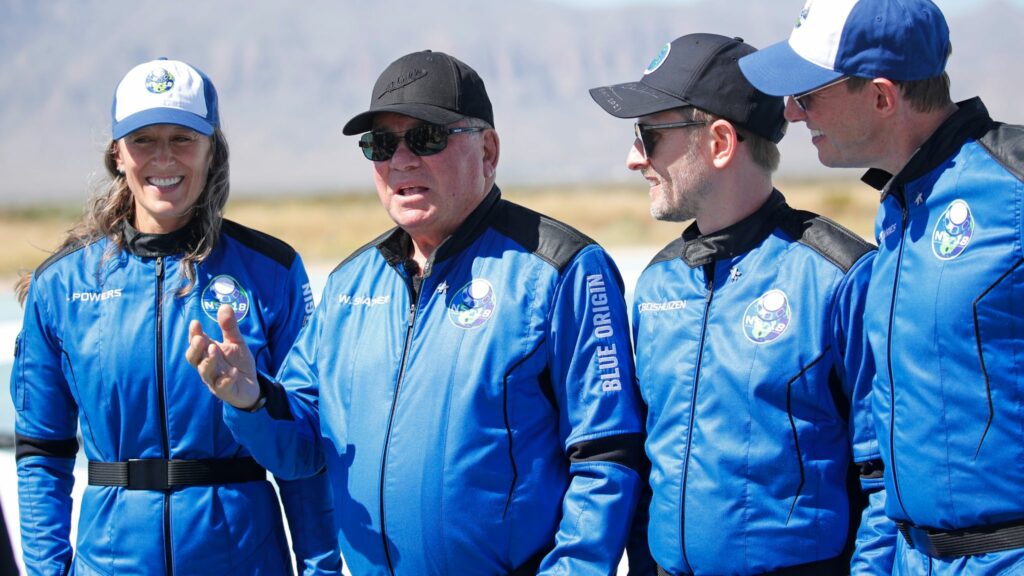 WaPo ("William Shatner, Star Trek's Capt. Kirk, flies to space and back, adding to this year's number of civilian astronauts"):
William Shatner, who as Capt. James T. Kirk on the TV series "Star Trek" flew in the USS Enterprise around the galaxy, on Wednesday reached the edge of space on a more modest quest and on a far less capable spacecraft — but on a mission that had the distinct advantage of being real.

Shatner and three other passengers lifted off at 10:49 a.m. Eastern time from a launch site in West Texas owned and operated by Jeff Bezos's Blue Origin space company. The launch was the venture's second human spaceflight mission, and it came three months after Bezos himself flew to space on his company's New Shepard rocket.

Lasting just more than 10 minutes, the autonomous vehicle, named for Alan Shepard, the first American to reach space, climbed to a height of about 66 miles, four miles beyond one measurement of what is generally considered the edge of space. Aloft and free-floating above the Earth, the crew took in views of the planet below and the dark skies beyond while they experienced weightlessness for a few minutes.

The capsule then touched down under parachutes in the desert as the company celebrated what appeared to be another successful mission. Shatner, 90, became the oldest person to have visited space.
The actor waxed poetic about the experience:
After the mission, an emotional and philosophical Shatner rhapsodized about the experience to Bezos, who greeted the crew at the landing site and opened the spacecraft's hatch. (Bezos owns The Washington Post.)

Shatner compared tearing through the blue sky on the rocket to whipping a comfortable blanket off in the morning. "And you're staring into blackness," he said. "That's the thing."

The line of the atmosphere, "which is keeping us alive, is thinner than your skin," he said. "It's a sliver. It's immeasurably small when you think in terms of the universe."

The contrast of the bright colorful Earth and the inky vastness above was a metaphor for life and death, he said. "What you have given me is the most profound experience I can imagine," he told Bezos. "I'm so filled with emotion about what just happened. It's extraordinary. I hope I never recover from this. I hope I maintain what I feel now. I don't want to lose it."
Which contrasts with the reality that what is now extraordinary could soon become routine:
The launch became part of a historic year in which the number of private astronauts who have reached space outnumber those sent to space by NASA, the start of a new dynamic that is beginning to open up space to ordinary people.

Shatner's flight was the sixth human spaceflight mission this year carrying civilian astronauts who have not received government training. Earlier this year, Richard Branson's Virgin Galactic flew its space plane to the edge of space twice — once in May with a pair of pilots, and a second in July with Branson himself, three other passengers and two pilots.

Less than two weeks after Branson's flight, Blue Origin flew Bezos and three others to the edge of space. Last month, Elon Musk's SpaceX flew the Inspiration4 mission, which carried a crew of four amateur astronauts into orbit, where they stayed for three days inside the Dragon spacecraft.

And earlier this month, Russian actress Yulia Peresild and producer-director Klim Shipenko lifted off on a Russian rocket to shoot scenes for a film while aboard the International Space Station.

If all goes to plan, there could be as many as nine flights this year with amateur astronauts on board. Virgin Galactic has said it's planning one more, as is Blue Origin, and Japanese billionaire Yusaku Maezawa and an assistant — who would document the flight — are scheduled to fly on the Russian Soyuz to the ISS. (More private astronaut missions are scheduled for next year, and Axiom Space plans to fly a crew of four to the ISS on a SpaceX rocket.)
Obviously, this is an experience currently reserved for those who are rich, famous, and connected. But that was true in the earliest days of airplane travel. It went from a daring invention in 1909 to the stuff of adventure fantasy in the 1910s to a weapon of war and something available to the middle class in the 1920s.
It's doubtful that space travel will become as ubiquitous as commercial aviation, simply because there's less obvious utility.