Women in Combat: Changing Rules for the Wrong Reasons?
It may be time to change rules keeping women out of combat roles. But "fairness" isn't the right question.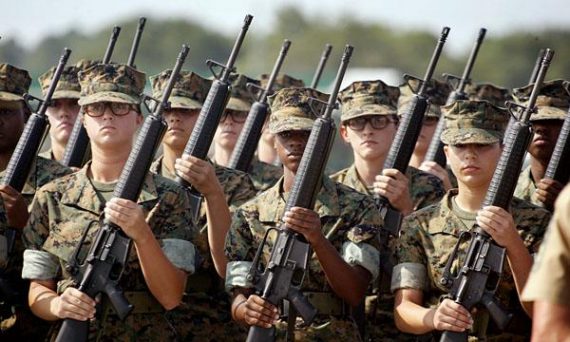 An Army Times piece which asks "A woman's place — in combat?" undermines its case in the subhead: "Rules that limit female soldiers' careers likely to change."
The story begins with an irrelevant anecdote about a female Army lieutenant in the Engineer branch and then states:
Despite her accomplishments and her West Point pedigree, under today's rules Gourley will always be a second-class combatant.

While the Army has long encouraged soldiers to "be all that you can be," it has institutionally prevented women from reaching new heights as it restricts the career fields in which they can serve — namely, the combat arms community and direct-contact units.

Those restrictions seem destined to change as military and congressional leaders give careful consideration to softening — if not eliminating — combat exclusion rules. "I'm confident that this is an area that is going to change," Defense Secretary Robert Gates said during an April 7 visit to the U.S. Division Center Camp Liberty in Baghdad. "Time scale of the change, I have no idea."

[…]

The Military Leadership Diversity Council and the Defense Department Advisory Committee on Women in the Service in the past month have submitted reports that call for an end to combat exclusion rules. The reports say these "unnecessary barriers" are detrimental to the careers of women serving in uniform, prevent deployed women from getting necessary combat training and keep capable and qualified women from contributing to the strength of these units.

The Army opened most jobs to women more than a decade ago. But combat-exclusion policies still prohibit women from serving in certain tactical and operational career fields, such as infantry and armor. Today, 9 percent of Army and 8 percent of Marine Corps occupations are closed to women. In comparison, 6 percent of Navy, 1 percent of Air Force and no Coast Guard occupations are closed to women.

Women serving in the remaining career fields often lose key assignments because they can't be assigned to the units or jobs most likely to see direct offensive ground combat. When this restriction is added to the mix, only 70 percent of Army positions and 62 percent of Marine Corps positions are open to women, according to the Military Leadership Diversity Commission's March 15 report, "From Representation to Inclusion: Diversity Leadership for the 21st-Century Military."

These lost opportunities have a lasting effect. Today, 80 percent of general officers come from the tactical and operational career fields that are closed to women. Just one female soldier was selected for brigadier general in 2010, out of 100 military officiers chosen in all the services. Only 24 of the Army's 403 general officers — or 6 percent — are female, though women represent roughly 15 percent of the force.
I'm open to the notion that modern combat has rendered old distinctions meaningless. The "front line" is increasingly an irrelevant concept; women in Iraq and Afghanistan came under enemy fire all the time. Modern technologies have, in many cases, rendered strength differences moot. And our culture has changed such that the notion of taking orders from women is no longer novel. But the issue in terms of career path "fairness" is relevant only insofar as these issues are addressed.
Can today's women carry a 130-pound ruck for twenty miles? Or are they still like the women I trained with in ROTC, who were an additional burden on the men in the unit because they quite literally couldn't carry their own weight? Or is it that, in modern combat, infantrymen no longer carry heavy objects?
Twenty years ago, Pat Schroeder and other feminists talked about push-button wars and wondered why women couldn't serve as equals. But those making such statements hadn't the first clue about actual field service. There was no reason at all a woman couldn't have served as an MLRS crewman in my platoon–at least, insofar as the duties were limited to driving the vehicle, operating the targeting system, and firing rounds down range. Indeed, the cramped cabin was more suited for smaller soldiers.
Alas, pushing buttons and operating electronic equipment wasn't the totality of the job description. A large part of a 13M's day was spent doing maintenance on the vehicle. That not infrequently involved lifting very heavy parts or the back-breaking work of replacing treads on the launcher. Are there women with the brute strength to do that? Sure. But their number is vanishingly small.
If we've invented self-changing treads and self-lifting vehicle parts over the last two decades, I've missed the news.
Perhaps the more interesting question is: Does one have to have served as an infantry platoon leader to command an infantry brigade or division? I don't know the answer to that, but it's not an obvious Yes. Why can't a woman who successfully led military police, engineer, or intelligence units at the platoon and company level go on to command a combat arms battalion? It's all one combined arms team, after all. Would she really have that much trouble commanding the respect of grunts?
These are important issues. It makes no sense to systematically exclude a large portion of the force from an opportunity to compete for senior leadership positions based on outdated notions of gender roles. But we need to first make sure that the notions actually are obsolete.
via Crispin Burke