Does The Army Still Have a Race Problem?
The Army brass is worried about its diversity in critical mid-level posts.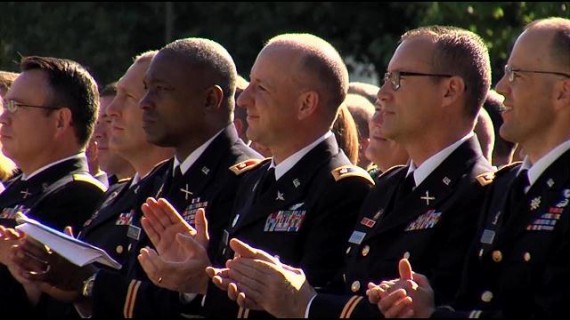 The Army has long been a trailblazer in opening doors for African Americans. Benjamin O. Davis became the first black general officer way back in 1940, commanding all-black units. Harry Truman integrated the force in 1948, years before the Supreme Court ordered the integration of the public schools and nearly two decades before the Civil Rights Act of 1965. Colin Powell was the Chairman of the Joint Chiefs of Staff, the top officer in all the US armed forces, a quarter century ago.
Yet, as Tom Vanden Brook, reports for USA Today, none of the Army's 25 infantry, armor, or artillery brigades and only three of its 80 infantry, armor, or artillery battalions is today commanded by a black officer.  For 2015, those numbers will be two of 25 and one of 78, respectively. This "threatens the Army's effectiveness, disconnects it from American society and deprives black officers of the principal route to top Army posts, according to officers and military sociologists. Fewer than 10% of the active-duty Army's officers are black compared with 18% of its enlisted men, according to the Army."
Brigadier General Ronald Lewis, the Army's chief of public affairs (and a classmate of mine at West Point) tells Vanden Brook "The issue exists. The leadership is aware of it." Lewis, an African American, is an aviation branch officer (a helicopter pilot) who has commanded at the battalion and brigade levels. He says that, "The leadership does have an action plan in place. And it's complicated." It includes expanding the pool of black officers and helping them make career choices conducive to attaining high rank.
While the snapshot of brigade and battalion commanders in the three traditional combat arms branches is stark, it's not clear that it's a bellwether. After all, as Vanden Brook notes, there are currently three black four-star generals in the Army: Lloyd Austin commands Central Command, Vincent Brooks leads U.S. Army Pacific, and Dennis Via runs Army  Materiel Command. There are only 14 four-star generals in the entire Army.
Still, Colonel Irving Smith, director of sociology at West Point and himself a black Infantry officer, contends, "It certainly is a problem for several reasons. First we are a public institution. And as a public institution we certainly have more of a responsibility to our nation than a private company to reflect it. In order to maintain their trust and confidence, the people of America need to know that the Army is not only effective but representative of them."
Colonel Ron Clark, also an African American infantryman who has commanded through brigade level, adds, "If you don't command at the (lieutenant colonel) level, you're not going to command at (the colonel level). If you don't command at the (colonel) level, you're not going to be a general officer."
That's true, at least in the combat arms branches. But, again, the Army currently has three black four-stars. And one if them came up the logistics path, not from infantry, armor, or artillery. Lewis, who is one of very few general officers from the 1988 year group (the vast majority have either retired or are still colonels) comes from the aviation branch—which is also a combat arm.
Focusing only on the three traditional combat arms branches while ignoring the other sixteen branches (two of which are also combat arms) likely paints a very distorted picture. Not only are there general officers in all those branches but there are very good sociological reasons having nothing to do with current Army personnel management practices why black officers are not as well represented in those branches. As Vanden Brook eventually notes, deep into his longish report:
Two forces seem to reinforce the lack of black officers in combat command. For decades, young black men have tended to choose other fields, including logistics. With fewer role models and mentors in combat specialties, those fields have been seen as less welcoming to African-American officers.

Irving Smith remembers his parents being "heartbroken" that he chose infantry.

"African Americans have historically used the armed forces as a means of social mobility," says Smith, who joined the infantry, has risen to the rank of colonel and now is professor and director of sociology at the U.S. Military Academy at West Point. "That is certainly true for African Americans who have used the armed forces as a bridging opportunity (to new careers)."

Parents, pastors and coaches of young black men and women considering the Army often don't encourage them to join the combat specialties.

"Why would you go in the infantry?" Smith says of a common question. "Why would you want to run around in the woods and jump out of airplanes, things that have no connection to private businesses? Do transportation. Do logistics. That will provide you with transferable skills."

Developing marketable skills has been a key motivation for many African Americans, said David Segal, a military sociologist at the University of Maryland. That has often meant driving a truck, not a tank.

"There has been a trend among African Americans who do come into the military to gravitate to career fields that have transfer value — that pretty much excludes the combat arms," Segal said.

Clark, who now works at the Pentagon, wasn't encouraged initially to join the infantry. His father enlisted in 1964 and had an Army career in food service.

"He grew up in a small town in southern Louisiana in the middle of Jim Crow South," Clark says. "He was tired of having someone telling him where to sit on a bus, which water fountain to drink from and which bathroom he could use."

At age 11, the younger Clark remembers climbing on a tank when the family was stationed in Grafenwoehr, Germany. The U.S. invasion of Grenada in 1983 sealed the deal for him: He wanted to be infantryman.

"I wanted to be an Airborne Ranger in a tree," Clark says, "and my dad was not having it. He said, 'Nope, you are not going following my footsteps. I want you to go to college.'"

The compromise, after his father had him speak with an African-American brigade executive officer named Larry Ellis, was to enroll at West Point. Ellis went on to become a four-star general, and Clark graduated from the academy in 1988.
Additionally, the Army in general and black officers in particular were lamenting a quarter century ago the fact that the best young black officers were prime targets for civilian head hunters looking to poach talented African Americans to meet diversity goals in the private sector.  One suspects that remains the case today.
Vanden Brook's report was apparently inspired by an internal directive from the Secretary of the Army to diversify the combat arms leadership.
USA TODAY obtained a copy of the memo, which notes that the Army historically has drawn the majority of its generals from combat fields, specifically "Infantry, Armor and Field Artillery." For at least two decades, however, young minority officers have selected those fields in the numbers necessary to produce enough generals.

"African Americans have the most limited preference in combat arms, followed by Hispanic and Asian Pacific officers," the memo states. While black officers make up 12% of Army officers in all competitive specialties, they make up just 7% of the Army's infantry, armor and artillery officers. For junior officers, that figure is lower, 6%.

Minority groups need a "critical mass" of about 15% to feel they have a voice, Smith says.
This makes the perverse assumption that the goal of every officer should be to become Chief of Staff. If that's the metric, virtually all officers fail to achieve the goal; Ray Odierno is only the 38th man to hold that post. But it's true: If that's your goal, then you really should branch infantry, armor, or artillery and command at every level.
Note, too, that the report seems to be calling for a disproportionate representation of black officers. They're currently "12% of Army officers in all competitive specialties," which just so happens to coincide with the proportion in the overall American population. Smith is suggesting that, at a minimum, it should be 15%.
Given that the African American representation at both the junior officer and four-star general level is shockingly representative—markedly more so than it is in corporate America or, indeed, media outlets like USA Today—I'm unpersuaded that there's a real problem here.