World's Largest Game Of Tetris Played On Side Of Philly Skyscraper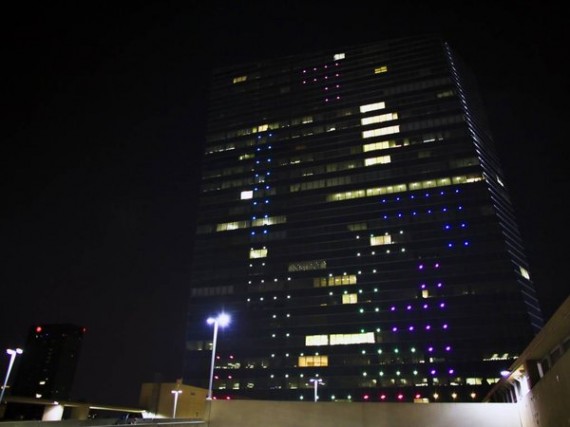 Apparently, this is what you do in Philadelphia on a Saturday night:
PHILADELPHIA (AP) – Sam Robinson said it's been about 15 years since he last played the videogame Tetris on a Game Boy. On Saturday night, he played it on the side of a skyscraper.

Robinson, 30, was among the hundreds of Tetris fans who had a little fun Saturday with a big version of the classic video game on the side of the 29-story Cira Centre in downtown Philadelphia.

"It has been probably 15 years since I played Tetris last on a Game Boy, and it's much different playing on the side of building that's a half-mile away," the city resident said. "Everything's happening so quick."

The hundreds of LED lights embedded in the building's glass facade normally display colorful patterns. On Saturday night, images of supersized shapes "fell" on two sides of the mirrored tower as competitors used joysticks to maneuver them, creating a spectacle against the night sky that organizers hoped inspired onlookers and players to think about the possibilities of technology.
It wasn't the first time Tetris has been played on a building. But the 100,000-square-foot "screen" – which includes the north and south faces of the structure – could be a record.
Here's the video: