Trump May Reverse Mattis on Academy Grads Going Pro
The President revived an old debate but added some new twists.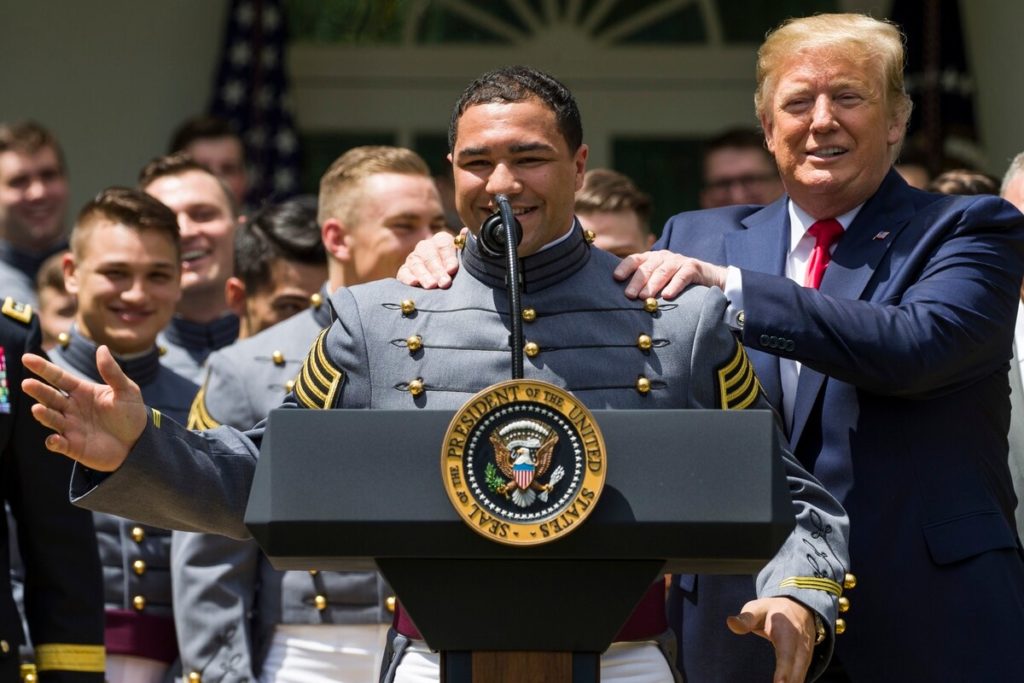 The President invited West Point football players to the White House this week and dangled the promise of letting some play professional sports.
President Donald Trump announced Monday he may reverse a Defense Department rule which requires athletes from the service academies to fulfill their active-duty requirement before pursuing a professional sports career.


The comments came during the annual presentation of the Commander-in-Chief trophy for the best military academy football team. The Army Black Knights won the award for the second year in a row, the first time it has claimed the award in consecutive years.


While praising the accomplishments of the athletes, Trump said that he has spoken to Defense Department officials about some accommodations for service academy athletes who are recruited to play professionally.

"I am going to look at doing a waiver for service academy athletes who can get into the major leagues: the NFL, hockey, baseball," he said. "They can serve their time after they are done with professional sports."


Trump added that "I would imagine that would make recruiting a little bit easier" for the service academy coaching staffs. The president said he came up with the idea during the annual Army/Navy football game, which he attended last December.

— Leo Shane III, Military Times, "Trump eyes waiver for service academy athletes who want to play in the pros"
Now, it's not clear whether Trump has given this serious consideration or it was just a spur-of-the-moment burst that he'll soon forget. Taking him at face value, however, would mean a reversal in his own administration's reversal of the previous policy.
In 2016, the Defense Department adopted a new policy allowing some service academy athletes to request to be placed on reserve status to allow them to accept contracts from professional sports teams. The move allowed them to fulfill their five-year requirement of service after graduation without being assigned to an active-duty post.


Navy quarterback Keenan Reynolds was drafted by the Baltimore Ravens in the sixth round of the NFL draft that year, and received permission to play with the team on a reserve assignment.

But a little more than a year later, military leaders rescinded that policy, saying that all graduates would serve as military officers for at least two years before any accommodations would be allowed.


Former Air Force wide receiver Jalen Robinette was considered a possible NFL draft prospect before the 2017 event, but went undrafted after the rule change was announced. In recent months, with his two-year commitment completed, he has been working towards landing a roster spot with a professional team.

Last month, the Minnesota Vikings selected Air Force long snapper Austin Cutting in the seventh round of the 2019 National Football League draft. Service officials said he will have to finish his two-year commitment before joining the team. Cutting said he is discussing the situation with Air Force officials but prepared to begin his active-duty service.

Trump did not offer any specifics on the timing of the policy change or what the specific requirements for the waivers may entail.


Along with Cutting, three other service academy graduates are currently on NFL rosters: San Francisco 49ers guard Ben Garland, a former airman; Pittsburgh Steelers tackle Alejandro Villanueva, a former soldier.; and New England Patriots long snapper Joe Cardona, who still serves as a naval reservist. Three airman are also on minor league baseball rosters: pitcher Griffin Jax, outfielder Zach Reks, and pitcher Ben Yokley.
Any change in policy would obviously impact very few players. We're talking maybe one or two athletes a year who have a shot at playing big time sports and the academies each graduate roughly 1000 lieutenants and ensigns a year.
Still, it's a controversial issue. The academies, after all, exist to educate, train, and inspire officers to serve in the United States armed forces, not to produce professional athletes.
Historically, those who wanted to go pro did so after serving their full military obligation, which has been five years of active duty service for decades. Roger Staubach fulfilled his, including a stint in Vietnam, before going on to a Hall of Fame career for the Dallas Cowboys. He famously used his 30 days annual leave to attend training camp each summer.
The first exception to that policy of which I'm aware is Navy's David Robinson. But he was an unusual case:
By his senior year in high school he was 6 feet, 6 inches tall, weighed 175 pounds, and had not played organized basketball or attended any basketball camps. When the coach added the tall senior to the basketball team, Robinson earned all-area and all-district honors but generated little interest among college basketball coaches. Robinson scored 1320 on the SAT, and chose to go to the United States Naval Academy, where he majored in mathematics.

[…]

Robinson was 6 ft. 8 in. when he was admitted to the Naval Academy, two inches above the height limit, but received a waiver from the Superintendent of the Academy. Robinson considered leaving the academy after his second year, before incurring an obligation to serve on active duty. He decided to stay after discussing with the Superintendent the likelihood that his height would prevent him from serving at sea as an unrestricted line officer, which would be detrimental to his naval career, and might make it impossible for him to receive a commission at all. As a compromise, Secretary of the Navy John Lehman allowed Robinson to train for and receive a commission as a staff officer in the Civil Engineer Corps. As a result, Robinson was commissioned in the Naval Reserve and was only required to serve an initial active-duty obligation of two years. After graduating from the Naval Academy, Robinson became a civil engineering officer at the Naval Submarine Base Kings Bay in Georgia. He was regularly featured in recruiting materials for the service. Despite the nickname "Admiral", Robinson's actual rank upon fulfilling his service commitment was Lieutenant (junior grade)

— Wikipedia, "David Robinson (basketball)"
Robinson, of course, went on to a Hall of Fame career in the NBA. And is also the basis for the best argument for allowing Academy grads to go pro: he was and remains an outstanding ambassador for the Navy and the Naval Academy and arguably provided more value in positive publicity than he would have in five years of service as a civil engineering officer.
But, of course, Robinson's case is unique: not only is he far and away the best basketball player in service academy history but the physical gifts that helped propel him to a Hall of Fame career disqualified him from a traditional career in the Navy. To his credit, Lehman recognized both these things and made a shrewd decision to let Robinson graduate with his class but then serve a minimal commitment before going to the NBA.
Of the Academy graduates mentioned in Shane's report, Villanueva is by far the most famous. And he's not all that famous! Further, while he has indeed reflected great credit on West Point and the United States Army, he also served his full five-year commitment.
Trump's "proposal" adds two new twists to the old debate, both of which strike me as silly.
First, "I would imagine that would make recruiting a little bit easier" has to be the worst possible reason for a policy change. Granting that not many pro-bound athletes are likely to prefer the rigors of Academy life to a free ride to Alabama, Ohio State, or Clemson, boosting the fortunes of service academy sports is hardly a high national priority.
Second, the notion that "They can serve their time after they are done with professional sports" is absurd. Again, it may just have been off-the-cuff nonsense from the excitement of the moment. But, unless their athletic careers end quickly, we're talking a delay of eight, ten, even twenty years. By that time, their Academy education will have grown stale, indeed. And how many old, broken lieutenants and ensigns do we need?