You Wore What to the White House?
The times, they are a-changin'.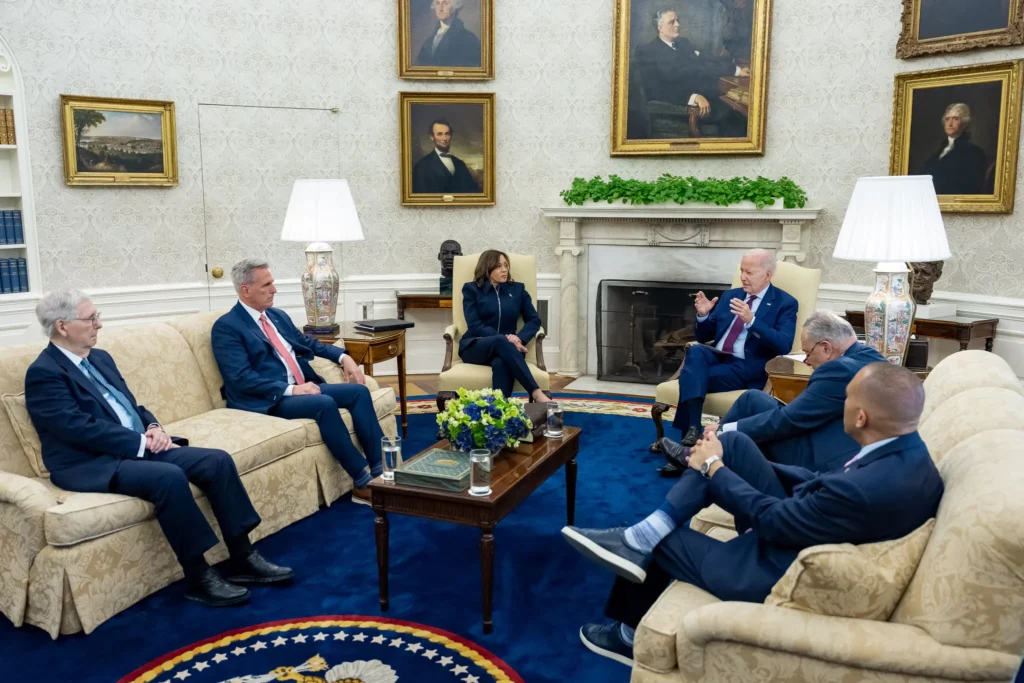 The release of the above photo of Senator Mitch McConnell, Speaker Kevin McCarthy, Senator Chuck Schumer and Representative Hakeem Jeffries meeting with President Joe Biden and Vice President Kamal Harris in the Oval Office caused quite a stir.
NYT style columnist Guy Trebay asks, "Do Dress Sneakers Belong in the Oval Office?"
Think of it as a rare instance of cross-aisle consensus or else a sartorial trend gone badly wrong. But it did not go unnoticed when, in a photograph from the Oval Office posted to President Joe Biden's account this week, Speaker of the House Kevin McCarthy, Senator Mitch McConnell and Representative Hakeem Jeffries were all captured wearing some variant of the dreaded footwear hybrid: the sneaker shoe.

Weighing in on Twitter, cult men's wear commentator Derek Guy (@dieworkwear) called out the footgear as a clear lapse in dignity, if not actual protocol. Why pay a visit to a sitting president dressed in shoes designed for power-walking at the mall?

"Awful," Yang-Yi Goh, style director of GQ, pronounced the shoe that has become a style default among Capitol Hill staffers.

Yeezy on the sole and granddad on the uppers, the Cole Haan shoes (Mr. McConnell, for the record, was wearing the label's ZeroGrand; Mr. McCarthy, the Osborn; and Mr. Jeffries, the Grand Crosscourt II) have neither the street cred nor the advantages of actual sneakers, like the Nike Dunk Low "Montreal Bagel" model that stoked debate when the "Ted Lasso'' star Jason Sudeikis and his castmates wore them to the Oval Office in March — there to discuss mental health care in the United States.

"Call me old fashioned but no man should set foot in the Oval Office without dress shoes and especially not sneakers," the political commentator Saagar Enjeti said at the time, unleashing further invective in a Twitter post: "4 guys. No ties, 3 pairs of sneakers in the Oval Office. This country is going to hell."
Here's the Ted Lasso cast visit photo: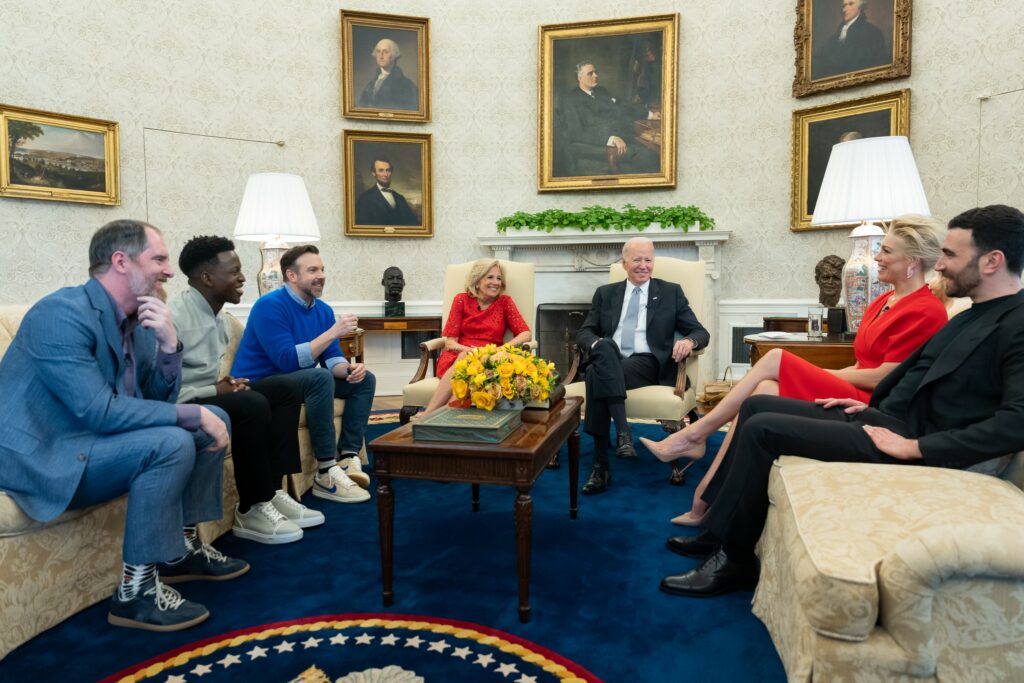 Offhand, I'd say none but the lady on the right were dressed appropriately for a White House visit. I've always worn a full suit when visiting the Hill or the White House (the latter on tours, not Presidential meetings). But maybe they intentionally went in character. (I have yet to see the show but certainly Sudeikis appears to be doing so.)
Congressmen visiting the Oval is a different thing entirely. I could see casual attire for, say, a weekend work meeting in which the President is similarly dressed down. But dressing less formally than the big guy just seems disrespectful.
The fashionistas seem to agree:
But is wearing a squishy shoe that masquerades as a hard-soled one really all that terrible? "The hybrid is the worst possible choice," said Mr. Goh of GQ, the footwear version of political bait-and-switch, akin to a novelty tie or a garish pocket square. It does not help matters much when, as in the cases of Mr. McCarthy and Mr. Jeffries, the soles of your shoes are glaring operating-room white and the accompanying socks are striped.

"You're trying to pass this tech-y monstrosity off as a proper dress shoe," Mr. Goh said, adding that a suit and necktie worn with a traditional hard-soled shoe symbolize respect for occasion, in this case a meeting with the most powerful man on earth.

For Jim Moore, the creative director of GQ and the stylist largely responsible for Roger Federer's impeccable swagger, a hard-soled shoe serves as a "sign of courtesy and good manners" in most formal settings. A solid pair of lace-ups — many of which, it's worth pointing out, are manufactured nowadays with comfortable rubber soles — provides the foundation for a suited wearer. "When you see a guy strutting through the city in a suit and your eye reaches the sneaker, the whole look collapses," Mr. Moore said.

Like the stretchy mid-blue suits favored by many men, including Mr. McCarthy, the optics of the "dress sneaker" would seem to have the opposite of the desired effect. Rather than imparting to their wearer a vigorous, youthful look — as President John F. Kennedy's forelock once did — they appear strenuous, over-considered, the more passé because young consumers have turned increasingly toward the foolproof formulas of classical tailoring.

"It's literally putting your best foot forward," Mr. Goh said of a pair of well-buffed Oxfords — or even the loafers that were once thought too schlumpy to be worn in business settings. The implicit formality of a hard-soled shoe evinces respect for the formality of an occasion destined to occur a limited number of times in any given life.

"Do one or the other," Mr. Goh added. "Just commit."
I'm inclined to give McConnell a bit of a break. He's 81 and has had health problems, so I don't begrudge him comfortable shoes. And he at least chose ones that attempt to pass themselves off as dress shoes, with black uppers and soles. McCarthy and Jeffries, by contrast, just look ridiculous.
Then again, I'm getting old and grew up in an era where it was normal to dress for occasions (although not old enough that people wore suits to watch sporting events and the like). All of my undergrad professors wore jackets and ties to teach; that's pretty rare nowadays.
Americans have been dressing steadily more casual—or, if you prefer, sloppy—for decades. And, as countless pieces have noted, that trend accelerated during the pandemic lockdowns.
David Mack's recent NYT essay "Soft Pants: The Postpandemic Benefit That's Here to Stay" is representative.
Less than three weeks into the March 2020 lockdowns in New York City, my boyfriend turned to me with a revelation he was having while in the snug living room that had become our co-working space, wine bar and prison chamber.

A finance lawyer who used to wear suits, he lately had found himself toiling in a series of baggy sweatpants and sweaters. (No judgment: I wore the same crusty, forest-green hoodie and gray sweats for over three days straight.) As we prepared to throw on some jeans to head to the grocery store, he told me he couldn't remember the last time he had put on a pair of "hard pants."

I shared his utterance on Twitter, the site on which I have wasted much of my life, and "hard pants" went viral. Dictionary.com even credited us with popularizing the term, although it's been around in some form since at least 2009. It was probably my greatest cultural contribution to the pandemic — it may prove to be the most influential piece of writing I produce in my career.

Three years on, while I have mostly stopped wearing masks, my soft clothes remain. All the pieces I gravitate toward feel more … casual. If a set of pants has an elastic waistband, I'm sold. On an ideal day, you shouldn't be able to tell if I'm going to the club or to my couch. Think airport chic.

I don't think this makes me or my fellow softies slobs. We haven't given up, per se. We've merely let go of what was previously expected of us. If anything, it takes a certain grizzled hardness to emerge from the chaos of Covid and embrace softness. It feels liberating, both for my spirit and for my legs.

The divider between formal and informal spaces, between the professional and the unprofessional, has become as thin and faint as the line on a Covid test.

[…]

The opportunity to re-evaluate longstanding social norms has been one of the few positive side effects of Covid. And saying goodbye to hard pants is just another way that the pandemic has altered the fabric — quite literally, in this instance — of our lives.

It's no secret that, for many of us, clothing preferences changed during the pandemic. While Americans' spending on apparel dropped 19 percent in 2020, sales of sweatpants rose 17 percent, according to NPD Group, a market research firm.

Indeed, now that we've emerged into a new era, as evidenced by the U.S. state of emergency designation for Covid expiring on Thursday, comfort still remains king.

"People want to dress up after the pandemic," Daniel Grieder, chief executive of the luxury apparel brand Hugo Boss, told The Business of Fashion in November. But, he added, "they don't want to wear something that is not comfortable anymore."
Dressing less formally for an occasion that was socially expected was always seen as something of a Fuck You. The rich tech bros intentionally adopted dressing like children in meetings with those wearing suits and ties precisely to signal they were rich and powerful enough not to have to conform. It's perhaps not surprising that, freed from the tyranny of "hard pants"* by the pandemic, newly-empowered workers didn't want to revert.
While I've worn a jacket and tie when teaching from Day 1, despite nobody making me do it, I can understand why others have moved away from that. For me, it's as much a uniform as fashion statement. And even I have largely abandoned the necktie when I'm not in front of a classroom or lecture hall. I draw the line at sweat pants, however.
Really, there's no good reason for Members of Congress to wear suits and hard-sole lace-up shoes on a daily basis. It's really one of those relics from a bygone era that somehow just stuck in time. Still, it adds a formality and dignity to the office and, theoretically at least, sends a signal that they respect the institution. Alas, they send contrary signals through their actions all the time.
But, yes, I think they should dress like adults with meeting the President.
__________________
*The irony is that, until the advent of lycra-infused denim a while back, I always found dress pants to actually be softer than jeans.