19th Century Transportation in a 21st Century World
Train I ride, sixteen coaches long.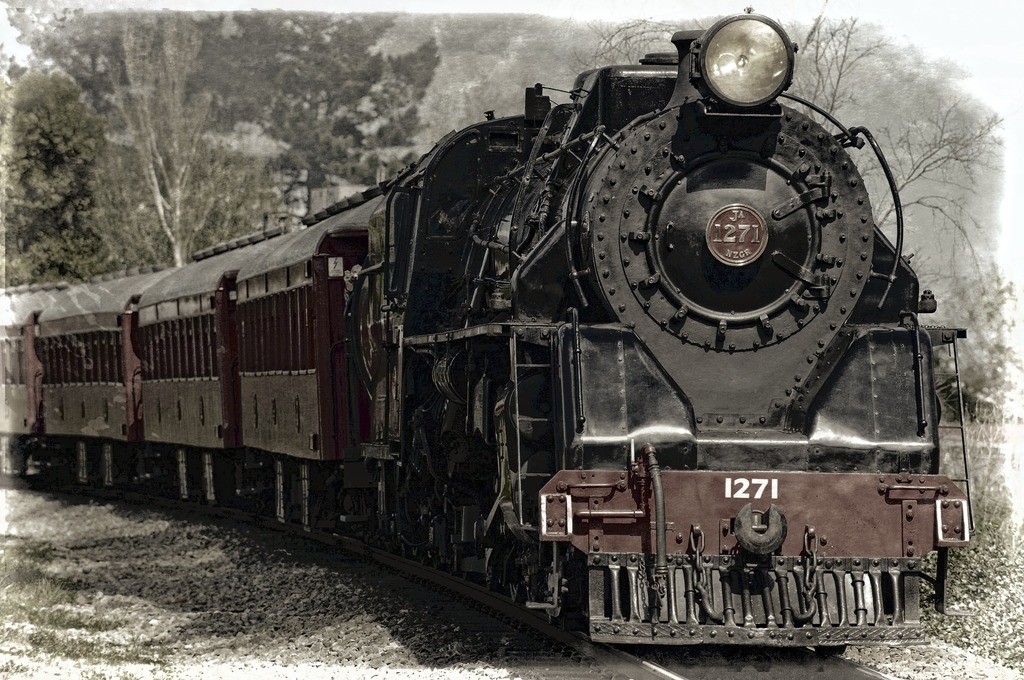 WaPo ("Miles-long trains are blocking first responders when every minute counts"):
A man suffered a stroke but a stopped train blocked paramedics from reaching him for over an hour. A senior in a nearby retirement community missed his oncologist appointment because another train obstructed that same intersection. A fire crew could not get to a house engulfed in flames until another train eventually cleared the crossing.

For decades, those living along Glover Road in Leggett, Tex. — a rural community with fewer than 150 residents about 80 miles from Houston — wrote letters, sent emails and called authorities pleading that trains stop blocking the neighborhood's sole point of entry and exit for hours. Some residents and a county judge sent letters addressed to the railroad company, warning of a "greater catastrophe," including a toxic train disaster.

"Should there be a derailment … we would be dead ducks, having no evacuating route," Pete Glover, the man whom the street is named after, wrote in a 1992 letter to the railway company. "If some home caught afire," he added. there'd be "no way for firetrucks to serve them."

To many in the community, their worst fears were realized in 2021, when baby K'Twon Franklin died. His mother, Monica Franklin, had found the 3-month-old unresponsive in her bed the morning of Sept. 30, and called 911.

Paramedics responded, but a Union Pacific train blocked their path on Glover Road, according to Franklin and a local police report. It took more than 30 minutes for them to carry K'Twon into an ambulance. Two days later, the baby died at a hospital in Houston. "Unfortunately, the delay has cost my child's life," Franklin, 34, told The Washington Post.
As a rule, I'm not a fan of the anecdote-driven lede. While emotionally compelling, the degree to which they're generalizable is often suspect. Still, they can powerfully illustrate a point, as they do here.
I've long been befuddled that we continue to rely so heavily on technology from the 1800s, now into the 2100s and, particularly, that we've done so little to ameliorate the intersection between those worlds. It's weird enough to stop traffic for minutes as trains roll by, necessarily taking the right-of-way on roads without over- or under-passes. It's just outrageous to block roads for hours on end as trains unload.
Stranger still, the problem is actually getting worse rather than better.
Over the past decade, rail corporations have been running more lengthy freight trains — some as long as three miles — partly to save fuel and labor costs. As they do, they are blocking rural and urban intersections, stoking anger and contributing to tragedies and calamities.

Much of the nation's focus has been on a long Norfolk Southern train that derailed in East Palestine, Ohio, in February, sparking a toxic fireball and prompting state and federal investigations. But while Congress has shown some renewed concern about rail safety, there has been little focus on an everyday safety threat — long trains blocking first responders from getting to emergencies.

It is happening across the country. In Tennessee, a man died of a medical emergency after an ambulance crew was held up at a train crossing. In Oklahoma, a man perished from a heart attack after first responders were stuck behind a train at the only entrance to their street.

Since 2019, the Federal Railroad Administration (FRA) has operated a digital portal where citizens can report obstructions caused by trains. So far this year, there have been more than 1,400 reports of first responders blocked by trains. There have also been documented cases of frustrated pedestrians crawling under stopped trains, only to be injured or killed when the train starts moving.
Now, I suppose we could argue that 1400 incidents over a span of 3-plus years in a continental country with 330 million citizens is a relatively minor problem. But we're essentially bearing this cost for the benefit of a handful of companies.
Schools superintendent Jana Lowe is one of several local leaders and residents who have been writing and calling Union Pacific for years, warning that obstructions at the Glover Road crossing — such as school buses delayed for hours — could lead to something more horrific.

"I fairly believe that this cost a child's life, that they weren't able to get there on time," she said. "It's heartbreaking. It could have been avoided."

In his 25 years as a locomotive engineer, Eddie Hall saw his trains grow longer and longer. He can recall when they were just over a mile in length. Before going on leave last winter, he was driving a three-mile-long Union Pacific train with as much as 18,000 tons of mixed freight on his regular Tucson-to-El Paso route.

He has seen his line of freight cars disrupt traffic for hours in small and rural towns, he said adding that in Tucson, trains can block the downtown's four railroad crossings for as long as an hour.

"Whatever they block, they block," said Hall, who now leads the Brotherhood of Locomotive Engineers and Trainmen. "The carriers really don't take into consideration how long we sit on rail crossings."

Trains have mushroomed in length for a simple reason — to save money and generate profits for railway companies and their shareholders. Roughly two decades ago, activist investors started pressuring railway corporations to become more efficient by reducing labor and fuel costs. So railroads adopted an operating model that cut crews and consolidated trains, known as "precision scheduled railroading." By using longer trains, rail companies are operating fewer shorter trains, increasing fuel efficiencies and decreasing costs and their carbon footprints, industry officials say.
That regulators have permitted this makes no sense. Surely, there should be a maximum amount of time that trains can block an intersection—especially during daytime hours.