Senator Proposes "No-Ride" List For Rail
One U.S. Senator wants to bring elements of the TSA's security theater to America's rail system.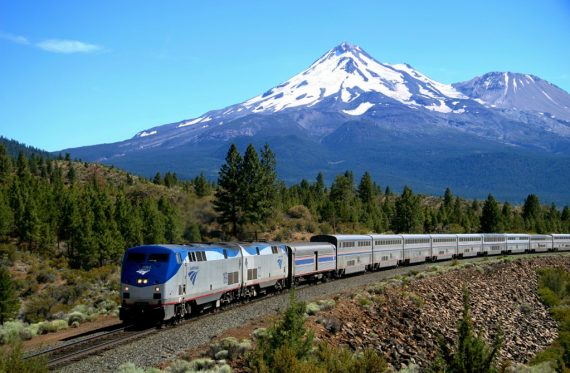 In the wake of reports that al Qaeda may have considered targeting commuter rail in the United States, one United States Senator is proposing tightening security on commuter rail throughout the U.S. in a manner that seems destined to make travel by rail as inconvenient as air travel:
A senator on Sunday called for a "no-ride list" for Amtrak trains after intelligence gleaned from the raid on Osama bin Laden's compound pointed to potential attacks on the nation's train system.

Sen. Charles Schumer said he would push as well for added funding for rail security and commuter and passenger train track inspections and more monitoring of stations nationwide.

"Circumstances demand we make adjustments by increasing funding to enhance rail safety and monitoring on commuter rail transit and screening who gets on Amtrak passenger trains, so that we can provide a greater level of security to the public," the New York Democrat said at a news conference.

U.S. officials last week said evidence found after the raid on bin Laden's compound in Pakistan indicated the al Qaeda leader or his associates had engaged in discussions or planning for a possible attack on a train inside the United States on September 11, 2011.

Schumer, citing U.S. intelligence analysts, said attacks were also considered on Christmas and New Year's Day and following the president's State of the Union address.

He called on the U.S. Department of Homeland Security to expand the Secure Flight monitoring program, which cross-checks air travelers with the terror watch list in an attempt to prevent anyone on the "no-fly list" from boarding, for use on Amtrak.

Such a procedure would create an Amtrak "no-ride list" to keep suspected terrorists off the U.S. rail system, he said.
With the proviso that I haven't traveled by train in a long time, I must say that I can't see how this could be implemented in a way that wouldn't totally disrupt the boarding process, and make taking Amtrak almost as inconvenient as taking American Airlines. More importantly, though, one would think that after the events in London and Madrid, we would already be doing everything we can to increase real security in rail transportation. Additionally, as Mitch Berg notes, one wonders if this is really necessary:
Of course, except for the tiny fragment of America living in the congested mid-Atlantic strip, Amtrak is largely on Amerca's "do not ride" list.  Amtrak is an epic money pit.

In vast swathes of the US, terrorists would be the only person on an Amtrak train.
Heh, indeed. More importantly, the most vulnerable rail assets, it seems, wouldn't be some Amtrak route on the East Coast, but the commuter rail and subway lines that so many Americans rely on to get to work everyday in cities like New York and Washington. "Do Not Ride" lists would be completely impractical there, as would security of the type we deal with at airports. Instead, we have to rely on other methods to keep rail safe rather than bringing the TSA's security theater to yet another transportation venue.
I will say this much, though, if Schumer wanted to destroy rail transportation in this country, he's headed down the right path.
Update: It's also worth noting that it makes absolutely no sense to spend even more money on subsidized rail when they keep finding themselves unable to turn a profit:
An independent analysis found that the average operational loss per passenger on all 44 of Amtrak's routes was $32 in 2008.24 The only profitable line was the higher-speed Acela Express in the Northeast Corridor. However, the Northeast Corridor's Northeast Regional line, which has more than twice the number of riders as the Acela, lost money per passenger. The Sunset Limited, which runs from New Orleans to Los Angeles, lost an astounding $462 per passenger.

All of Amtrak's long-distance routes lose money. According to the Government Accountability Office, these routes account for 15 percent of riders but 80 percent of financial losses.25 The long-distance trains exist largely for the benefit of rural populations, but the benefit is outweighed by infrequent or inconvenient service and a heavy cost to taxpayers.

There are only an estimated 350,000 rural people nationwide who depend solely on rail for public intercity travel. By comparison, intercity air and bus services provide the sole transportation option for 2.4 million and 14.4 million residents nationwide, respectively.26 Whereas intercity air and bus services are available to a respective 89 and 71 percent of rural America, the figure for rail is only 42 percent.27 The GAO says that "it appears that if rural transportation were a targeted public policy objective, other modes of transport could be better positioned to provide this benefit to a greater number of residents at lower cost."28

The demographic being served by these long-term routes does not demonstrate a strong need for taxpayer subsidies. Eighty percent of long-distance train riders use it for recreational and leisure trips, and riders tend to be retirees.29 Premium services like sleeper and dining cars contribute to operating losses for long-distance trains. These amenities are heavily subsidized, which means taxpayers—and not the pleasure-seeking retirees—are incurring the burden.
So, ridership figures notwithstanding, Amtrak remains a boondoggle for most of the United States and, honestly, one wonders why terrorists would even bother with such a low value target.