Train Crashes and Recency Bias
Two Amtrak crashes in less than a week is newsworthy. It is not, however, a trend.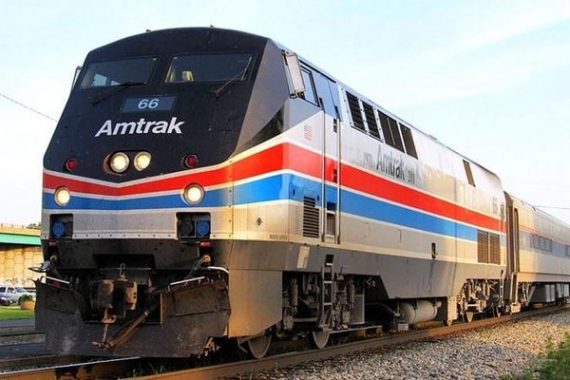 Two Amtrak crashes in a span of five days had me on the verge of writing a post yesterday wondering why we're still using 19th Century transportation in the 21st Century, or at least don't figure out a way to have automobile and locomotive routes not intersect. But I quickly dismissed the idea as recency bias in action, telling myself that there are surely far, far more accidents and fatalities per mile driven by truck, the chief alternative.
Alas, this did not occur to the gang at Axios, who weighed in with a story titled, "The troubling string of Amtrak crashes." I'm going to quote the story in its entirety here because it's so short and because it's sourced entirely from an unlinked AP article.
An Amtrak train en route to Miami from New York collided with a freight train early Sunday morning in South Carolina, killing two individuals and adding another tragic entry to the list of recent Amtrak derailments and crashes, per the AP.

The list, per the AP:

Jan. 31, 2018: "A chartered Amtrak train carrying GOP members of Congress to a strategy retreat crashed into a garbage truck at a crossing in rural Virginia, killing 1 person in the truck and injuring 2 others. The cause is under investigation."
Dec. 18, 2017: "3 people were killed and dozens of others were hurt when an Amtrak train derailed as it made its inaugural run along a new 15-mile bypass route in Washington state, en route from Tacoma to Portland, Oregon."
April 3, 2016: "2 maintenance workers were struck and killed by an Amtrak train going more than 100 mph in Chester, Pennsylvania. The lead engine of the train derailed."
March 14, 2016: "An Amtrak train traveling from Los Angeles to Chicago derailed in southwest Kansas, sending 5 cars off the tracks and injuring at least 32 people."
Oct. 5, 2015: "A passenger train headed from Vermont to Washington, D.C., derailed when it hit rocks that had fallen onto the track from a ledge. 7 people were injured."
May 12, 2015: "An Amtrak train traveling at twice the 50 mph speed limit as it entered a sharp curve in Philadelphia and derailed. 8 people were killed and more than 200 injured."
March 9, 2015: "At least 55 people were injured when an Amtrak train bound from North Carolina to New Jersey derailed after colliding with an oversized tractor-trailer that was stuck on the tracks in Halifax, North Carolina."
June 23, 2014: "An Amtrak train hit a vehicle that was apparently driving on train tracks in Massachusetts, killing 3 people in the vehicle. The train derailed in a remote area."
Oct. 21, 2012: "About 12 passengers and crew members on an Amtrak train from Chicago to Pontiac, Michigan, were injured when 2 locomotives and 1 or more coaches derailed after the train lost contact with the track near Niles, Michigan."
Oct. 2, 2012: "2 cars and the locomotive of an Amtrak train carrying about 169 passengers derailed after colliding with a semitrailer in California's Central Valley. At least 20 passengers suffered minor to moderate injuries."
June 24, 2011: "A truck slammed into the side of an Amtrak California Zephyr train at a rural crossing 70 miles east of Reno, Nevada, killing 6 people and injuring dozens."
Twelve crashes over the span of 7-1/2 years may be troubling but it hardly constitutes a "string."
By comparison, the list of school shootings in the US over the same period is so long that it would take longer than the point is worth to format it, with 126 incidents. That, sadly, is a string.
As noted earlier, the better comparison would be with transport by truck. I can't readily find statistics on that but the Federal Motor Carrier Safety Commission does track accidents involving large trucks and buses without separating the two. The latest report I can find, Large Truck and Bus Crash Facts 2015, has year-by-year data going back to 1975, with all manner of comparisons available in Excel format near the bottom of the page.
One topline summary from 2015:
In 2015, 4,311 large trucks and buses were involved in fatal crashes, an 8-percent increase from 2014. Although the number of large trucks and buses in fatal crashes has increased by 26 percent from its low of 3,432 in 2009, the 2015 number is still 18 percent lower than the 21st-century peak of 5,231 in 2005. From 2014 to 2015, large truck and bus fatalities per 100 million vehicle miles traveled by all motor vehicles increased by 1.7 percent, from 0.138 to 0.140.
Additionally:
Over the past year (from 2014 to 2015):

The number of large trucks involved in fatal crashes increased by 8 percent, from 3,749 to 4,050, and the large truck involvement rate (large trucks involved in fatal crashes per 100 million miles traveled by large trucks) increased by 8 percent, from 1.34 to 1.45.
The number of large trucks involved in injury crashes decreased by 1 percent, from 88,000 to 87,000, and the large truck involvement rate in injury crashes decreased by 2 percent.
The number of large trucks involved in property damage only crashes decreased by 1 percent, from 346,000 to 342,000, and the large truck involvement rate in property damage only crashes decreased by 2 percent.
The number of buses involved in fatal crashes increased from 236 to 261, an increase of 11 percent, and the bus involvement rate in fatal crashes increased by 9 percent.
None of that is to say that we shouldn't pay attention to train crashes. But they're hardly our number one transportation-related safety issue, either.