Train Carrying Republican Members Of Congress To Retreat Collides With Truck At Crossing
A train carrying Republican Congressmen and Senators, and their families, was involved in a crash in western Virginia.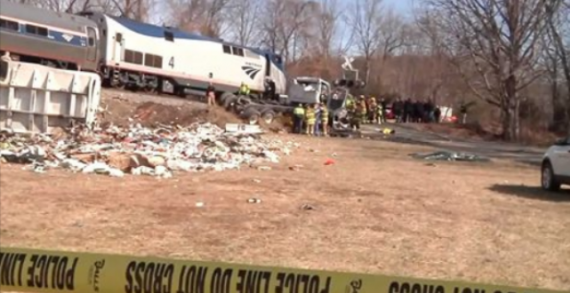 A train carrying Republican members of Congress to a political retreat in West Virginia has collided with a truck:
An Amtrak train carrying Republican lawmakers to an annual party conference in West Virginia collided Wednesday with truck Wednesday. The extent of injuries was not immediately clear.

Members of Congress and the local NBC affiliate were reporting one person was killed and two people were injured. Amtrak said there were no injuries to those aboard the train, which originated in Washington.

The train was stopped near Crozet, Va. and was carrying members of the House and Senate, some of their spouses and children and aides, although it was not immediately clear which members are onboard.

"We appear to have hit a garbage truck," said Sen. Mike Lee (R-Utah), who was reached by telephone on board the train.

"It looks like it's been maybe cut in half. We can see garbage strewn around and we can see the back half of the truck. There was a feeling of an impact and you could feel we had hit something. It took us maybe a quarter mile to stop."

Lee said there are a few people "roughed up. Most of us hit a knee or a head on the seat in front of us but nothing too serious on board. I'm not sure about the driver of the truck yet."

Rep. Thomas Massie (R-Ky.) called the crash "loud and surprising. Some minor bumps and bruises in this car. We saw debris go by the left side of the train. The part of the truck we can see was decimated. Very relieved when the train came to a stop and still on the tracks."

"It was a hard impact. It threw everybody up in the air a little. I don't think anybody on the train is seriously injured, but I may be wrong," said Sen. Jeff Flake (R-Ariz.)

Flake, Sen. Bill Cassidy (R-La.) and Rep. Brad Wenstrup (R-Ohio) joined medical personnel in carrying one of the injured passengers to an ambulance. Flake and Wenstrup did almost the exact same thing last summer in the shooting at a baseball field in Alexandria.

Flake and his 18-year old son are with him, but they are okay, he said.
More from The Hill:
A train carrying Republican lawmakers to their GOP retreat in West Virginia collided with a dump truck in the crossing grade on Wednesday, according to several GOP aides and lawmakers.

No major injuries have been reported on the train, which crashed in Crozet, Va., about 15 miles outside Charlottesville, but lawmakers said that at least one person who was in the truck had died while two others sustained injuries.

President Trump spoke to Speaker Paul Ryan (R-Wis.) by phone and is receiving regular updates on the crash, White House press secretary Sarah Huckabee Sanders said. Ryan was on the train but was not injured, according to his office.

"There is one confirmed fatality and one serious injury. There are no serious injuries among members of Congress or their staff. Senior Administration officials are in regular contact with Amtrak and state and local authorities. Our thoughts and prayers are with everyone that has been affected by this incident," Sanders said in a statement.

First responders were on the scene treating minor injuries on the train and treating more serious injuries on the ground, while some lawmakers who are also doctors raced to get off the train and help administer medical assistance.

Rep. Tom Cole (R-Okla.) said on CNN that there appeared to be at least one fatality on the truck, which was "close to demolished."

"Stunning scene. Totally unexpected," Cole said.

Rep. Lee Zeldin (R-N.Y.) described a "hard" collision and said he was "thankful the train was able to stay on the tracks."

Some members on the train "hit the deck" upon impact, causing a "couple of bumps and bruises," according to aides.

Rep. Jason Lewis (R-Minn.), who was on the train, told Fox News that he had whiplash and possibly a minor concussion.

The impact "threw a lot of people's heads into the seats … people who were in the aisle fell down. You have some minor injuries but as far as I am aware they were just that."

Pictures from the scene show a crumpled truck lying on the ground with trash strewn everywhere. Several lawmakers took to Twitter following the crash to let the public know they were safe.

Amtrak said the chartered train departed Union Station in Washington, D.C., on Wednesday morning and crashed into another vehicle on the tracks about 11:20 a.m. in Crozet.

"There are no reported injuries to passengers or crew members. Local law enforcement is investigating the incident and crews are inspecting equipment for damage," Amtrak said in a statement.

The National Transportation Safety Board said it has launched a go-team to investigate the crash.

Both House and Senate members were on the train, including some spouses, children and staff members, though it's unclear how many. Zeldin said not everyone in the GOP conference was on the train, but "close to it."
Additionally, several members of Congress provided updates on Twitter:
There were 3 people in the truck that was straddling the track and which the train hit. One is dead. One I am told is being transported but has minor injuries. One has serious injuries—please pray. Laura & I & multiple other physicians tended to the patients until EMTs showed up. https://t.co/qAmoofxakV

— Bill Cassidy (@BillCassidy) January 31, 2018
We're fine, but our train hit a garbage truck. Members with medical training are assisting the drivers of the truck. pic.twitter.com/0I9jOwHTmb

— Rep. Greg Walden (@repgregwalden) January 31, 2018
.@maryaliceparks Front of the train heading to the Greenbrier pic.twitter.com/QGUxUbo8m7

— Jeff Denham (@RepJeffDenham) January 31, 2018
The collision took place west of Charlottesville in a rural area of Virginia and the train was still an hour or more away from its destination at the time the collision occurred. In addition to the members, the train was also carrying staffers along with family members of the Congressmen and Senators who were traveling to the retreat along with the members. From initial reports, there don't appear to have been any serious injuries on the train, which was carrying Republican Congressmen and Senators to their retreat at the Greenbriar resort in West Virginia, beyond some possible minimal bruising. However, it appears that one or more people who were in the truck, which was either attempting to cross or stuck on the tracks for some reason, were seriously injured and taken from the scenes. CNN is reporting that buses are on the way to transport the Congressman or Senators but it's unclear if the retreat will go forward as scheduled, or whether they will be headed back to Washington. At this time, it appears that the collision was an accident rather than being something deliberate.
The retreat was scheduled to last through the weekend, and both President Trump and Vice-President Pence, along with several cabinet members, were expected to address the members. Congressional and Senate Democrats are holding a similar event next week. At this point, though, it's unclear if the retreat will be going forward or if the event will be canceled and rescheduled for some other time of the year.