2010 Warmest Year on Record
Despite anecdotal evidence debunking global warming, 2010 was another record year for warm temperatures.
Public belief in the cause of global warming (or is that "climate change"?) took a big hit over the last year or so.  First, there were leaked reports that some key scientists were fudging the data, hiding evidence that damaged their case.  Second, we've had two weird winters in a row, with three feet of snow hitting Washington, DC (considered part of "the South" in living memory) and snowfall in 49 of the 50 states yesterday.
But the National Oceanic and Atmospheric Administration reports that, anecdotal evidence notwithstanding, "2010 tied with 2005 as the warmest year of the global surface temperature record, beginning in 1880."  Furthermore, "This was the 34th consecutive year with global temperatures above the 20th century average."  Oh, and even domestically, "For the contiguous United States alone, the 2010 average annual temperature was above normal, resulting in the 23rd warmest year on record."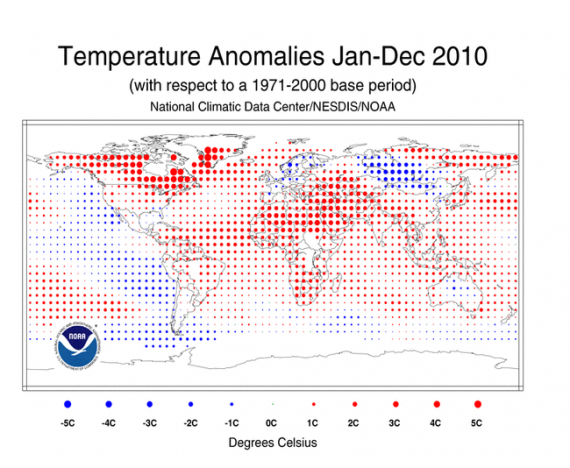 Aside from the average temperatures, 2010 was just a pretty weird year weatherwise (and otherwise, but that's not covered by the NOLA report):
Combined global land and ocean annual surface temperatures for 2010 tied with 2005 as the warmest such period on record at 1.12 F (0.62 C) above the 20th century average. The range of confidence (to the 95 percent level) associated with the combined surface temperature is +/- 0.13 F (+/- 0.07 C).*
The global land surface temperatures for 2010 were tied for the second warmest on record at 1.73 F (0.96 C) above the 20th century average. The range of confidence associated with the land surface temperature is +/- 0.20 F (+/- 0.11 C).
Global ocean surface temperatures for 2010 tied with 2005 as the third warmest on record, at 0.88 F (0.49 C) above the 20th century average. The range of confidence associated with the ocean surface temperature is +/- 0.11 F (+/- 0.06 C).
In 2010 there was a dramatic shift in the El Niño-Southern Oscillation (ENSO), which influences global temperature and precipitation patterns — when a moderate-to-strong El Niño transitioned to La Niña conditions by July. At the end of November, La Niña was moderate-to-strong.
According to the Global Historical Climatology Network, 2010 was the wettest year on record, in terms of global average precipitation. As with any year, precipitation patterns were highly variable from region to region.
The 2010 Pacific hurricane season had seven named storms and three hurricanes, the fewest on record since the mid-1960s when scientists started using satellite observations. By contrast, the Atlantic season was extremely active, with 19 named storms and 12 hurricanes. The year tied for third- and second-most storms and hurricanes on record, respectively.
The Arctic sea ice extent had a record long growing season, with the annual maximum occurring at the latest date, March 31, since records began in 1979. Despite the shorter-than-normal melting season, the Arctic still reached its third smallest annual sea ice minimum on record behind 2007 and 2008. The Antarctic sea ice extent reached its eighth smallest annual maximum extent in March, while in September, the Antarctic sea ice rapidly expanded to its third largest extent on record.
A negative Arctic Oscillation (AO) in January and February helped usher in very cold Arctic air to much of the Northern Hemisphere. Record cold and major snowstorms with heavy accumulations occurred across much of eastern North America, Europe and Asia. The February AO index reached -4.266, the largest negative anomaly since records began in 1950.
From mid-June to mid-August, an unusually strong jet stream shifted northward of western Russia while plunging southward into Pakistan. The jet stream remained locked in place for weeks, bringing an unprecedented two-month heat wave to Russia and contributing to devastating floods in Pakistan at the end of July.
While everyone seems to recall the record snowfall, we seem to forget record hot summers for whatever reasons.  Here's what the United States looked like last year: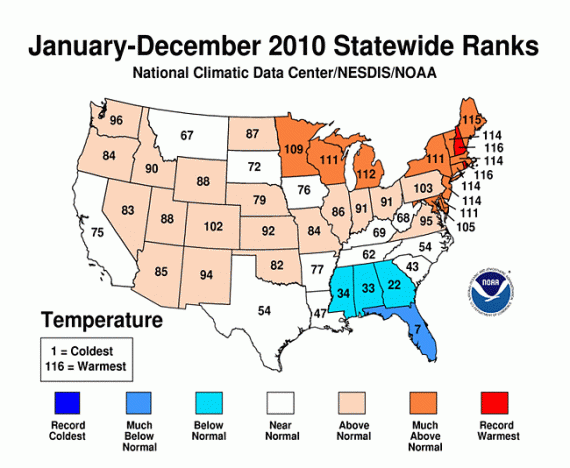 So, it was actually ridiculously hot across most of the country last year, with the anomalies coming in the deepest of the Deep South — Mississippi, Alabama, Georgia, and Florida — which were much colder than usual.   But that, too, is consistent with the theory.
I don't claim any especial expertise, even by lay standards, on the climate change issue.  My tendency in these sort of matters is to trust the scientific consensus and to pay attention to the public debate with my peripheral vision.   I'm still not sure that this isn't mostly a function of normal variation in nature rather than something caused primarily by man's modern lifestyle, although I'm pretty sure that we're a contributing factor.   Nor am I sure that we can do much to reverse the trend, much less that the tradeoffs (which, to be meaningful, would hit emerging economies the hardest) are worthwhile.
But we should at least stop pretending that it's not getting warmer.