Trump Cancels Visit To Denmark Because Danes Won't Sell Greenland
Another day, another Trump temper tantrum.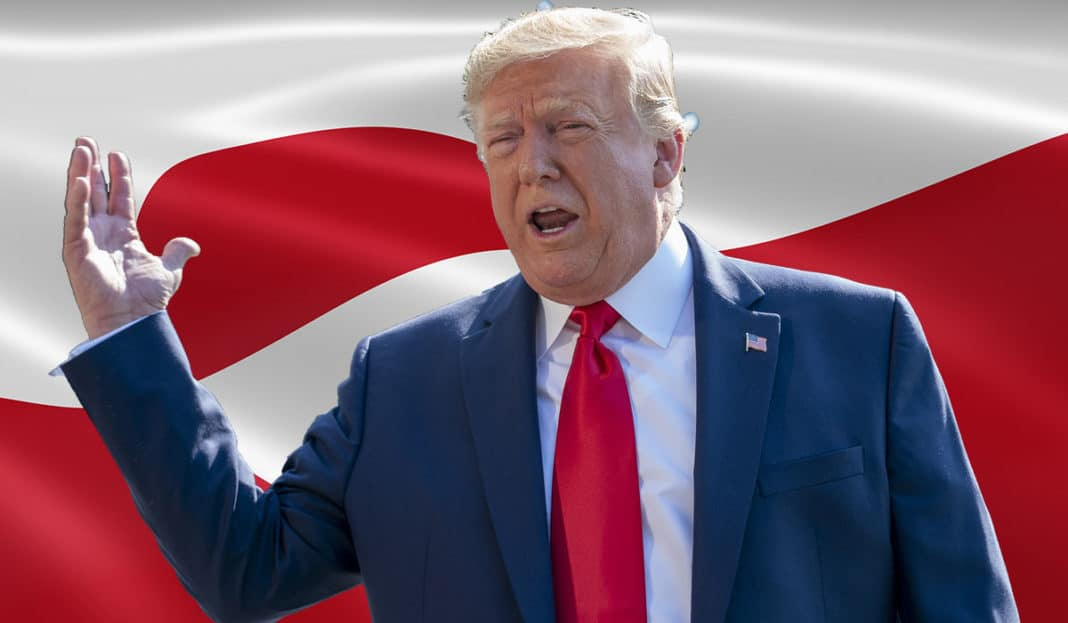 Next week, after the upcoming G-7 Summit in France, President Trump was scheduled to visit Denmark at the invitation of Queen Margrethe II, a visit that was supposed to include a meeting with the Queen, who has reigned since 1972, and with the Danish Prime Minister to discuss issues of mutual interest. Late last night, though, the President announced that he was canceling the trip because the Danes did not want to sell Greenland to the United States:
WASHINGTON — President Trump on Tuesday night abruptly canceled a coming trip to Denmark, writing on Twitter that because the country's prime minister, Mette Frederiksen, "would have no interest in discussing the purchase of Greenland," they would meet "another time."

Mr. Trump was scheduled to visit Copenhagen on Sept. 2 and 3, after being invited by Queen Margrethe II. The president was expected to participate in a series of bilateral meetings and meet with business leaders, and Ms. Frederiksen had underscored the importance of the session, calling the United States "Denmark's most important and strongest ally in NATO."

This week, Mr. Trump confirmed reports about his long-held interest in buying Greenland from Denmark, a land deal he has become interested in because of the country's natural resources, like coal and uranium.

"Well, a lot of things can be done," Mr. Trump said on Sunday. "Essentially, it's a large real estate deal."

But Mr. Trump also claimed that discussing a potential purchase of Greenland, a semiautonomous territory reliant on Danish support, was not the purpose of his trip to Denmark. "We may be going to Denmark, but not for this reason at all," he said, and claimed again over the weekend that the purchase was not "No. 1 on the burner." He also expressed hesitation about the trip, noting that "I'm supposed to be going there."

On Tuesday night, Mr. Trump scrapped the entire trip.

"At this time, the visit to Denmark is canceled," said Judd Deere, a White House spokesman.

Mr. Trump said he was reacting to Ms. Frederiksen's hard rejection of his interest. "Greenland is not for sale," she told a Danish newspaper this week. "Greenland is not Danish. Greenland belongs to Greenland. I strongly hope that this is not meant seriously."

Apparently, it was.

"The Prime Minister was able to save a great deal of expense and effort for both the United States and Denmark by being so direct," Mr. Trump tweeted. "I thank her for that and look forward to rescheduling sometime in the future!"

Mr. Trump has been enjoying the attention generated by his once-secret interest in buying Greenland. In a rare moment of demonstrating that he is sometimes in on the joke, the president tweeted a photograph on Monday of a gold skyscraper with the Trump logo emblazoned on the top, plopped in the middle of an otherwise pastoral arctic setting.
This decision came after the Prime Minister of Denmark responded publicly to last week's reports that the President was interested in purchasing Greenland, which is currently an autonomous protectorate of the Kingdom of Denmark:
The United States' reported interest in buying Greenland from Denmark is "absurd" and the fjord-lined island is not for sale, according to Danish Prime Minister Mette Frederiksen.

Then again, that's what any savvy negotiator would say.

"Greenland is not Danish. Greenland is Greenlandic. I persistently hope that this is not something that is seriously meant," Frederiksen told reporters Sunday during a trip to meet Kim Kielsen, the premier of Greenland.

The country, which is a semi-autonomous Danish territory in the Arctic with a population of around 56,000 people, is not on the market, Frederiksen said.

Her remarks come after the Wall Street Journal reported last week President Trump was interested in buying the country from Denmark. Trump reportedly asked his advisers about acquiring the island during "meetings, dinners and passing conversations" because of Greenland's "abundant resources and geopolitical importance."

Speaking to reporters in New Jersey on Sunday, Trump described the idea as "a large real estate deal."

"A lot of things can be done. It's hurting Denmark very badly because they're losing almost $700 million a year carrying it," he said. "So, they carry it at great loss, and strategically for the United States, it would be nice. And, we're a big ally of Denmark and we help Denmark, and we protect Denmark."

Trump said he's interested in the idea, but it's not a top priority for him or his administration.

Frederiksen, who became prime minister June 27, was on a planned two-day trip to Greenland before traveling to nearby Iceland for a meeting of the Nordic prime ministers.
Here are the President's Tweets from last night:
Initial reports have Danish politicians being both insulted and bewildered by the President's last-minute cancellation of a visit that had been on the books for months:
The astonishment in Denmark over President Trump's apparent desire to buy Greenland turned to bewilderment and anger on Wednesday after the American leader abruptly scrapped a state visit because the Danes have no desire to sell.

The cancellation was a rare snub of Denmark's head of state, Queen Margrethe II, who had extended the invitation to the president and would have hosted him and the first lady.

News that Mr. Trump is not coming "came as a surprise," the Royal House's communications director told the state broadcaster, adding, "That's all we have to say about that."

Others, however, had more to say. "Is this some sort of joke?" Helle Thorning-Schmidt, a former prime minister, wrote on Twitter. "Deeply insulting to the people of Greenland and Denmark."

On Wednesday, disbelief and condemnation echoed through the political landscape, as it began to sink in that Mr. Trump wasn't kidding.

"Please stop," Martin Lidegaard, head of the foreign affairs committee in Parliament, wrote on Twitter, before citing several other areas of discussion that he said should be of interest to both countries: the Arctic, climate change and the Middle East.

"Total chaos," the former finance minister Kristian Jensen wrote. "This has gone from a great opportunity for a strengthened dialogue between allies to a diplomatic crisis."
The utter absurdity of all of this is so apparent that it's somewhat mindboggling that we're even at this point. To be honest about it, the idea of the United States having a strategic interest in Greenland isn't entirely crazy, but the way the Trump Administration is reacting here is just utterly bizarre.
As I noted when these reports first became public last week, the U.S. had discussed buying Greenland in the past. Specifically, President Truman apparently made an offer to a war-ravaged Denmark to purchase the territory for a reported $100,000,000 in gold, an offer that was no doubt at least somewhat attractive to the Danes given the state the country was in at the time. Given the then still developing Cold War, it's clear that the territory would be of strategic importance notwithstanding its nearly total ice cover.
Denmark turned that offer down, but the United nonetheless end up establishing several military bases on the island, including the Thule Air Base, which serves as the northern-most American military base in the world and which serves an important role in the early warning system used by NORAD to monitor for potential missiles headed over the Arctic Circle from Russia. Beyond that, the U.S. has maintained generally good relations with the Danes and with Greenland, which are both a part of the NATO alliance. Today, this base remains an important link in North American and European defense and serves as a U.S.presence in an area that is becoming more important now that ecological changes brought about by Climate Change are opening parts of the Arctic up to shipping and, potentially, exploitation for natural resources.
After those initial reports, though, the White House generally and Trump specifically both seemed to play down the idea. The official line from the White House was that it was a question the President had asked his aides and that the matter had been researched but that it was not a foreign policy priority. Additionally, on his way back home from a ten-day vacation in New Jersey, the President seemed to downplay the idea and specifically referenced his upcoming visit to Denmark. Despite these statements, a report in The Washington Post seems to indicate that the discussions were further along than previously indicated:
People familiar with the president's interest in Greenland said he had been talking about the potential purchase for weeks. Senior administration officials had discussed the possibility of offering Denmark a deal in which the United States would take over its annual $600 million subsidy to Greenland in perpetuity, said two people familiar with the talks who were not authorized to reveal the internal deliberations.

They also discussed giving Denmark a large one-time payment as well to incentivize the transfer, the people said.

Greenlanders, many of whom chafe at Danish rule, reacted with scorn to word last week that Trump was keenly interested in making an offer.

Both Danish and Greenland officials have said in recent days that the island is not for sale.

"Greenland is rich in valuable resources such as minerals, the purest water and ice, fish stocks, seafood, renewable energy and is a new frontier for adventure tourism," Greenland's Ministry of Foreign Affairs said Friday in a tweet. "We're open for business, not for sale."

The United States has become increasingly interested in the Arctic because of Chinese and Russian expansion there as melting ice makes it more accessible.

China declared itself a "near-Arctic nation" last year and has defended its desire for a "Polar Silk Road," in which goods would be delivered by sea from Asia to Europe.

China also recently sought to bankroll the construction of three airports in Greenland, drawing concern from then-Defense Secretary Jim Mattis and prompting the Pentagon to argue to Denmark that it should fund the facilities itself rather than rely on Beijing.

One U.S. official involved in Arctic issues expressed surprise Tuesday night that Trump was interested in buying Greenland. The official, speaking on the condition of anonymity because of the issue's sensitivity, noted that the Alaska congressional delegation has been trying to get the Pentagon to spend more money on operations in the Alaskan Arctic and that they probably would be concerned that a Greenland deal could jeopardize that
Daniel Larison comments on the abrupt cancellation of the Denmark trip:
The entire episode has been an embarrassment for the U.S., but it has been instructive in showing that Trump's conduct of foreign policy is typified by a complete lack of respect for the rights and interests of others, whether they are allies or not. He sees other countries as little more than means to an end, and that end is usually his own self-aggrandizement. Advancing U.S. interests doesn't matter to him, and improving relations with other governments certainly doesn't matter to him. What he wants is using other governments to enhance his own reputation and status. Wanting to purchase Greenland to give him a presidential legacy is a good example of this. It will never happen, and he will actually harm U.S. relations with Denmark by harping on it, but because he sees it as a way to make himself seem more important he will keep pursuing it. He does not realize that in doing so he will make himself seem very small and silly, and the people that he thinks he is overawing with the power of his office will never stop laughing at him.
My first reaction to hearing the news of the President's decision to cancel the Copenhagen visit over Greenland was a simple observation that this man is insane. Even if one concedes the continued and future strategic importance of Greenland to the United States, there is no reason why the United States needs to actually buy Greenland in order to accomplish those goals. The Danes are long and loyal allies as well as members of NATO, and the Greenlanders have already made clear that their nation is open for business. We can obviously have good relationships with both without having to satisfy the President's ego and desire to create a legacy by engaging in what would be the largest single land purchase by the United States since the purchase of Alaska in 1867.
Clearly, this is nothing more than a vanity project for the President, and he was apparently offended that Denmark and Greenland not only rejecting the idea of a sale but seemingly, and deservedly, ridiculing the President on the world stage for what is clearly a silly and preposterous idea. The result is that Trump has once again spit in the face of a long-time ally — something he's done consistently since becoming President as I've noted previously on OTB here, here, here, and here — and embarrassed the United States on the world stage. Lord only knows what he has planned next.