Trump Wants To Buy Greenland
President Trump wants to make a deal.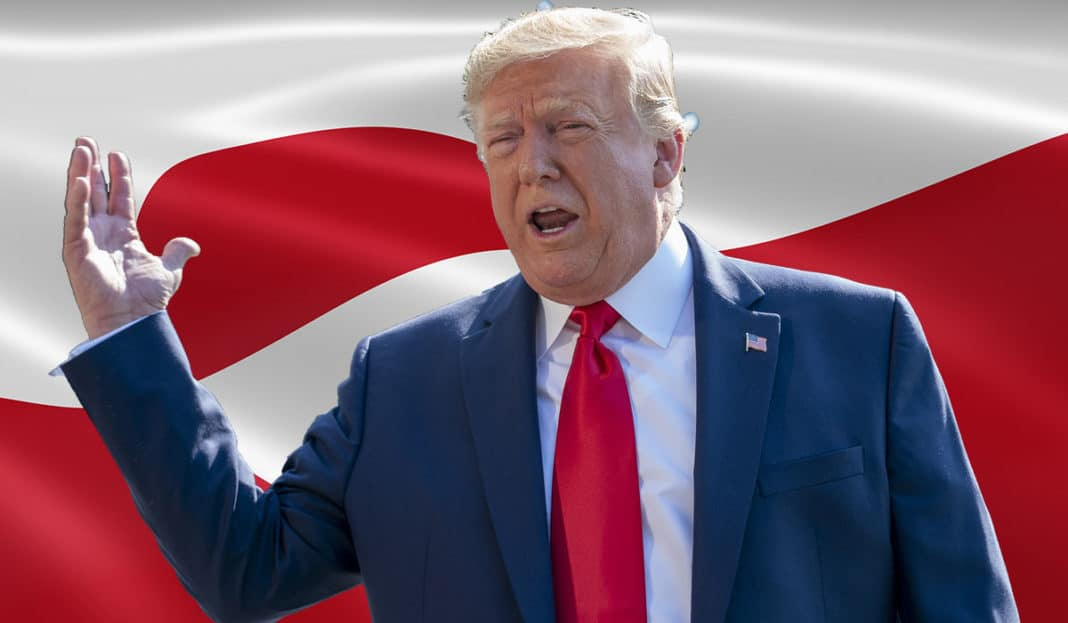 President Trump has apparently expressed interest in buying Greenland from Denmark and aides are exploring the idea, although it's unclear if Denmark is interested in selling or if the citizens of Greenland are interested in being sold:
President Trump has been urging aides to explore a way to buy Greenland from Denmark, according to three people familiar with the discussions.

His interest in Greenland began last year. At a meeting that spring in the Oval Office, he joked about buying Greenland for its resources, according to a person who was in attendance.

In the year since, the president has repeatedly returned to the topic, asking aides if they can pursue a purchase of Greenland, a semiautonomous territory that Mr. Trump has been taken with in part because of its natural resources, like coal and uranium.

Privately, Mr. Trump's advisers are highly skeptical that such a move could ever happen. But instead of telling him they do not think it is possible, the advisers have agreed to investigate the matter, according to the people briefed on the discussions.

His interest in buying Greenland was first reported Thursday by The Wall Street Journal. Greenland, a self-governing country, is part of the kingdom of Denmark, where Mr. Trump is scheduled to visit in September to meet with the prime minister, Mette Frederiksen; Queen Margrethe II; and the leaders of Greenland and the Faroe Islands.
More from The Washington Post:
President Trump has pushed top aides to investigate whether the U.S. government can purchase the giant, ice-smothered island of Greenland, two people with direct knowledge of the directive said.

The presidential request has bewildered aides, some of whom continue to believe it isn't serious, but Trump has mentioned it for weeks. The two people with knowledge of the presidential demand spoke on the condition of anonymity because they weren't authorized to reveal such White House planning.

As with many of Trump's internal musings, aides haven't told him the idea is preposterous and instead are waiting for more direction before they decide how seriously they should look into it.

Among the things that have been discussed is whether it is even legal, what the process would be for acquiring an island that has its own government and population, and where any money to purchase a giant landmass would originate.

Trump's interest in acquiring Greenland was first reported by the Wall Street Journal.

According to the Central Intelligence Agency's World Factbook, Greenland is 2.2 million square kilometers, with 1.7 million of that covered in ice. It has considerable natural resources, such as coal and uranium, but only 0.6 percent of the land is used for agriculture. It has around 58,000 residents, making it one of the world's smallest country's by population.

It is a self-governing country that is part of the kingdom of Denmark. Trump is scheduled to visit Denmark in two weeks.
Interestingly, this wouldn't be the first time the United States has tried to buy the giant ice-covered island. Back in 1946, as Europe was recovering from World War II and attention was shifting to the Cold War with the Soviet Union that would last for the next four decades, President Truman offered Denmark $100,000,000 in gold to purchase the Danish territory. This was prior to the formation of NATO and apparently motivated primarily by the desire to establish Naval and other military bases in a location closer to Europe. The Danes turned the offer down, but the U.S. got its military basis anyway and those bases now serve as servicing and refueling stops for U.S. military aircraft. Greenland also plays an important role in the early warning system run by NORAD to monitor for launches of nuclear missiles headed toward North America.
Obviously, $100,000,000 must have been at least someone attractive to a war-ravaged Denmark at the time, and the fact that they nixed the deal back then is a pretty strong indication of how they'd react now. In addition to Danish consent, of course, the United States would need to get the support from the roughly 50,000 citizens of Greenland, a population made up of a mixture of people of Danish origin and, in its largest part, the Inuit (native) population of the country. The primary languages of the island are Danish and Inuit, and it has been considered a state of Denmark since 1953. Additionally, the island has enjoyed something approaching self-government since being granted home-rule in 1979. After a non-binding referendum in 2008, the citizens of Greenland have gradually assumed more direct control over government functions, although things such as foreign policy remain largely under the control of the Danish government in Copenhagen. Given this, it's unlikely they'd want to become part of the United States. Then again, considering how things are going in this country right now, it's hard to understand why anyone would.
As if to make that clear, politicians in Greenland have already reacted to the idea of being sold to the United States:
Greenland on Friday dismissed the notion that it might be up for sale after reports that U.S. President Donald Trump had privately discussed with his advisers the idea of buying the world's biggest island.

"We are open for business, but we're not for sale," Greenland's foreign minister Ane Lone Bagger told Reuters.

Trump is due to visit Copenhagen in September and the Arctic will be on the agenda during meetings with the prime ministers of Denmark and Greenland, an autonomous Danish territory
This position was made even more clear by a member of Greenland's Parliament:
When the people of Greenland voted with a 75 percent majority for self-rule back in 2008, the island's then prime minister Hans Enoksen said he dreamt of full independence by 2021, "in time for my 65th birthday".

More than a decade later Mr Enoksen is still dreaming. While his newly formed Partii Naleraq campaigned for a quick break during last year's Greenlandic general election campaign, others believe it will take generations.  

The annual block grant from Denmark of close to £500m represents more than a third of the country's budget, and while Greenland's mining industry is taking off, the revenues it brings in still lag far behind what the country needs to wean itself away from its former colonial masters. 

Maja Chemnitz Larsen, an MP for the Inuit Ataqatigiit party, said that it would be "very difficult" for the islanders without Danish subsidies. 

"I'm pro independence for Greenland, but I'm not pro making it a short process, because I think the economy of Greenland is very dependent on the block grant and I don't want to have welfare decline dramatically," she said.  

She said the notion that the island could be purchased from Denmark, as reportedly floated by US President Donald Trump, was an offensive one, telling the Telegraph it was not a commodity to be bought and sold. 

"Most people will find it disrespectful because the decision as to whether Greenland should be bought by anyone else is up to Greenland. It's not up to Denmark." 
As with so many things that come out of the White House, it's hard to tell if this is something the President is serious about or whether it's another one of those random, crazy ideas he gets that White House staff must nonetheless take seriously. I suspect it's the second and that somewhere there's a junior attorney in the White House Counsel's office researching this issue just to please the random thoughts that enter President's brain. We'll know which one it is if and when the President shows up to a campaign rally wearing this hat: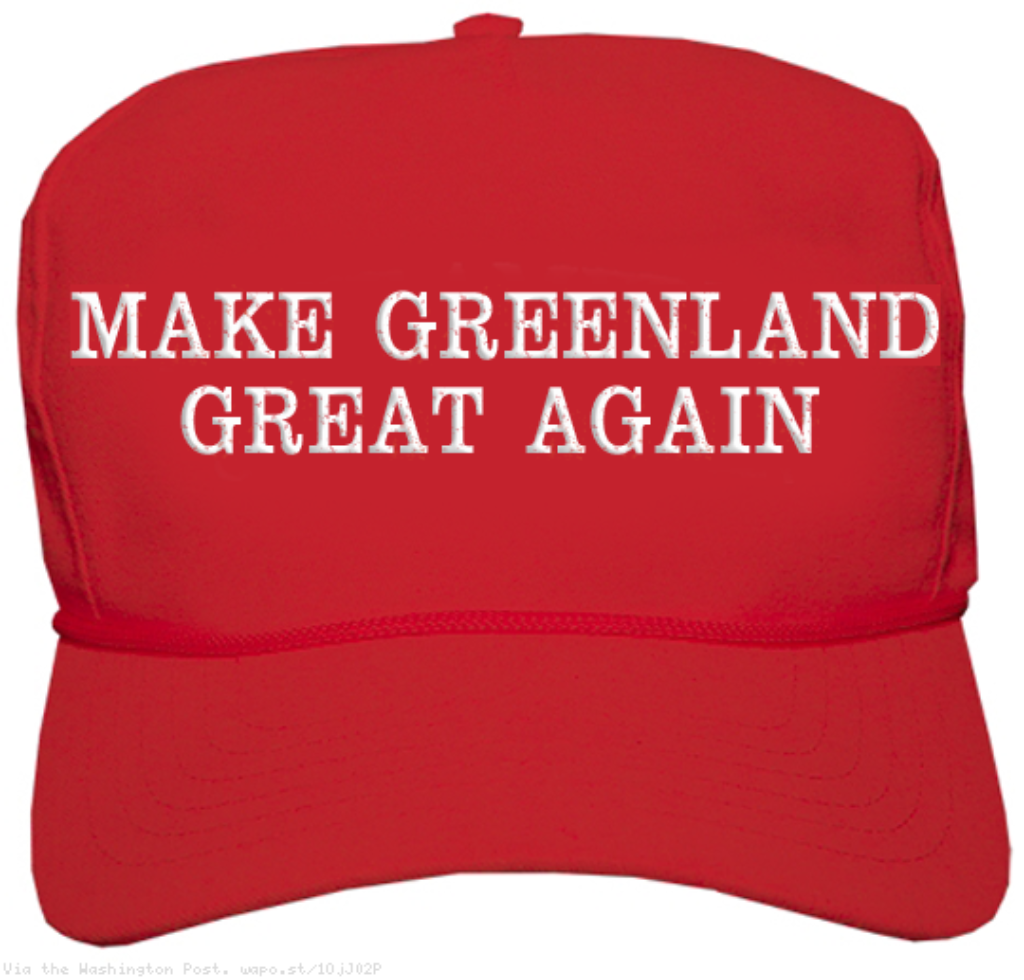 And if this is for real, maybe we can call it "Trump's Folly."