35 Years Ago Today: The Miracle On Ice
For those of us old enough to remember, February 22nd, 1980 marked one of the great moments in sports history.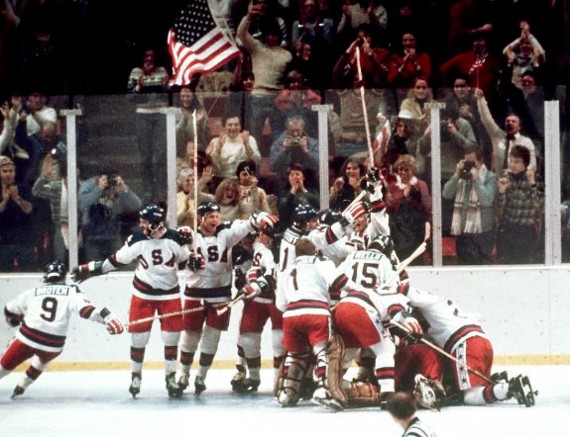 Thirty five years ago tonight, a group of Americans took to the ice in Lake Placid, New York against the Soviet hockey team. It was, by all objective measures, a significant mismatch. Since this was the era before professionals were allowed to play in the Olympics and hockey was far from being a primary sport in the United States, the amateurs that came together to form the American team were not given much of a chance against a Soviet team that had trained and played together for years and was seen as being among the best in the world outside the National Hockey League. This wasn't any ordinary American hockey team, though. In the games that came before the match against the Soviets, they had managed to play to a draw against the heavily favored Swedes and then go on to beat, Czechoslovakia, Norway, Romania, and West Germany. The game against the Soviets on February 22nd came in the medal round, and a win would mean that the U.S. team would advance to the gold medal game scheduled for several days later.
In February of 1980, though, it wasn't the gold medal game that Americans were talking about, though, it was the confrontation on that Friday evening with the Soviets, on Amiercan soil no less. Perhaps because it occurred in the midst of an economic downturn and at a time when the news from abroad was dominated by the Iranian Hostage Crisis, which had begun just three and a half months earlier, and the Soviet invasion of Afghanistan, which was less than two months old at the time. Whatever the reason, it seemed at the time that the hopes of the nation were resting on this unlikely team of hockey players, and they didn't fail to disappoint.
As I noted, the game was on a Friday night, I was eleven at the time and can still remember staying up to catch every minute of it, including practically losing my voice shouting during the final minutes of the game along with Al Michaels. There have been few moments quite like it since then and, while I can't say I grew up to be much of a hockey fan, I'd gladly watch that game again if it was being broadcast (indeed, I had the thought that tonight would have been a great night for ESPN to run that tape but, alas, that doesn't appear to be happening). Two days later, the Americans went on to defeat Finland and win the Gold Medal, but as far as most of us were concerned at the time, the important victory had already happened.
Of course, no post on this anniversary is complete without this: