43% Of Likely Voters See "Tea Party" Label As A Negative, Only 29% See It As A Positive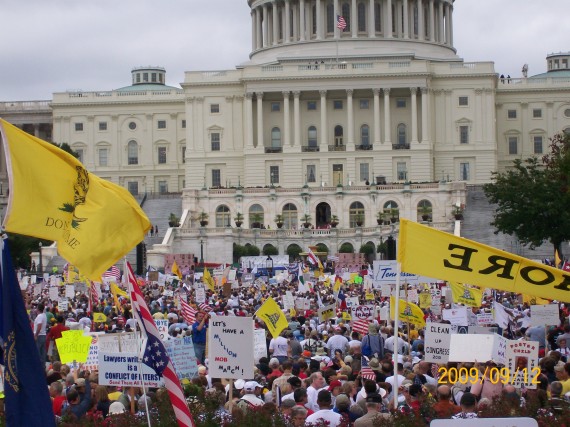 The Tea Party honeymoon may be coming to an end:
Looks like it's a little more popular to be a liberal or a progressive these days, although conservative remains the best political label you can put on a candidate for public office. Being linked to the Tea Party is the biggest negative.

Rasmussen Reports periodically asks Likely U.S. Voters to rate political labels, and the latest national telephone survey finds that 38% consider it a positive when a political candidate is described as "conservative." That's consistent with surveys for several years but down slightly from 42% in January. Twenty-seven percent (27%) see conservative as a negative political label, up six points from the prior survey. Thirty percent (30%) rate it somewhere in between. (To see survey question wording, click here.)

"Tea Party" has suffered much worse. Considered a positive political label by 29%, 43% now think Tea Party is a negative description for a candidate. That's a net rating of negative 14, making it the worst thing you can call a candidate. Twenty-three percent (23%) put it somewhere in between.

Last September, 32% viewed Tea Party as a positive label and 38% a negative one. That was the previous low point for the grassroots smaller government movement. But that negative finding fell to 32% in January.

The partisan divided on the Tea Party label is perhaps predictable: 56% of Republicans see it as a positive, while 70% of Democrats think it's a negative.  Voters not affiliated with either party also now regard Tea Party as a negative label by a 42% to 25% margin.

Fifty-six percent (56%) of non-Tea party members see the label as a negative.
The implications of numbers like this for 2012 should be rather obvious. Assuming this negative opinion of the Tea Party continues, a Republican candidate who walks into a General Election campaign labeled as the "Tea Party candidate" could be at a disadvantage, especially among independent voters. Each race will be shaped by its own dynamics, of course, but on a broader national scale, and most especially in the Presidential race, one would expect to see Democrats increase their efforts to associate the eventual Republican nominee with the Tea Parry for the same reason that they continue to associate Republicans with the George W. Bush Administration.