50 Charged in College Bribery Scandal
Actresses Lori Loughlin and Felicity Huffman are the most famous of dozens of rich folks trying to get their kids into elite schools.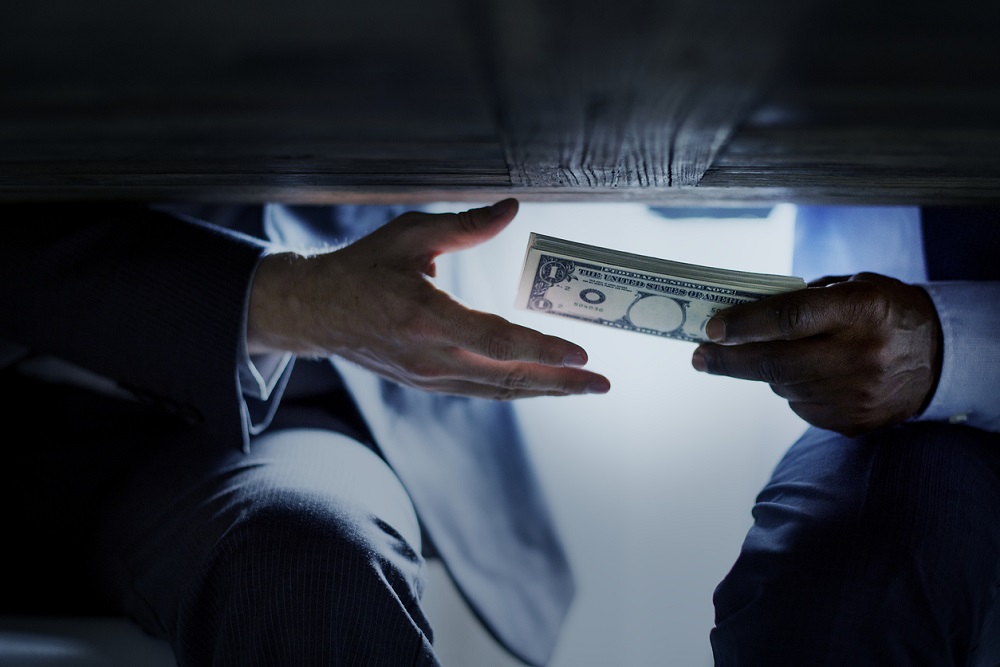 WaPo ("FBI accuses wealthy parents, including celebrities, in college-entrance bribery scheme"):
The Justice Department on Tuesday charged 50 people — including two television stars — with being part of a long-running bribery scheme to get privileged children with lackluster grades into big-name colleges and universities.

The alleged crimes included cheating on entrance exams, as well as bribing college officials to say certain students were coming to compete on athletic teams when those students were not in fact athletes, officials said. Numerous schools were targeted, including Georgetown University, Yale University, Stanford University, the University of Texas, the University of Southern California and UCLA, among others.

Boston's U.S. attorney, Andrew Lelling, called it the largest-ever college admissions scam prosecuted by the Justice Department. Of the 50 people charged as part of the FBI's Operation Varsity Blues, 33 were parents, officials said, warning that the investigation is ongoing and that others could be charged.

The massive scheme was discovered accidentally by the FBI — while working an unrelated undercover operation, officials said. That tip led to a sprawling, nationwide corruption probe.

"These parents are a catalogue of wealth and privilege," said Lelling. "This case is about the widening corruption of elite college admissions through the steady application of wealth combined with fraud. There can be no separate college admission system for the wealthy, and I'll add there will not be a separate criminal justice system, either."

None of the students were charged because prosecutors said their parents were the scheme's principal actors.

Court filings released Tuesday paint an ugly picture of privileged parents committing crimes to get their children into selective schools. Among those charged are actresses Felicity Huffman, best known for her role on the television show "Desperate Housewives," and Lori Loughlin, who appeared on "Full House," according to court documents. A representative for Loughlin declined to comment. A representative for Huffman did not immediately return messages seeking comment.

Two participants in the scheme are scheduled to enter guilty pleas Tuesday afternoon, prosecutors said. One is William Singer, a well-connected college admissions adviser and the central figure in the scheme, officials said. He is accused of disguising the bribery scheme as a charity, enabling parents to deduct the bribes from their taxes.

Singer is charged with taking about $25 million from 2011 to 2018 — paying some of it to college coaches or standardized-testing officials for their help rigging the admissions process and pocketing the rest, according to the criminal complaint. He allegedly disguised the money using a nonprofit, the Key Worldwide Foundation, prosecutors said, characterizing it as a slush fund for bribes.

One of the cooperating witnesses, according to court documents, is a former head coach of Yale's women's soccer team, who pleaded guilty in the case nearly a year ago and has since been helping FBI agents gather evidence. That coach, Rudolph Meredith, allegedly took a $400,000 bribe to pretend to place a student on the team and help get her into the school, even though the student did not play competitive soccer, officials said. The student's parents paid $1.2 million in bribes, officials said.
POLITICO ("Celebrities, wealthy parents charged by FBI in college admissions scheme") adds:
Coaches at Georgetown, USC, UCLA and other schools face racketeering charges.

The FBI says the parents paid a college counseling and test prep business in Newport Beach, Calif., called "The Key," which bribed college coaches and administrators and organized a scheme to help students cheat on college entrance exams, including the ACT and SAT.

The founder of The Key, William Rick Singer, who later cooperated with the FBI in the investigation, sold his clients on a "side door" to college admissions, which involved paying off coaches and administrators, according to charging documents. Between 2011 and 2018, they paid college officials about $25 million in all to designate their children as recruited athletes — regardless of their athletic abilities — or put them on other favored admissions lists.

Singer pleaded guilty to racketeering, money laundering, conspiracy to defraud the government and obstruction of justice.

Andrew Lelling, U.S. attorney for the District of Massachusetts, called the parents charged "a catalog of wealth and of privilege."

They include CEOs of public and private companies, successful investors, two actresses, a famous fashion designer and the co-chairman of a global law firm, he said.

"Based on the charges unsealed today, all of them knowingly conspired with Singer and others to help their children either cheat on the SAT or ACT and/or buy their children's admissions to elite schools through fraud," he said.

He said Singer's clients paid between $100,000 and $6.5 million for his services, although the majority paid between $250,000 and $400,000 per student.

Loughlin and her husband bribed USC with $500,000 to have their two daughters designated as recruits to the USC crew team, even though they did not participate in crew, officials allege. Huffman and her husband paid The Key $15,000 to get in on the cheating scheme, the FBI says.

Singer told parents it was a "tried and true" method developed at multiple universities over years of work helping past parents get their kids admitted.

He bragged to coaches about how many others were already on board. In one conversation with the head coach of women's soccer at Yale, he said, "For this year I did [seven elite schools], we've done it everywhere," the FBI alleged.

That coach later took a bribe to designate an applicant as a recruit for the Yale women's soccer team, though she did not play competitive soccer. The applicant was admitted to Yale and The Key mailed the coach a $400,000 check, the FBI says. Relatives of the applicant paid The Key about $1.2 million in multiple installments.
NBC News ("Actresses Lori Loughlin, Felicity Huffman among 50 charged in college exam cheating plot") adds:
The alleged scam focused on getting students admitted to elite universities as recruited athletes, regardless of their athletic abilities, and helping potential students cheat on their college exams, according to the indictment unsealed in Boston.

Authorities said the FBI investigation, code-named Operation Varsity Blues, uncovered a network of wealthy parents who paid thousands of dollars to a California man who boosted their childrens' chances of gaining entrance into elite colleges, such as Yale and Stanford, by paying people to take tests for their children, bribing test administrators to allow it to happen, and bribing college coaches and administrators to identify the applicants as athletes.

"This case is about the widening corruption of elite college admissions through the steady application of wealth, combined with fraud," said U.S. Attorney for Massachusetts Andrew Lelling.

"There can be no separate college admission for wealthy, and I will add there will not be a separate criminal justice system either."
While prosecutors are well-known for making over-the-top proclamations in their public announcements, this one is especially rich. One has to be living under a rock to think that we don't already have separate college admission for the wealthy—much less a separate criminal justice system. Of course we do.
Now, obviously, direct bribery facilitate outright fraud, as is alleged here, is unusual. It's surely illegal to bribe school officials under the table and for them to pocket said bribes. One presumes paying coaches to trump up fake athletic achievements and the like is similarly problematic.
But those with money and connections have a huge advantage in getting their kids into prestigious schools. Those with a whole lot of money can make massive donations, including endowing building funds or scholarships. Their kids are almost certainly going to be admitted to the schools that received said donations. And, of course, better-off parents have the money to pay for SAT coaching, resume-inflating extracurricular activities and travel, and such. Even people at my level of income have the ability to pay for their kids to participate in traveling athletics teams that are simply unaffordable for poorer parents outside perhaps those sports where pro opportunities attract corporate sponsors.
Many on my Twitter feed are having similar reactions:
the wealth category of "rich enough to buy their non-rowing kid a spot onto the crew team for admissions" yet somehow also not "rich enough to gain school admission through a big donation" is fascinating. The crime is fundamentally about trying to get discount bribery rates.

— Kelsey D. Atherton (@AthertonKD) March 12, 2019
Put another way, if you're one of the Smart Kids attending a Fancy School, in effect you're agreeing to transfer some the halo effect of your smarts to pay-to-play dumb rich kids like Jared Kushner—with the Fancy School collecting the vigorish on both sides of the transaction https://t.co/zd40nQHAQg

— Nils Gilman (@nils_gilman) March 12, 2019
Really great day for American "meritocracy." https://t.co/SxpNRjumq9

— EM Simpson (@charlie_simpson) March 12, 2019
On the one hand, it's awful that people would do this.

On the other hand, it would be comically on brand to spend an exorbitant amount of money to cheat your way into what we Cal bears referred to as the University of Spoiled Children. https://t.co/4mRbdoSCzx

— Miranda Yaver (@mirandayaver) March 12, 2019
Beyond all that, it's worth reflecting on why it is that rich and famous people, who have already been able to give their kids enormous advantages in life, feel the need to get their kids into prestige schools they couldn't qualify for on their own. Clearly, it's not for the love of learning.