50 Greatest Films of All Time (Mostly Another Time)
"Vertigo" has ended "the 50-year reign" of "Citizen Kane," which has dropped to second place.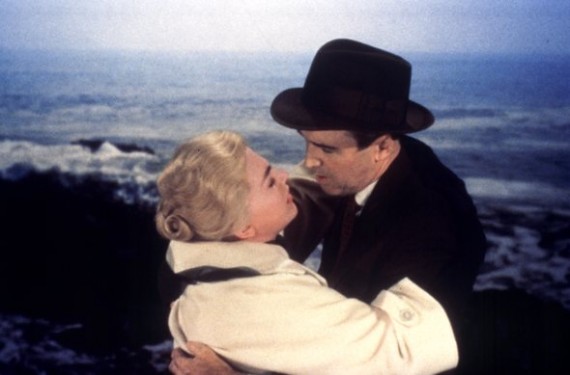 The British Film Institute has released its latest listing of The Top 50 Greatest Films of All Time as voted by critics, programmers, and distributors. "Vertigo" has ended "the 50-year reign" of "Citizen Kane," which has dropped to second place. The John Ford-John Wayne epic "The Searchers" is back in seventh place after having dropped out of the top ten for years.  Meanwhile, "Highlander," which won the Academy Award for Greatest Movie of All Time, is strangely missing.
The volatility of the list of time is noted by Ian Christie:
And the loser is – Citizen Kane. After 50 years at the top of the Sight & Sound poll, Orson Welles's debut film has been convincingly ousted by Alfred Hitchcock's 45th feature Vertigo – and by a whopping 34 votes, compared with the mere five that separated them a decade ago. So what does it mean? Given that Kane actually clocked over three times as many votes this year as it did last time, it hasn't exactly been snubbed by the vastly larger number of voters taking part in this new poll, which has spread its net far wider than any of its six predecessors.

But it does mean that Hitchcock, who only entered the top ten in 1982 (two years after his death), has risen steadily in esteem over the course of 30 years, with Vertigo climbing from seventh place, to fourth in 1992, second in 2002 and now first, to make him the Old Master. Welles, uniquely, had two films (The Magnificent Ambersons as well as Kane) in the list in 1972 and 1982, but now Ambersons has slipped to 81st place in the top 100.

So does 2012 – the first poll to be conducted since the internet became almost certainly the main channel of communication about films – mark a revolution in taste, such as happened in 1962? Back then a brand-new film, Antonioni's L'avventura, vaulted into second place. If there was going to be an equivalent today, it might have been Malick's The Tree of Life, which only polled one vote less than the last title in the top 100. In fact the highest film from the new century is Wong Kar-Wai's In the Mood for Love, just 12 years old, now sharing joint 24th slot with Dreyer's venerable Ordet….
It's the last point that jumped out at me. Not only are there few newish movies on the list but almost all of the top ten are absurdly old—in black and white, even.  The only one of those films made during my lifetime, and that just barely, is Stanley Kubric's "2001: A Space Odyssey" from 1968. (Which, incidentally, I find so mind-numbingly boring that I gave up half an hour into it the only time I tried to watch it.)
How could this possibly be the case? The list is replete with flicks from the 1920s and 1930s, when the medium was in its infancy.  Sure, that means that the opportunity to innovate was much higher than it is now. But it also means that the film makers had nothing to build on, either.
There are few films on the list that had massive box office appeal.  The first two installments of "The Godfather" franchise and Francis Ford Coppola's "Apocalypse Now" are most notable of those.