60% of US COVID-19 Deaths Preventable
Some 230,000 Americans have died needlessly since vaccinations became widely available.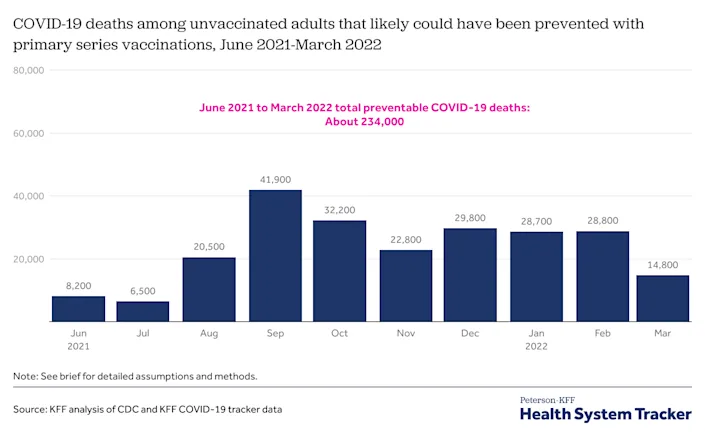 YahooNews ("Vaccinations could have prevented quarter-million COVID deaths in U.S."):
A new analysis from the Kaiser Family Foundation has found that nearly a quarter-million COVID-19 deaths in the United States could have been prevented through vaccination.

"We find that approximately 234,000 deaths since June 2021 could have been prevented with primary series vaccination," reads the report, published Thursday. "These vaccine-preventable deaths represent 60% of all adult COVID-19 deaths since June 2021, and a quarter (24%) of the nearly 1 million COVID-19 deaths since the pandemic began."

The analysis is based on the fact that COVID-19 vaccines were available to nearly all U.S. adults by May 2021. It does not factor in the potential effects of boosters, although KFF said that if it did so, it would have likely found more preventable deaths. Children were excluded from the analysis.
As I've noted before, vaccine hesitancy is widespread and most prevalent among non-voters. And, sadly, they're almost completely unpersuadable by evidence like this. Still, the hyper politicization of this issue by former President Trump and right-wing media is certainly a major contributing factor.
In November 2021, the Centers for Disease Control and Prevention said the unvaccinated were 14 times more likely to die if they contracted the virus than those who had received the shots. However, vaccinations were downplayed or demonized by right-wing media, with a KFF study late last year finding that Americans who trusted conservative outlets were more likely to believe COVID misinformation. Conservative media has downplayed the virus and questioned methods recommended by public health experts in combating it, from masking to vaccines. Fox News hosts have elevated anti-vax voices while promoting drugs like hydroxychloroquine and ivermectin, the latter of which is prescribed as an antimalarial in humans but also as a dewormer in livestock. A large study published this month found that ivermectin did not reduce the risk of COVID hospitalizations.

Other data has shown that death rates were higher in counties won by Donald Trump in the 2020 election versus those won by Joe Biden. When Trump urged supporters at an August 2021 rally to get vaccinated, he was booed, and was again booed months later when he revealed he had received a booster shot.

"In the spring of 2020, the areas recording the greatest numbers of deaths were much more likely to vote Democratic than Republican," read an analysis from Pew Research published in March. "But by the third wave of the pandemic, which began in fall 2020, the pattern had reversed: Counties that voted for Donald Trump over Joe Biden were suffering substantially more deaths from the coronavirus pandemic than those that voted for Biden over Trump."
This isn't surprising. Democrats do better, for a host of reasons, in major urban centers where the disease was spreading much more quickly. But, for many of the same reasons—even apart from politics—those in major urban centers are more likely to get vaccinated. So, naturally, the trend reversed.