The Vaccine Hesitant are Primarily Non-Voters
New polling provides useful insights into the problem.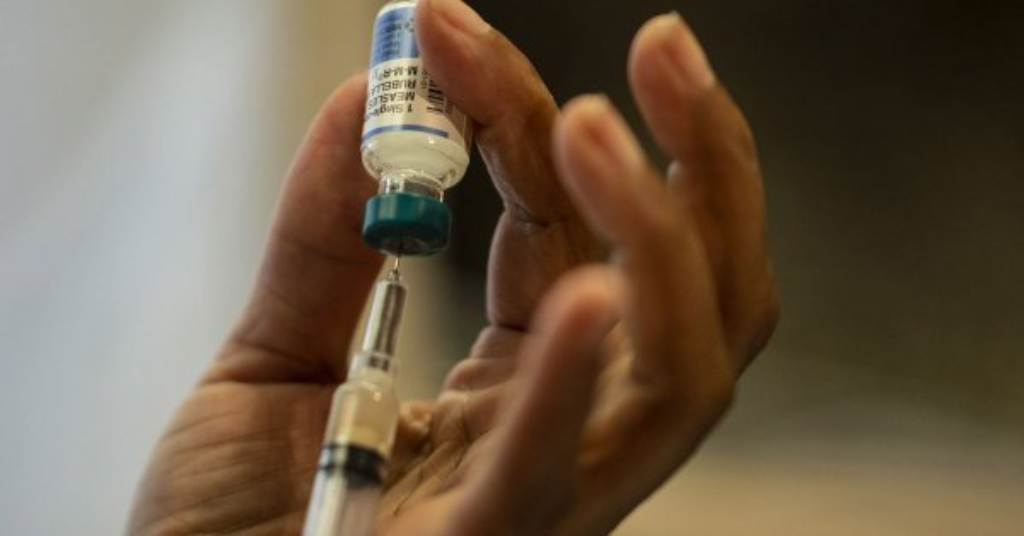 CNN's Harry Enten explains "Why politicians won't reach the vaccine hesitant." The answer wasn't what I was expecting.
The basic problem is one with which most OTB readers will be familiar:
A new Kaiser Family Foundation poll finds that 64% of American adults have gotten or want a Covid-19 vaccine as soon as possible, 15% will wait and see and 19% will either definitely not get one or will only get one if it is required. This data matches up with other polling that suggests that roughly 60% to 65% of American adults want a shot or have had one, 15% to 20% will wait and see and 20% don't want one.
Here's what's surprising:
A lot of attention has been spent on Republicans being the problem, leading to calls for former President Donald Trump to address the group. A look at the data reveals that the vaccine hesitant group, however, are not big Trump lovers. They're actually likely not to be Republican. Instead, many of them are people who are detached from the political process and didn't vote for either major candidate in 2020.

The most recent Kaiser poll helps illustrate that the vaccine hesitant group doesn't really lean Republican. Just 20% of the group called themselves Republican with an additional 19% being independents who leaned Republican. The clear majority (61%) were not Republicans (41% said they were Democrats or Democratic leaning independents and 20% were either pure independents or undesignated). This is very much unlike the vaccine resistant group, of whom 55% are Republican or Republican leaning independents. Just 21% of that group are Democrats or Democratic leaning independents.
To be clear: former President Trump and other Republican politicians absolutely made this problem worse by downplaying the disease and making supporters suspicious of countermeasures and the advice of the CDC and other experts. And that at least partly explains why the Hell No group is disproportionately Republican. (There's of course a chicken-egg problem here, in that those who are suspicious of government and experts are more likely to vote Republican.)
But there's something else going on as well:
There isn't going to be a single ideological message that appeals to a majority of the vaccine hesitant group. They're of all political stripes.

The March Kaiser Family Foundation poll shows us another issue: Traditional political type messages may not work on them either. That poll asked respondents whether they were registered to vote and for whom they voted for in the 2020 election. The overwhelming plurality (48%) were people who either didn't vote, voted third party or weren't willing to disclose who they cast a ballot for. The rest were split 31% for Trump and 20% for President Joe Biden.

The poll gets at the fact that the efforts to vaccinate the population isn't a political campaign to reel in voters. If we use traditional election tactics to reach the vaccine hesitant group, we're likely to lose.
And here's what's so hard for people like us to remember:
Just 62% of the voting age population cast a ballot in 2020, even though the election featured the highest turnout in a long time. The number of adults who didn't vote was larger than the number of people who voted for either Biden or Trump. [emphasis mine -jj]
Again: politics matters a great deal. Party identification is a key indicator of attitudes toward the virus and the various precautions around it. But roughly four in ten adults are completely checked out from politics and, indeed, the news of the day.
Relatedly:
People who are not registered to vote are among the most likely to say they're in the wait-and-see camp. In a Monmouth University poll last month, 34% of adults who were not registered to vote said they wanted to "see how it goes" (i.e. wait-and-see) before getting a vaccine. That was significantly higher than the 10% of registered voters who said the same.

Another way to look at this is that most political campaigns are focused on older people because they make up the lionshare of habitual voters. The people who are vaccine hesitant are not old. The clear majority (about 60% to 70%, depending on the poll) are younger than 50. These are largely not going to be people who watch cable news.
Now, of course, this works both ways.
Younger people tend to care less about politics because they have less at stake.* As people get older, they pay more in taxes, buy homes, have children, and otherwise have more reason to care about what the government does. And the elderly get Social Security and Medicare, so they interact with the federal government routinely.
And, as far as COVID-19 goes, younger people are, all things equal, less likely to suffer severe symptoms if they contract the disease. Which explains why such a huge percentage of personnel in our armed forces, particularly younger members of the enlisted force, have thus far refused to get vaccinated. (Because the vaccines are all under "emergency" approval from the FDA, the Defense Department has not made it mandatory. And, frankly, younger enlisted folks have so few opportunities to say No, I suspect a lot of them are doing so just because they can.)
Regardless, Enten argues, we're not going to persuade these folks via earnest messaging from political leaders.
According to the polling, there are a lot of different ways we might be able to do that, such as making it easier to get the vaccine and confronting falsehoods about the vaccine.

The good news is that people, especially younger people, are far more likely to get a vaccine when they know someone else who has gotten one. If professionals can get a single person in a social circle to get a vaccine, it will make their overall job of getting people vaccinated that much easier.
I still think the key is to make being vaccinated more obviously beneficial through vaccine passports or other methods to allow those who do their civic duty to more easily participate in public activities than those who refuse.
*UPDATE: As @Nightcrawler correctly notes in the comments, it's not really true that younger folks have less at stake given that they'll have to live with the long-term implications of today's policies. But the immediate impact is simply not perceptible to many in the cohort.