Evidence Isn't Going to Persuade Anti-vaxers
Hesitancy is a complex phenomenon largely immune to facts.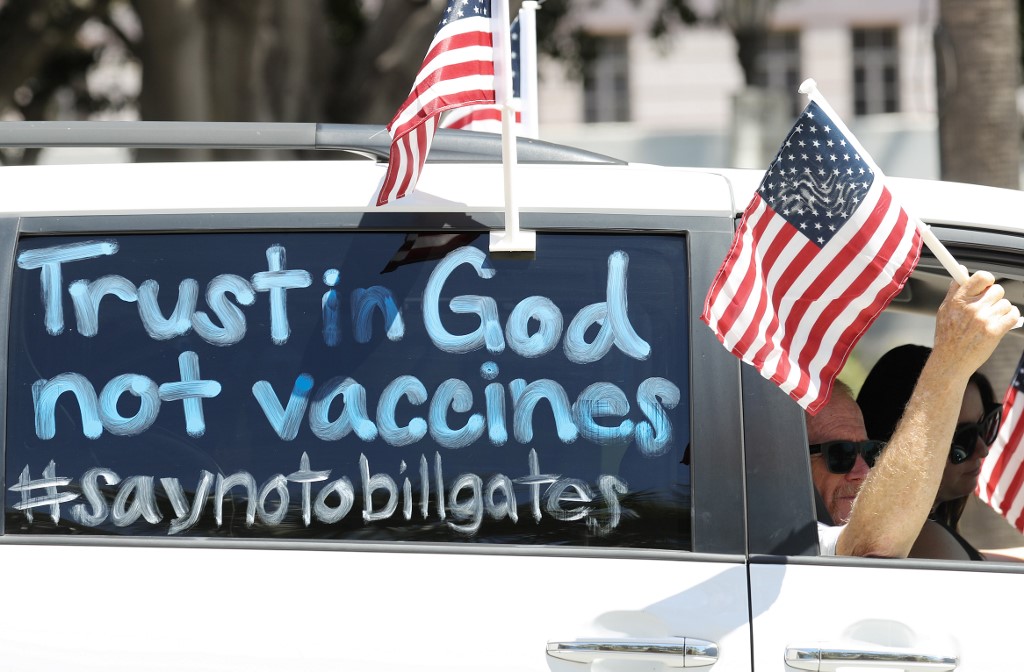 Harvard Medical School researchers Anupam B. Jena and Christopher M. Worsham take to the op-ed pages of the NYT to argue "Facts Alone Aren't Going to Win Over the Unvaccinated. This Might." The first part is more illuminating than the second.
In a study published on Dec. 13, we examined data from about 750,000 children who were eligible to receive the human papilloma virus vaccine to prevent cervical cancer. Since the HPV vaccine was approved in 2006, it has experienced resistance from parents and religious and conservative groups who see it as promoting sexual behavior. Its politicization was a preview for what has happened with the coronavirus vaccines in the United States.

Our research question was: Are mothers who themselves had cervical cancer more likely to have their children vaccinated against HPV? We thought that for this group of mothers, a lack of information about the consequences of HPV couldn't possibly affect their decision to vaccinate their children against the virus. These women had personally suffered from cervical cancer, so, presumably, they would be especially well informed about the harms of this virus and the disease it causes.

What we found surprised us: The girls and boys whose mothers had cervical cancer were no more likely to be vaccinated against HPV compared with children whose mothers had no history of cervical disease. Children whose mothers had a cancer "scare" — a biopsy of cervical cells that ended up not being cancerous — were only slightly more likely to be vaccinated. But having cervical cancer or a cervical cancer scare did not result in the large increase in vaccination rates that we were expecting.

Motivations behind vaccination decisions are complex; they vary from disease to disease and across time, social groups, culture and geography. But if personally having cervical cancer doesn't seem to motivate mothers to vaccinate their children against HPV, we probably shouldn't be surprised when hesitant Americans are not motivated to get vaccinated after a family member is hospitalized or even dies from Covid-19. Emergency room doctors sharing devastating stories from the hospital may, unfortunately, not meaningfully impact vaccination rates.
The linked paper on vaccine hesitancy is from 2015, which helpfully eliminates any effect from the politicization of this particular vaccination by former President Trump and the right-wing media complex. The top-level conclusion:
While high levels of hesitancy lead to low vaccine demand, low levels of hesitancy do not necessarily mean high vaccine demand. The Vaccine Hesitancy Determinants Matrix displays the factors influencing the behavioral decision to accept, delay or reject some or all vaccines under three categories: contextual, individual and group, and vaccine/vaccination-specific influences.
Back to Jena and Worsham:
Our past research has also shown that more information often isn't enough to change behavior. A classic example is doctors who struggle to follow the same medical advice that they give to patients. Despite doctors' extensive training and access to medical information, as a group, they are barely better than patients at sticking to recommendations for improving their health. This includes vaccinations. Rates of chickenpox vaccination among doctors' children, for example, are not meaningfully different from the rates among children whose parents are not doctors. While most parents vaccinate their children against chickenpox, you would expect the rates among doctors' families to be especially high.
While oft-deployed, it's rather a stunning bit of confirmation. Few are better informed about the consequences of poor health choices than physicians and yet then nonetheless often make poor health choices. Because, well, they're people. (Anecdotally, the problem is even worse with nurses, who have nearly as much knowledge on the matter as physicians but, for example, seem quite often to be morbidly obese.)
Alas, after that useful setup, the payoff is rather a dud:
While small positive incentives such as free doughnuts or entries into statewide lottery programs may have motivated some people, those and similar methods don't seem to motivate people to get vaccinated on a scale large enough to close the vaccination gap.

The incentive that seems to work especially well is the employer vaccine mandate, a negative incentive. "Get vaccinated or get fired" has shown to be an effective message. United Airlines, which mandated the coronavirus vaccination for its employees this past summer, reported in November that 100 percent of their customer-facing employees were vaccinated, and that only about 200 of their 67,000 employees had chosen termination over vaccination. Similar stories have played out among private and public sector employers that enforce mandates, with vaccination rates approaching 100 percent (including at our own hospital).

By now, it's clear that the public health system does not know how to change people's beliefs about vaccines. Until we do, America's leaders should focus on other strategies, especially the ones we already know are effective.
So, essentially, we're never going to be able to convince people to get vaccines of their own volition so we need to coerce them. This is incredibly harsh but essentially what I've been saying for months now. It's what we've done for most vaccines: they're simply not optional for those who want to send their kids to school and otherwise participate in the community.
It's a rather unsatisfying conclusion.