Conservatives and Children's Rights
COVID vaccine hesitancy is just the tip of the iceberg.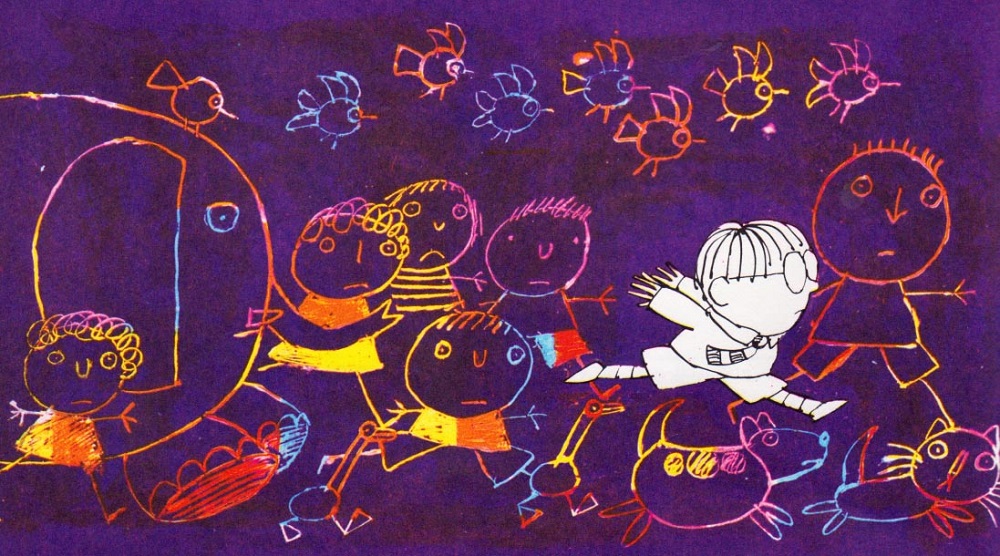 Writing for CNN, Jill Filipovic makes a somewhat overwrought argument in "Tennessee vaccine official's story reveals an ugly truth about GOP and children's rights." I mentioned the case yesterday in my roundup post "The Stupid, Evil Party" but she draws even wider conclusions.
I have no real objections to her lede:
The Donald Trump-fueled descent of the GOP into a party of reality-rejecting, science-denying conspiracy theorists is well-documented, and a growing phenomenon, as the extreme factions of the party overtake or push out the relatively few moderate Republicans remaining. And almost nowhere is the enduring harm of the Trump years more apparent than in the American right's response to the Covid-19 vaccine. Vaccinations, long rightly heralded as miracles of modern medicine that have saved millions of lives, are suddenly ideologically divisive along party lines.
But she extrapolates from the relatively new to paint a rather longstanding conservative tendency as part of the phenomenon:
The danger inherent in this conflict came to a head this week in Tennessee, where pediatrician Dr. Michelle Fiscus, one of the state's top vaccine officials, was fired after circulating information about a decades-old state policy regarding vaccinations for teens.

Republicans in the US are the most likely to say that they will simply refuse to be vaccinated against Covid-19, according to a Monmouth University poll. And some of these Republicans aren't just refusing vaccination for themselves. Many of them, including elected GOP officials, are also trying to make it harder for children to get vaccinated by penalizing public health officials who point out that they can.

It's ironic: The party of "pro-life" doesn't believe that children — including teens — have basic rights to preserve their well-being, separate from their parents' wishes or consent.
It's neither ironic nor even remarkable. Extrapolating from the label "pro-life" to discuss policy preferences apart from abortion is just a tired rhetorical device. A huge number of people, mostly with deep religious faith, believe abortion is the killing of an unborn child and should either be illegal or legal only in limited circumstances. That's neither a particularly new phenomenon nor one limited to Republicans. Opposition to abortion doesn't necessarily correlate with other policy preferences, nor should we expect it to.
What really interested me in the piece, though, is this discussion:
The dovetailing of vaccine rejection and the rejection of children's rights is currently playing out in Tennessee. Fiscus, the medical director for vaccine-preventable diseases and immunization programs at the Tennessee Department of Health, said Monday that she was fired after writing a memo about Covid-19 vaccinations for young people, and including the legal standard for parental consent to health care in Tennessee. As Fiscus put it in a statement, "according to Tennessee Supreme Court case law, minors ages 14-17 years are able to receive medical care in Tennessee without parental consent."

[…]

When it comes to teenagers and vaccines, though, two right-wing authoritarian buttons get pushed: Science denial and parental control. The entire concept of children having rights has long been rejected by many conservatives ….

[…]

Many of the same folks who believe that a fetus has more rights than a pregnant woman immediately invert that relationship as soon as a child is born, arguing that parents have near-total authority over their kids — including the authority to hit their children, to refuse them a basic education and to put their kids' health at risk.
It's true that Tennessee, and many other states, give minor children some rights to make their own medical decisions. This is incredibly controversial, especially among conservatives.
Let's start with the micro issue—deciding who gets vaccinated—and then move to the macro issue of parental control.
While we have been documenting Trump-inspired politicization of the COVID virus and associated mitigation factors from the beginning, vaccine hesitancy writ large has been a thing for a very long time and hasn't been particularly partisan at all. This graphic is taken from a Vox explainer ("Vaccine support is bipartisan. Here's how to keep it that way.") from 2015 after the release of a Pew survey: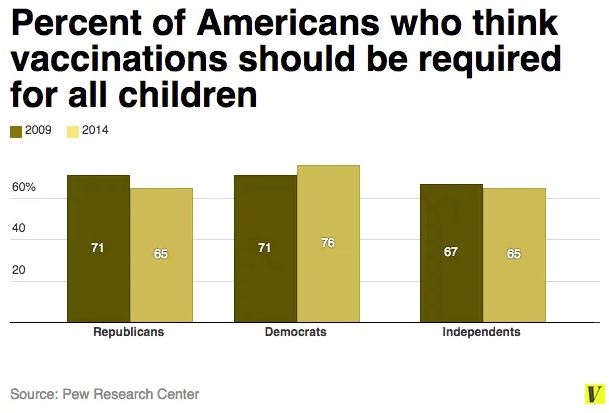 Republicans and Democrats had identical views in the 2009 surveys, with 71 percent of both supporting mandatory vaccination with Independents slight laggards. For reasons not explained, Democrats went up 5 points and Republicans went down 6 points by 2014. Independents went down 2 points, which may simply be a function of sampling error.
Now, this was at a point where there was a national debate on making certain vaccinations mandatory, with Republican New Jersey Governor Chris Christie saying he got his kids vaccinated but respects the right of parents to choose, Minnesota experiencing a measles outbreak but unable to make vaccination mandatory, and President Obama refusing to take a position on the issue. As the Vox piece presciently noted,
As political scientist Brendan Nyhan warns, politicization of the vaccine debate could be "dangerous" and have a "perverse effect." For instance, if support for vaccination becomes primarily identified with President Obama and Democrats, and opposition to it becomes identified with leading Republicans, people could begin to follow partisan cues in making up their own minds.
A 2018 academic study on "The influence of political ideology and trust on willingness to vaccinate" (deliberately chosen to be pre-COVID) found that
decisions about vaccination are based on more than mere knowledge of risks, costs, and benefits. Individual decision making about vaccinating involves many other factors including those related to emotion, culture, religion, and socio-political context. […] Our findings demonstrate that ideology has a direct effect on vaccine attitudes. In particular, conservative respondents are less likely to express pro-vaccination beliefs than other individuals. Furthermore, ideology also has an indirect effect on immunization propensity. The ideology variable predicts an indicator capturing trust in government medical experts, which in turn helps to explain individual-level variation with regards to attitudes about vaccine choice.
But even with this lean, opting out is a widespread practice across ideological (and, presumably, partisan) lines:
Despite all 50 states requiring children to be vaccinated before attending school, all states allow exemptions for medical reasons, all but two allow exemptions for religious reasons, and almost half allow exemptions for philosophical reasons [5]. Such exemptions contradict the efforts of the U.S. government to adhere to a federally mandated vaccine schedule and achievement of universal vaccination to maintain herd immunity. Various reasons for parents not vaccinating their children exist, from mere oversight [6], socio-economic barriers (that often interact with race/ethnicity) [7], and for some the result of conscious decisions. Oftentimes the deliberate decisions of parents are based on parental concern regarding vaccine safety [8] and efficacy [9,10].

For example, there is a growing parental and public interest in natural products and even some have taken up the mantel to "green our vaccines" due to public fears of the relationship between MMR vaccine and autism (a relationship for which no credible empirical evidence has been found [11]). When vaccinations concern children, as in the case of MMR, parents lack control over the outcome of vaccination and the potential damage, although extremely rare (less than 1 in a million), can be long-term or even fatal [12]. Moreover, benefits can be difficult to calculate, particularly given that the negative consequences of nearly-eradicated diseases are no longer salient. Consequently, many parents give greater weight to the risks of vaccines than the benefits [13]. With the ubiquity of the internet and information available online along with a shifting parent-doctor relationship, parents have become more involved in vaccination decisions and often override the mandated vaccine schedule.
The anti-vax thing is widespread, with Christian fundamentalists and modern-day hippies alike finding reasons for fear, whether from influencers like Jenny Craig to various websites. It's not surprising that, even before Trump, that there was a modest partisan and ideological lean, not least of which because Democrats are more concentrated in dense urban areas and the risk of contagion is simply higher there than in rural and suburban areas.
As I noted back in the 2015 piece, I have very mixed feelings:
My late father was almost an absolutist on parental rights. He fully backed the right of Christian Scientists to refuse life-saving surgery for their children, seeing no role for the government at all on the matter. That struck me as an extreme position even as a kid. But, while I don't have a deeply entrenched position on the issue, I'm not so dogmatic on the other side that I think the state ought forcibly inject children with vaccines over parental objection or deny children an education because their parents are religious nuts. Like Christie, I think the risk associated with a particular disease has to be factored in.
With regard to communicable diseases, including COVID, I think the risk-reward calculus supports making vaccination mandatory for government employees, including schoolteachers, and for kids attending public schools. (But, of course, that further incentivizes the push by fundamentalists to homeschool their children, which people like Filipovich are much more exercised over than I am.*)
I have, in all candor, given much less thought to whether minor children ought to be able to override their parents' wishes. The only issue related to that in the public spotlight over the years has been abortion access and, while I fully understand the rationale for allowing adolescent girls to make the decision without telling their parents, I'm extremely squeamish about the implications. Given how few things we'll let even 17-year-olds do without parental consent, medical procedures seem likely something that ought to be supervised in most cases.
The actual law on this varies widely across the country, as a 2019 Forbes piece ("What Rights Do Teens Have When It Comes To Their Health?") notes:
There are no federal guidelines regarding a minor teen's rights when it comes to medical care, and each state medical board has different regulations.

[…]

The latest issue regarding minor teen consent (as opposed to assent or dissent) is the hot button issue of vaccines. There are currently 17 states, including those with active measles outbreaks, which allow parents to opt out of vaccinations for their children based on personal beliefs. The state of California requires medical exemptions to opt out. But even these became inordinately widespread, whereby some doctors would essentially 'sell' medical exemptions to families who, in reality, did not have a medical indication to opt out.

[…]

In California, minors ages 12 years and older can independently receive treatment for sexually transmitted infections (STI's) as well as receive the HPV vaccine, which prevents human papilloma virus (HPV)-induced lesions of the genital tract in both females and males, as well as cervical cancer, throat cancers, and sinus cancers. California minors can also receive the Hepatitis B vaccine without parental consent. In Oregon, where a public health emergency has been declared due to measles outbreaks, teens ages 15 and up may receive hospital care, dental and vision services, and any immunization without parental consent. In Washington state, teen minors may receive vaccines without parental consent if the treating physician deems the teen "mature," which seems a bit up for grabs regarding a true legal descriptor. Almost every state enables teen minors to make medical decisions regarding reproductive health, drug and alcohol dependence issues, and mental health support without need for parental permission.
Again, I don't claim any expertise here. But it really boils down to medical professionals substituting their judgment for that of the parents. At one level, that doesn't much bother me in that clinicians are more knowledgeable and have a bigger view of the issue. But I'm nonetheless more than a little leery of overriding parental will—or ignoring it altogether—given that parents are ultimately responsible for the wellbeing of their minor children.
If it wasn't already clear, I don't think Fiscus should have been fired; she was acting within the guidelines of Tennesee law and using her best medical judgment. But, while I think vaccine hesitancy is just bizarre, I can certainly understand why people would have been upset that she was encouraging minors whose parents didn't approve of the COVID vaccine to go ahead and get it anyway.
____________________
*A discussion here of homeschooling would take us down a needless rabbit hole. I'm reflexively opposed to the idea for all manner of reasons that one might deem conservative, or at least classically liberal. But, associated as I am with the armed forces, I know a lot of really good folks who homeschool their kids. And the macro-level evidence points to home-school kids being remarkably well-adjusted and prepared for college. See "Evangelical Homeschooling and the Development of "Family Values"" for a discussion of how the phenomenon went from being associated with granola culture to a right-wing thing.