The Stupid, Evil Party
It's not getting any better, folks.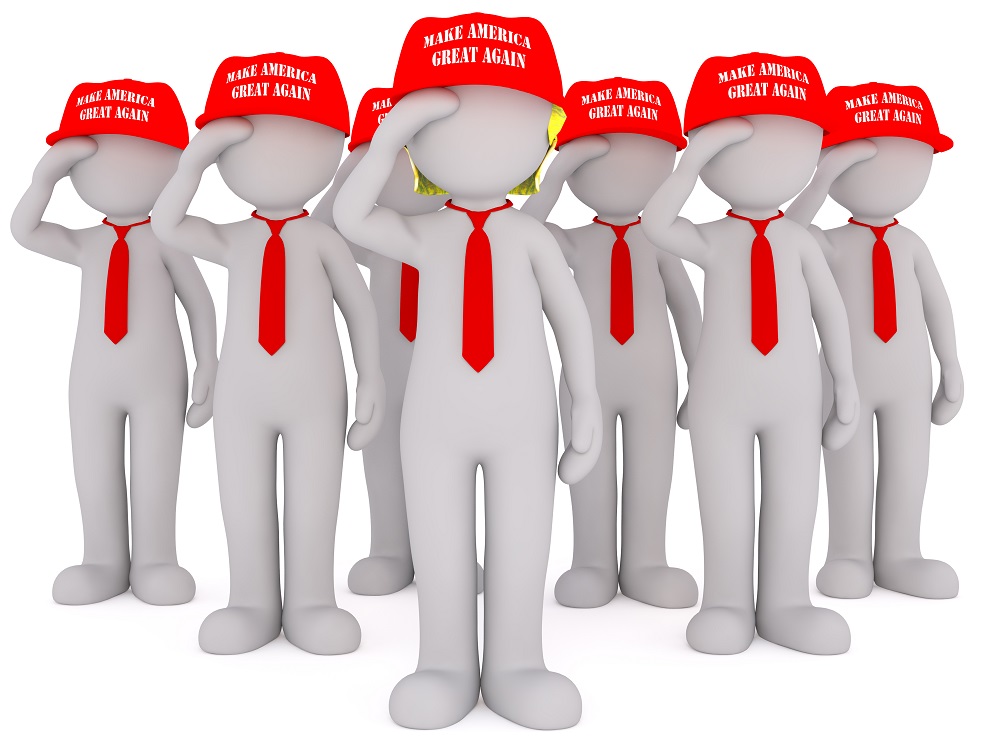 M. Stanton Evans famously quipped, "We have two parties here, and only two. One is the evil party, and the other is the stupid party." Alas, the GOP is now both. Scrolling through memeorandum on what is thus far a slow news day, things continue going downhill for my erstwhile party.
Juan Williams sums things up nicely in an op-ed at The Hill ("Republicans prefer Trump's fantasies over truth and facts"):
The dark reality is that no matter how fair the final report of the select committee [on the 6 January Capitol riots], it will be ignored by most Republicans.

Similarly, it won't matter to many Republicans in Congress if federal and state investigations in New York find Trump's company guilty of engaging in a criminal enterprise full of tax fraud.

Republicans in Congress are even willing to close their eyes to a disease taking the lives of their constituents.

They refuse to rebut mindless, conspiracy talk about vaccines even as Republican-majority states that voted for Trump are disproportionately hit by a new variant of the virus.

To be a Republican in good standing these days requires buying into conspiracies, expressing racist grievances and repeating the "Big Lie."
That, sadly, is pretty much where we've been during the Trump era. But it's actually getting worse rather than better.
POLITICO ("'Get on the team or shut up': How Trump created an army of GOP enforcers"):
In Oklahoma, the newly installed party chair is endorsing a primary challenge to GOP Sen. James Lankford, the home state incumbent who crossed Trump by voting to uphold results of the November election. In Michigan, the state party chair joked about assassinating two Republican House members who voted to impeach Trump. Arizona's state chair accused Republican Gov. Doug Ducey of nothing less than killing people by restricting the use of hydroxychloroquine, a Trump obsession, in response to the coronavirus pandemic.

There and elsewhere, state party chairs have been at the center of a raft of resolutions to censure or rebuke GOP lawmakers deemed insufficiently loyal to Trump.

In red states, blue states and swing states, these leaders — nearly all of whom were elected during Trump's presidency or right after — are redefining the traditional role of the state party chair. They are emerging not just as guardians of the former president's political legacy, but as chief enforcers of Trumpism within the GOP.
Fox News ("Nikki Haley calls for every governor in America to ban funding for critical race theory in schools"):
Former U.N. Ambassador Nikki Haley on Monday eviscerated critical race theory, calling for "every governor in the United States" to "ban" the racially charged academic movement.

"Think about a 5-year-old that starts kindergarten and they don't know anything about color. If she's White, you're telling her she's bad. If she's Brown or Black, you're telling her she will never be enough and she's always a victim. That's harmful for the well-being of our children," Haley told "America Reports."
WaPo ("Health official fired in retaliation for coronavirus vaccine guidance for teens, she says"):
Tennessee fired its top immunization official Monday, the official said, in retaliation for her attempts to let teenagers choose whether to be vaccinated against the novel coronavirus.

Michelle Fiscus said she was fired from her job as director of immunization programs at the Tennessee Department of Health on Monday afternoon as retaliation for the department's efforts to vaccinate teenagers against the coronavirus, a plan that angered several state lawmakers.

"This is about a partisan issue around covid vaccines and around people in power in Tennessee not believing in the importance in vaccinating the people, and so they terminated the person in charge of getting it done," Fiscus told The Washington Post on Monday evening. "The government is sacrificing public health to be in the good graces of our legislators; it's a horrid dereliction of duty," she said.
ABC/KVUE ("'They will be arrested.' Gov. Abbott responds to Texas Democrats' flight to Washington, D.C."):
"[Y]es, there is something the governor can do. First of all, I'll tell you what the House of Representatives can do. What the speaker can do is issue a call to have these members arrested. In addition to that, however, I can and I will continue to call a special session after special session after special session all the way up until election next year. And so if these people want to be hanging out wherever they're hanging out on this taxpayer-paid junket, they're going to have to be prepared to do it for well over a year. As soon as they come back in the state of Texas, they will be arrested, they will be cabined inside the Texas Capitol until they get their job done. Everybody who has a job must show up to do that job, just like your viewers on watching right now. State representatives have that same responsibility."
NY Magazine/Intelligencer ("The Anti-Vaxx Party Is Taking Shape"):
The COVID-19 vaccines are saving lives, but watch Newsmax, and you'd never be able to tell. "I'm not a doctor," host Rob Schmitt recently warned, before adding, "I feel like a vaccination in a weird way is just generally kind of going against nature." Perhaps "there's just an ebb and flow to life where something's supposed to wipe out a certain amount of people, and that's just kind of the way evolution goes. Vaccines kind of stand in the way of that."

There's nothing inherently conservative about anti-vaccine sentiment. The false claim that childhood vaccines cause autism attracted adherents of various political stripes, from typical right-wingers to crunchy liberals. COVID, however, has become an intensely partisan affair, with the pandemic doubling as a referendum on the Trump presidency. On the right, listening to Joe Biden and Anthony Fauci on vaccines means rejecting Donald Trump, which is heresy.

At a CPAC event over the weekend, audience members even applauded low national vaccination rates. "They were hoping, the government was hoping, that they could sort of sucker 90 percent of the population into getting vaccinated. And it isn't happening," a panelist bragged. Also at CPAC, Madison Cawthorn told a right-wing news site that a door-to-door vaccine push would build "mechanisms" that could someday infringe on dearly held personal liberties. "Think about what those mechanisms could be used for. They could then go door-to-door to take your guns. They could go door-to-door to take your Bibles," he claimed, without evidence.

As the vaccine becomes a partisan dividing line, the right-wing martyrdom complex also swings into effect. Marjorie Taylor Greene has repeatedly linked the Biden administration's pandemic guidance to Nazi practices, as though the unvaccinated and unmasked are at risk of genocide. If colleges require vaccinations, they're enforcing "medical apartheid," Turning Point USA's Charlie Kirk claimed. Now Republicans in several states have either introduced or passed legislation prohibiting "discrimination" on the basis of vaccination status, hampering businesses, schools, and employers from implementing common-sense pandemic-safety requirements. On Fox News, Tucker Carlson recently discouraged college students from getting the vaccine altogether. "It's not good for them. There's a risk involved, much higher than of COVID, b
Virginia Mercury ("Virginia Bar Association cancels debate after Youngkin chooses to skip it"):
The Virginia Bar Association has cancelled its planned gubernatorial debate after Republican Glenn Youngkin broke with recent tradition by skipping what is usually the first face-to-face matchup of the general election.

[…]

The Youngkin campaign said the Bar Association "refused to correct several problems" with the debate format, including the selection of PBS Newshour anchor and managing editor Judy Woodruff as moderator. Woodruff has moderated VBA debates in the past, but the Youngkin campaign has highlighted a $250 donation she made to the Clinton Foundation's Haiti earthquake relief efforts 11 years ago as a possible conflict of interest.

"Unfortunately, the VBA refused to dedicate a portion of the debate to a discussion on Virginia's economy and jobs, which proved to be an insurmountable barrier in our negotiations," said Youngkin spokeswoman Macaulay Porter. "It would also be a conflict of interest to have former Clinton Foundation board member Terry McAuliffe being 'questioned' by a Clinton Foundation donor."

A PBS ombudsman once called Woodruff's donation to the Clinton Foundation a "mistake." But recent Republican nominees Ken Cuccinelli and Ed Gillespie agreed to VBA debates she moderated, and this year she received a Peabody Award for journalistic integrity and an accompanying commendation that described her as "one of the most trusted broadcast journalists in America."
The American Independent ("GOP House candidate who led disruption at Porter town hall holds extremist views"):
Nick Taurus, a Republican running for the seat in California's 45th Congressional District currently held by Democratic Rep. Katie Porter, was reportedly involved in what the Los Angeles Times called a "scuffle" at a town hall Porter held on Sunday in Irvine, California.

According to the Times' reporting, Taurus and a group of his supporters interrupted Porter with chants and shouting as she spoke, leading to physical confrontations between his supporters and hers that were broken up by police.

On July 8, Taurus had posted a call on his Instagram account for his supporters to cause disruption at the event. "CONFRONT KATIE PORTER!" Taurus wrote, adding, "Her America Last policies are awful for the 45th district and we intend to voice our displeasure."

[…]

Taurus, who filed official paperwork declaring his candidacy with the Federal Election Commission on June 15, says on his official campaign website, "Our Movement of 'Christ, Country, Community,' Starts in Orange County!"

"I am an American nationalist and Roman Catholic who is most concerned with addressing the issues surrounding immigration, vaccination and Critical Race Theory," the site reads.

A review of Taurus' social media posts reveals a history of homophobic, racist, and conspiracy theory-related rants.

"No longer will AMERICANS bow to the billionaires, anti-White extremists and the GAY mafia," he wrote on June 19.
In isolation, I could likely explain most of these away. Taurus isn't a serious candidate. Haley is herself a person of color and her follow-on comments are perfectly reasonable. Abbott is simply playing hardball in response to Texas Democrats' own game of hardball. But they're all part of a pattern where people who would have been considered staunch conservative Republicans five, certainly ten, years ago now have to pander to the lunatic fringe to be viable. Or, worse, the lunatics simply are no longer the fringe.
Regardless of how many posts Steven and I write advocating for reform of our electoral system to make it otherwise, were essentially trapped in a two-party system that consists of a "Democratic" and a "Republican" party. That has been the status quo since 1860. The policies of the two parties have evolved radically over time since that they would be unrecognizable to Stephen Douglas and Abraham Lincoln but the names remain with us.
Historically, when one party moves too far out of the mainstream, they've been punished at the polls and, eventually, forced to moderate their positions. But the combination of chicanery to make it harder for Democrats to vote and the inherently undemocratic nature of our system for electing Presidents and Senators have ameliorated that, handing Republicans the White House for twelve of the past twenty years despite having won a plurality only once since 1988. And, as the standoff in Texas demonstrates, this has simply motivated Republicans to work harder to further rig the game in their favor.
This is simply bad for the country. We need two viable parties to force honest competition, new ideas, and moderation into the system. But that only works if the parties have to please the general population, not their hand-selected constituencies.