A Couple of Quick Comments on Rice
Well. medium length anyway.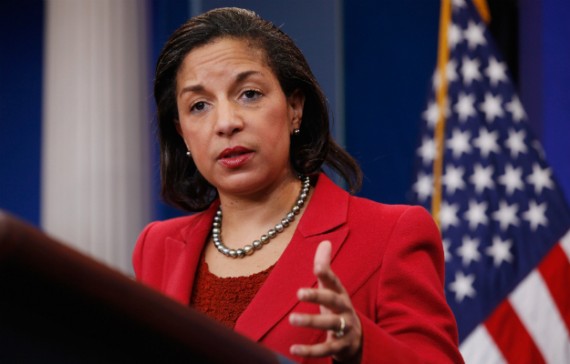 I will start off by saying that it is hardly a blow to the republic when any given person is not able to obtain a nomination and a confirmation to a given cabinet post.  Susan Rice is not the indispensable woman at State.  As such, on one level at least,  the announcement today that she has withdrawn herself from consideration is not really all that big of a deal.  This is not to say that she isn't qualified—my general impression is that she is, but simply to say that there are other equally, perhaps better, qualified possibilities.  Indeed, I will say that a serious debate about her qualifications might very well convince me that she is not qualified (if only we were having such a debate ). However, I am generally of the opinion that president's ought to be able to get whom they want for cabinet positions and that objections ought to be based on serious objections.  If the opposition to a given candidate has a serious objection, they should make it and then persuade a majority of the Senate to vote against.   Obstruction based on partisan point-scoring, however, should not be the way things work.
However, there has been no serious objections articulated about Susan Rice—certainly not of later.  Rather, the objections are all rooted in one set of Sunday morning appearances on TV talk shows in which she recounted information given to her by the CIA and vetted by the DNI.  This information did not lead to deaths or, really, any harm to Americans or to US national interests.  No, it just ends up that some of the information was incorrect.  I remain, as I have noted before, unpersuaded as to the grave seriousness of said utterances.  However, even if one finds them to be outrageous(!) it is still rather difficult to pin said outrage on Dr. Rice—and certainly not in a way that means she deserves the attacks that she has suffered nor that she should have to withdraw her name from the pool of potential nominees for SoS.
First, if uttering information that one believed to be correct on television that ended up being not true is a disqualifier, then the nominees for all future cabinet positions will have to be persons who have never been on television.
Second, this entire affair is another example of the fundamentally unserious nature of the Republican Party at the moment.  If one wants to make an argument against Rice's qualifications, please do so.  But to pretend like what she did in those Sunday show appearances is disqualifying is utterly ridiculous and has no intellectual heft whatsoever.  Senator McCain in particular comes across as a naught but a grumpy old man in this episode.  Where is the reasoned argument on this issues?
Third, this all underscores the fundamentally flawed nature of the filibuster rules in the Senate.  A president whose party has a majority of seats in the US Senate ought to be in a position to get his cabinet nominees confirmed.  Again:  if there are serious objections founded in reason and evidence, then make the case.  Being grumpy and creating faux scandals (and pegging that scandal simply on someone who made a serious of TV appearances on one morning) is not the behavior of serious people.  It is, instead, the behavior of the petty and childish.  Governing is important, and it would be nice if those elected to high office treated it as such.  There is not justification for a minority of the chamber to be able to control the makeup of the president's cabinet.  It serves no fundamental democratic nor constitution purpose.  It is a fluke of the development of the rules of the chamber and nothing more.
It all seems to boil down to Benghazi!  Well, just because, that's why. (Has anyone yet articulated what the exact harm is supposed to have been because of the way the story was initially handled?  Certainly I have not seen anything of this nature.  However, Benghazi!!).