Democrats United In Opposition To Virtually All Remaining Trump Cabinet Nominees
Senate Democrats are set to almost unanimously oppose virtually all of the Trump Cabinet nominees yet to be voted on.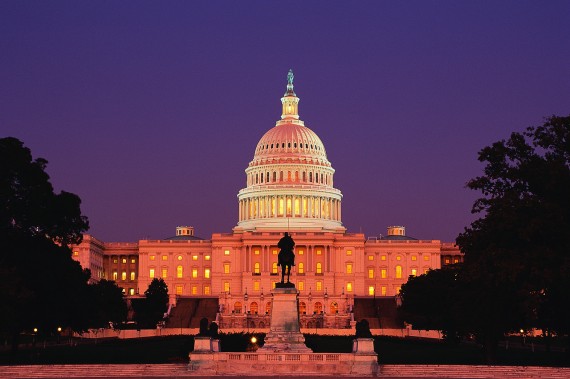 For the most part, President Trump has had an easy go of it in getting his Cabinet nominees confirmed, with nominees for State, Defense, and several other departments being easily confirmed by the Senate with broad bipartisan support. As The Washington Post reports, though, that's about to end:
Virtually all Democratic senators are expected to vote against President Trump's picks to lead the departments of Education, Justice, Health and Human Services, Labor and Treasury and his top budget nominee — a historic rebuke of a first-term president's top Cabinet nominees.

The Senate is scheduled to continue confirming Trump's Cabinet nominees this week, with a vote scheduled for Tuesday to approve Betsy DeVos, nominated to run the Education Department. Senators are poised to confirm Sen. Jeff Sessions (R-Ala.) to serve as the next attorney general by the end of the week.

But those votes are expected to happen with little, if any Democratic support. Only Sen. Joe Manchin III (D-W.Va.) has announced plans to support Sessions. As of Monday, no Democrat has announced support for DeVos, Rep. Tom Price (R-Ga.), nominated to lead the health and human sevrices department, or Steven T. Mnuchin, nominated as treasury secretary. They all are scheduled for up-or-down votes in the coming days.

Near-unanimous opposition to a first-term president's Cabinet picks is rare and hasn't happened in recent history. But it comes amid a growing furor among progressive groups calling on Democratic lawmakers to oppose all of Trump's nominees and policies. A CNN poll released on Sunday showed that just 59 percent of Democrats approve of their party's leaders, a sign that diehard partisans want lawmakers to serve as a more aggressive check on Trump.

On Monday, Senate Minority Leader Charles E. Schumer (D-N.Y.) predicted that "If not total unanimity, we're going to have near Democratic unity in opposing the remaining nominees for President Trump's cabinet. This unity makes clear just how bad this cabinet would be for America's middle class and those struggling to get there, and bodes well for the major battles ahead, including over the Affordable Care Act."

Opposition to labor secretary nominee Andrew Puzder; Rep. Mick Mulvaney (R-S.C.), tapped to lead the Office of Management and Budget; and Oklahoma Attorney General Scott Pruitt to lead the Environmental Protection Agency remains firm, but the final whip count is less certain, aides said. Votes on those nominees are not scheduled for a few more weeks — indeed, Puzder hasn't been scheduled yet for a confirmation hearing.

Democrats announced in January that they would target eight Trump Cabinet nominees on the basis of their policy positions or lack of government experience. Only one of the eight, Rex Tillerson, has been confirmed so far — but he was the first secretary of state nominee in U.S. history to ever have to clear various procedural hurdles before a final vote.

Ultimately, all of Trump's nominees eventually will be confirmed if Republicans hold together to support them. But several Democratic senators and senior aides predicted in recent days that all, if not most of the 48-member caucus would vote en masse against the eight Trump nominees.

Schumer's declaration came as Democrats launched a last-ditch attempt to oppose DeVos by announcing they will continue to speak out against her nomination through the overnight hours until the vote is held on Tuesday afternoon.
In some cases, it seems clear that the near unanimous opposition is motivated by a desire to cater to pressure from the Democratic Party's base voters at a time when the party is still struggling to right itself after the body blow of losing the Presidential election and failing to make any significant gains in down-ballot elections. Education Secretary nominee Betsy DeVos, for example, is heavily opposed by teacher's unions due to her support for initiatives such as school choice, charter schools, and more thorough testing for teachers currently protected by tenure provisions and, of course, teacher's unions are an important part of the Democratic base across the country. The opposition of unions to the DeVos nomination also appears to explain why two Republicans, Lisa Murkowski and Susan Collins, have announced their opposition to DeVos's nomination since both Senators are among the few leading Republicans who are recipients of donations from those unions over the years. As a result, Republican will be forced to rely on Vice-President Pence to cast a tie-breaking vote to confirm DeVos, the first time in American history that a Vice-President's vote will be necessary to break a tie in the confirmation of a Cabinet nominee. The situation is similar with respect to other Trump nominees, such as Scott Pruitt, who is up for nomination to head the Environmental Protection Agency. Pruitt is heavily opposed by environmentalist groups, another important part of the Democratic base. In addition to this kind of focused opposition to specific nominees, Democrats in the Senate appear to be responding to their base's general antipathy to Trump and their desire that the leadership do something, anything to oppose him even if it is ultimately fruitless. Voting against Cabinet nominees that will otherwise be confirmed thanks to GOP majority control of the Senate is a standard way for the minority party to do that, and this is especially true now that Senate rules provide that Executive Branch appointees cannot be stopped via the 60-vote rule.
Ordinarily, of course, Cabinet appointments don't receive this kind of controversy because the general attitude is that Presidents are entitled to the team of advisers that they chose and that nominees should only be rejected if there is something in their record that indicates that they are not appropriate for the position to which they're being named. In the entire history of the United States, in fact, there have only been nine Cabinet nominees who have been rejected by the Senate, with the most recent being John Tower who was initially selected by President George H.W. Bush to be Secretary of Defense but quickly came under question due to a history of alcoholism and other personal allegations. In addition to those nine, there have also been thirteen Cabinet nominees whose names have been withdrawn before the Senate could vote, in some cases due to some controversy or allegation against them that developed after they were named but in others simply because they decided to withdraw their name. It's rare then that we see such blanket opposition to Cabinet appointments and, sadly, just another sign of how politically polarized Washington has become and is likely to stay for the foreseeable future.