Betsy DeVos Confirmed As Secretary Of Education After Tie-Breaking Vote By Mike Pence
Despite two Republican defections, Betsy DeVos was confirmed today as Secretary of Education.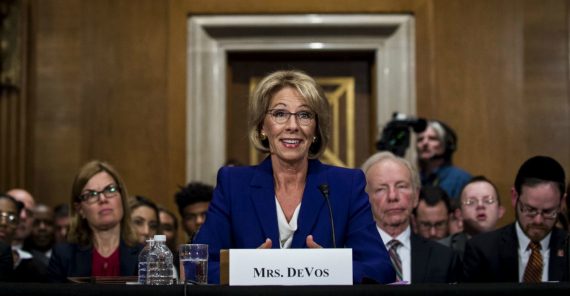 As expected, Betsy DeVos has been confirmed as Secretary of Education thanks to a tie-breaking vote from Vice-President Mike Pence:
WASHINGTON — The Senate confirmed Betsy DeVos on Tuesday as education secretary, approving the embattled nominee only with the help of a historic tiebreaking vote from Vice President Mike Pence.

The 51-to-50 vote elevates Ms. DeVos — a wealthy donor from Michigan who has devoted much of her life to expanding educational choice through charter schools and vouchers, but has limited experience with the public school system — to be steward of the nation's schools.

Two Republicans voted against Ms. DeVos's confirmation, a sign that some members of President Trump's party are willing to go against him, possibly foreshadowing difficulty on some of the president's more contentious legislative priorities.

It was the first time that a vice president has been summoned to the Capitol to break a tie on a cabinet nomination, according to the Senate historian. Taking the gavel as the vote deadlocked at 50-50, Mr. Pence, a former member of the House, declared his vote for Ms. DeVos before announcing that Mr. Trump's nominee for education secretary had been confirmed.

The two Republicans who voted against the nominee, Senators Susan Collins of Maine and Lisa Murkowski of Alaska, announced their opposition to her last week. In back-to-back floor speeches, the lawmakers said Ms. DeVos was unqualified because of a lack of familiarity with public schools and with laws meant to protect students, despite her passion for helping them.

Ms. Collins and Ms. Murkowski said they had also been influenced by the thousands of messages they had received urging them to reject the nomination.

For many in the education community, Ms. DeVos's full-throated support for charter schools and vouchers — which allow students to use taxpayer dollars to pay tuition at private, religious and for-profit schools — is symptomatic of her disconnection from the realities of the education system.

Neither Ms. DeVos nor any of her children attended a public school. She has never taken out a federal student loan, which is striking when considering she will head a department that is the country's largest provider of student loans.

Having grown up in a wealthy family and married into the Amway fortune, Ms. DeVos's web of financial investments raised red flags among critics who worried about the many opportunities for conflicts of interest — a concern exacerbated when she became the first of Mr. Trump's nominees not to complete an ethics review before appearing before a Senate panel.

Despite clamorous objections to Ms. DeVos from teachers' unions and even some charter organizations that typically oppose them, opponents nonetheless fell shy of defeating her nomination. Most Republicans described her as committed and determined to put what is best for children above all else.

In a fiery speech moments before the vote, Senator Lamar Alexander, Republican of Tennessee and a former education secretary himself, criticized his Democratic colleagues for opposing Ms. DeVos, accusing them of opposing her because she was appointed by a Republican president.

Mr. Alexander, chairman of the committee that approved Ms. DeVos's nomination last week in a straight, party-line split, said she had been "at the forefront" of education overhaul for decades. "She led the most effective public school reform movement over the last few years," he said.

Lacking the votes to block Ms. DeVos, Democrats realized there was little they could do. Having exhausted every legislative option to slow consideration of her nomination, Democrats held vigil in the final 24 hours before her confirmation vote, coming to the Senate floor throughout the night and into the morning to reiterate their objections.

And though they spoke mostly to a chamber empty but for a handful of clerks, pages and other staff members, Democrats pressed their absent Republican colleagues to join them, hoping for an 11th-hour defection that would derail Ms. DeVos's nomination.

Senator Patty Murray of Washington, the top Democrat on the committee that approved Ms. DeVos — and a former educator herself — urged disheartened colleagues and advocates on Tuesday morning not to think of their efforts as a waste.

"It's made an impact here and made a difference," she said. "And I think it's woken each of us up in this country to what we value and what we want."

Shortly after Ms. DeVos's confirmation, Randi Weingarten, president of the American Federation of Teachers, a union that protested the nomination, said the public would now have to "serve as a check and balance" to her policies and be "fierce fighters on behalf of children."

"It's telling that even when Trump had full control of the legislative and executive branches, he could only get DeVos confirmed by an unprecedented tiebreaking vote by his vice president," Ms. Weingarten said. "That's because DeVos shows an antipathy for public schools, a full-throttled embrace of private, for-profit alternatives, and a lack of basic understanding of what children need to succeed in school."

(…)

hile they may have lost the fight against her confirmation, many advocates said they would continue to fight Ms. DeVos as she serves as education secretary. Some vowed to demonstrate at her public appearances at forums and schools and to seek public candidates friendly to their view to run for local office.

Lily Eskelsen García, president of the National Education Association, said her union would tap into the vast database of advocates it had built during Ms. DeVos's confirmation process to help keep her in check. "As soon as she does something alarming, it will be known, it will be seen," she said. "She won't be able to hide."
That last remark should make it clear that DeVos's tenure in office is likely to prove to be controversial, and that the education-based proposals that do end up coming out of this Administration will be high profile issues for many Democrats. Among the many immediate concerns that DeVos's confirmation is likely to involve the ongoing issues regarding the rights of students who identify as transgender in public schools. During the final years of the Obama Administration, the Department of Education took the position that Federal laws and regulations required public schools to accommodate those students by, for example, allowing them access to the bathroom or locker room of the gender they identify with. Several of those cases have made it into Federal Court around the country, and one such case is currently pending before the Supreme Court but is likely to be heard prior to the time Judge Neil Gorsuch is confirmed unless the Court decides to reschedule the case so that it heard early in the October 2017 term rather than during the term that will end in June. What position the Department of Education takes in these cases could prove to be crucial, and a change in policy could mean that at least some of these cases will become moot and subject to dismissal by the court for lack of an ongoing legal dispute. All that would take, really, is a ruling by the Department of Education that its interpretation of the relevant civil rights laws no longer included the argument that discrimination based on gender no longer applied to cases involving discrimination based on gender identity rather than actual biological gender. Whether or not that will happen under DeVos's watch is unknown and doesn't appear to have been a big issue during hear confirmation hearing.
For a time this morning, there were some reports that a third Republican Senator had decided to vote against DeVos. Were that true, her nomination would have been blocked since the final vote would have been 51 "Nays" and 49 "Ayes." One supposed possibility for a defection was allegedly Colorado Senator Cory Gardner, who was just elected in 2014 and whose state has voted for the Democratic candidate in each of the past three elections. Apparently, Gardner's offices in Colorado and in Washington have been flooded with phone calls opposed to DeVos's nomination, leading some to believe that he may have been influenced by electoral considerations to oppose DeVos notwithstanding issues of party loyalty. Of course, the fact that Gardner is not up for re-election until 2020, at which point he'll have bigger concerns to worry about than his vote on one cabinet nomination four years earlier, likely meant that electoral considerations weren't as big a concern as the morning reports indicated. As it turned out, Gardner ended up voting for DeVos. As a result, the vote ended up in a 50-50 tie and, for the first time in history, a Vice-President cast the tie-breaking vote in a confirmation vote for a Cabinet nominee. This was also the earliest time in a new President's term that a Vice-President has had to break a tie in the Senate since at least 1981. (Source)
After the vote on DeVos was over, the Senate moved on and voted to move forward on the nomination of Jeff Sessions to be Attorney General Sessions. In addition to Sessions, the Senate still needs to vote on Ben Carson for Secretary of Housing and Urban Development, Rick Perry for Secretary of Education, Steven Mnuchin for Secretary of the Treasury, Congressman Ryan Zinke for Secretary of the Interior, Wilbur Ross for Secretary of Commerce, former Georgia Governor Sonny Perdue for Secretary of Agriculture, Congressman Tom Price for Secretary of Health and Human Services, Andrew Puzder for Secretary of Labor and David Shulkin for Secretary of Veterans Affairs. Also awaiting confirmation are Oklahoma Attorney General Scott Pruitt for Administrator of the Environmental Protection Agency, Linda McMahon for Administrator of the Small Business Administration, and Congressman Mick Mulvaney for Director of the Office of Management and Budget. Given the Republican majority and the fact that Democrats cannot invoke the filibuster against these nominations, it is expected that each of these nominations will be confirmed easily notwithstanding promised Democratic opposition.