A Good Jobs Report, But We're Still Waiting For The "Great" One
Another mostly good, but not great, jobs report.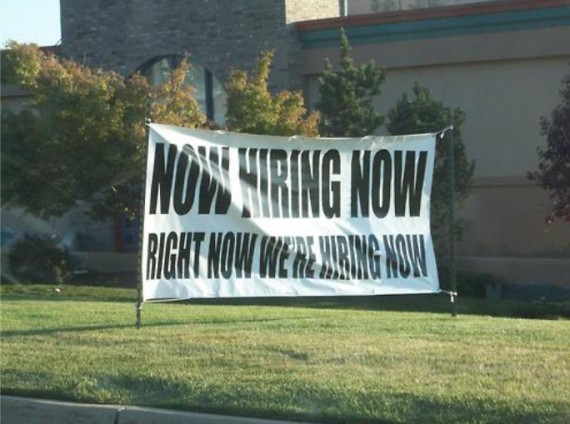 For the most part, the monthly jobs reports issued by the Bureau of Labor Statistics for the balance of 2014 have been fairly good. With few exceptions, they have exceeded expectations and been about the level of 200,000 net jobs created that, while not really anything spectacular to write home about, at least seemed to be trending upward and indicating that the underlying economy itself was steadily improving as we work our way through the fifth year of the recovery from the Great Recession. Heading into today's release of the October report, the consensus forecast seemed to place job growth somewhere north of 210,000 net new jobs which is basically right where we ended up:
Total nonfarm payroll employment rose by 214,000 in October, and the unemployment rate edged down to 5.8 percent, the U.S. Bureau of Labor Statistics reported today.  Employment increased in food services and drinking places, retail trade, and  health care.

Both the unemployment rate (5.8 percent) and the number of unemployed persons (9.0 million) edged down in October. Since the beginning of the year, the unemployment rate and the number of unemployed persons have declined by 0.8 percentage point and 1.2 million, respectively. (See table A-1.)

(…)

Total nonfarm payroll employment increased by 214,000 in October, in line with the average monthly gain of 222,000 over the prior 12 months. In October, job growth occurred in food services and drinking places, retail trade, and health care. (See table B-1.)

Food services and drinking places added 42,000 jobs in October, compared  with an average gain of 26,000 jobs per month over the prior 12 months.

Employment in retail trade rose by 27,000 in October. Within the industry, employment grew in general merchandise stores (+12,000) and automobile dealers (+4,000). Retail trade has added 249,000 jobs over the past year.

Health care added 25,000 jobs in October, about in line with the prior 12-month average gain of 21,000 jobs per month. In October, employment rose in ambulatory health care services (+19,000).

Employment in professional and business services continued to trend up over the month (+37,000). Over the prior 12 months, job gains averaged 56,000 per month. In October, employment continued to trend up in temporary help services (+15,000) and in computer systems design and related services (+7,000).

In October, manufacturing employment continued on an upward trend (+15,000). Within the industry, job gains occurred in machinery (+5,000), furniture and related products (+4,000), and semiconductors and electronic components (+2,000). Over the year, manufacturing has added 170,000 jobs, largely in durable goods.

Employment also continued to trend up in transportation and warehousing (+13,000) and construction (+12,000).

Employment in other major industries, including mining and logging, wholesale trade, information, financial activities, and government, showed little change over the month.
In addition, there were revisions to the numbers from August and September, with the net new jobs number for August revised upward from 180,000 to 203,000 and the number for September being revised upward from 248,000 to 256,000. Among other things, this means that the average net new jobs number for the past three months stands at 224,333. These adjustments mean that there have been at least 200,000 new jobs created in each month in 2014, with the economy averaging 222,000 net new jobs for the past ten months, a number that would top previous years since the end of the Great Recession if it is sustained by the jobs reports for November and December. There was a slight increase in the Labor Force Participation Rate, but the overall Employment Rate remained unchanged. Nonetheless, U-6, the broadest measure of unemployment that the BLS measures, decreased from 11.8% to 11.5%, a good sign of the broadness of the jobs situation that goes beyond the more superficial top-line U-3 number, which also decreased to 5.8%. On the whole, these are good but not great numbers, but ones that seem to be steadily improving, which has largely been the story for 2014.
CNBC notes that today's numbers were somewhat off expectations, and  The New York Times summarizes the data this way, tying it into the election results and the fact that economic anxiety is still a reality for many Americans:
Three days after voters expressed their discontent with the state of the economy, the government on Friday reported further signs of improvement, estimating that employers added 214,000 jobs in October, while the official jobless rate dropped to 5.8 percent.

The increase was behind the average monthly employment gain of 227,000 so far this year.

Analysts surveyed by Bloomberg had expected an increase of 235,000 jobs last month.

This latest report represents 56 consecutive months of private-sector job growth, which Jason Furman, chairman of President Obama's Council of Economic Advisers, characterized this week as "the longest streak in U.S. history."

Yet, as Mr. Furman and other economic experts readily acknowledge, the experience of many Americans does not match the cautious optimism about the job market and the overall economy recently expressed by several analysts.

Election Day exit polls found that 78 percent of those surveyed were very or somewhat worried about the future direction of the economy, while two-thirds said they believed the economy was getting worse.

For many Americans, it still is. Even though the recovery from the recession is in its sixth year, stagnant wages, an economy generating jobs mostly at the bottom and the top rather than in the middle, and vast disparities between the rewards bestowed on the rich and on ordinary workers have left many people disenchanted with their economic prospects.

Some analysts now see signs that a tighter labor market may lead to higher wages in the near future. "The job market is steadily picking up pace," said Mark Zandi, chief economist at Moody's Analytics, reacting to a report from the payroll processor ADP this week that private sector employment increased by 230,000 jobs in October.

"The job market will soon be tight enough to support a meaningful acceleration in wage growth," he added.
That last emphasis on wages is important, and an element of the Jobs Report that is often ignored in favor of the bigger numbers about employment rates and net jobs created. In reality, though, the wage  figure is probably the most important number in the reports now that we are at the point where we can say that the jobs recession that was a huge part of the Great Recession, and which continued even as the economy recovered, is pretty much over. Now, the question isn't simply whether jobs are being created, although that is certainly important, but how much those jobs, and existing jobs are paying. One reason for that, of course, is that more money in the pockets of workers is part of the cycle that helps keep the economy growing, which in turn helps to create more jobs. If wages aren't growing at the same time that prices are rising, then the economy will be impacted and that in turn will have an impact on job creation. Another reason that wages are important, of course, is that wage levels are an important factor along with job availability that will attract people still sitting on the sidelines back into the job market. At the same time, though, employers are unlikely to significantly raise wages unless the supply of availability labor reaches the point where it becomes necessary to do so to attract or retain workers. In some sense, then, it is a classic example of the supply and demand curve in  action. So, the fact that wage growth remains flat is worth paying attention to as we go forward, perhaps even more so than job creation and U-3 themselves. One factor that may be helpful in this regard at least in the short term future is the fact that oil prices continue to fall, and this has had an impact on prices for gasoline, heating oil, and other forms of energy. This means that there will be more cash in people's pockets at least in the short term, and that is likely to encourage spending as we head into the most important part of the year for retailers and other businesses. Because of that, we could see healthy jobs numbers in both November and December as employers boost hiring for the Christmas shopping season. Many of those jobs will be temporary, of course, but they could help to boost economic growth enough to have a more positive overall impact.
As with previous reports this year, today's report isn't one that can be classified as great, but it's good, and its consistent with the idea of slow and steady progress. the question now is whether that will continue and whether it will lead to a real revving up of the economy and the jobs engine or whether this is the new normal.