A Parade For Iraq War Vets?
As they did four years, ago the New York Giants will get a parade in New York City today. Some are wondering when Iraq War vets will get theirs.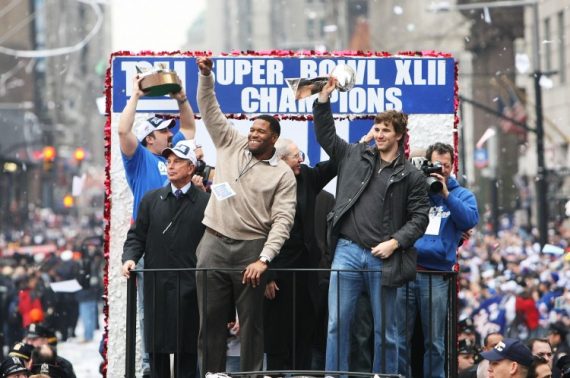 Later today, the New York Giants, fresh off their victory in Super Bowl XLVI, will become the latest group to parade to New York City's Canyon of Heroes as the city celebrates. That's leading some people to wonder where the parade for Iraq War Veterans is:
The New York Giants on Tuesday will be showered with confetti and greeted by throngs as they are feted with the city's most storied honor: a parade through its Canyon of Heroes.

But all the fanfare — the parade this week is the fourth since 2000 to honor a sports team — has touched off anger and unease among some returned Iraq veterans, who are eagerly awaiting their own recognition.

"Everybody recognizes that the Giants deserve a parade," said Paul Rieckhoff, founder and executive director of Iraq and Afghanistan Veterans of America. But, he added, "If a football team gets a parade, shouldn't our veterans?"

Mayor Michael R. Bloomberg, who has long expressed his regret that the United States did not do a better job honoring veterans of the Vietnam War in the 1970s, has cited advice from the Pentagon in deciding it was not appropriate to hold a parade while American soldiers are still fighting in Afghanistan.

But a growing coalition of veterans, elected officials and other public figures are disagreeing, saying it is time to celebrate the men and women who served in Iraq.

Leslie H. Gelb, the president emeritus of the Council on Foreign Relations, a former correspondent for The New York Times and a board member of the Iraq and Afghanistan Veterans of America, called the Pentagon's position "supercilious sensitivity" and "Washington-think."

"Celebrating the Iraqi vets doesn't negate a future celebration for the Afghan vets or deny that we're still at war," Mr. Gelb said, adding that "if we had to wait to honor our servicemen and women until wars were over, that would take a long time."

And former Mayor Edward I. Koch, who in 1981 was the host of a "ticker-tape" parade for American hostages released from Iran over the objection of Alexander M. Haig Jr., then secretary of state, said he thought a parade for Iraq veterans was important and timely. Mr. Koch, who also hosted a belated parade for Vietnam War veterans in 1985, said the Pentagon was making "a political decision" that he termed "ridiculous."

"It's not premature," he said. "I believe that a parade is required, is necessary, and New York City is the place to have it."

At least one large city, St. Louis, has gone ahead with a parade for Iraq veterans, on Jan. 28. And on Monday, the White House announced that President Obama and the first lady, Michelle Obama, would hold a dinner on Feb. 29 to honor troops who had served in Iraq.

But the Defense Department, noting that American soldiers are still fighting in Afghanistan, says it is too soon for a celebration with the recognition and symbolism of a New York City parade.

Col. David Lapan, a spokesman for Gen. Martin E. Dempsey, the chairman of the Joint Chiefs of Staff, said, "We simply don't think a national-level parade is appropriate while we continue to have America's sons and daughters in harm's way."
The Pentagon's position doesn't really make sense. Iraq and Afghanistan are, after all, separate conflicts fought in separate countries for very different reasons. While there's no small degree of overlap between veterans of the two conflicts, it seems somewhat silly to say that veterans from the Iraq War shouldn't be honored until the conflict in Afghanistan is over, or as long as American troops are "in harm's way," which seems pretty darn open ended to me.
That's certainly not the way we've handled these things in the past. When the V-E Day came in May 1945, the nation didn't wait to celebrate that achievement until V-J Day had come three months later (and few people had reason to know that the end of the war in the Pacific Theater might be that near at the time). In fact, on June 10th, 1945, just a month after the end of the conflict in Europe, New York City held a ticker-tape parade for General Dwight D. Eisenhower while the conflict in the Pacific still raged. It was the first time that type of event had occurred in the city since 1939. A parade honoring "the troops" wasn't held until 1946 when the 82nd Airborne Division marched down Broadway, but that was likely due to the logistical realities of bringing forces home from Europe and the Pacific in the 1940s. If it was acceptable to celebrate the Supreme Allied Commander Of The Allied Expeditionary Force while men were still in harm's way in the Pacific, then why can't we do the same thing for Iraq War Vets, who are pretty much all back in the United States now?
It's a minor thing, perhaps, but when you realize that it took until ten years for Vietnam War veterans, and nearly forty years for Korean War veterans, to get this same recognition, the Pentagon's reasoning sounds like very weak tea. The Iraq War was controversial to begin with, and the war in Afghanistan is winding down with American public opinion decidedly against it, but that's no reason for veterans to have to wait decades to receive some kind of recognition for their service even if it is just a parade.