Trump's Military Parade Postponed As Cost Soars
Donald Trump's vanity-seeking military parade has been postponed amid reports that the estimated cost has increased dramatically.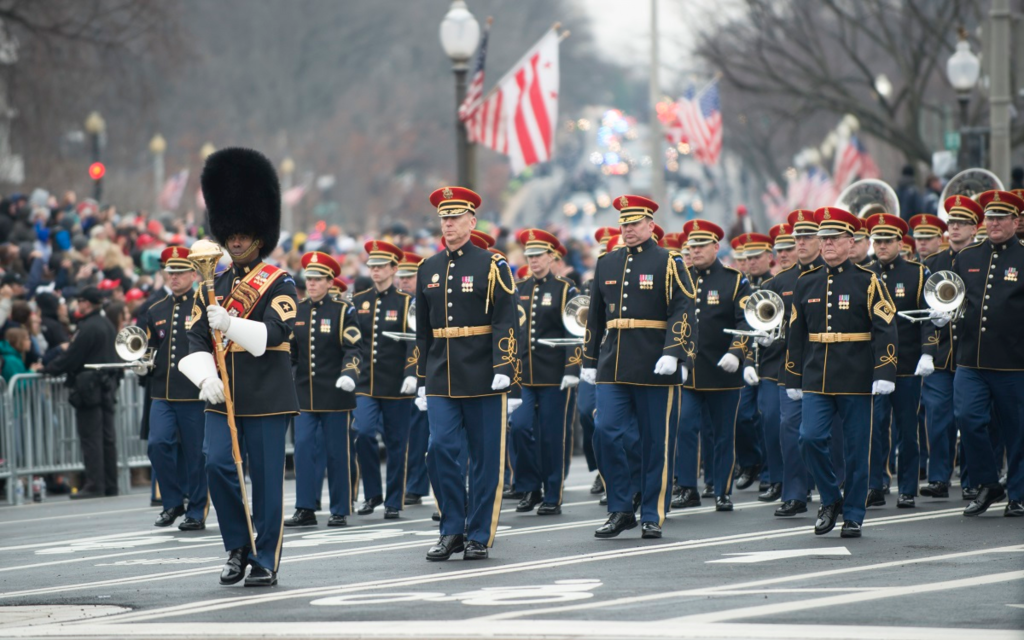 Not long after returning from his visit to France for Bastille Day last summer, President Trump commented approvingly about the military parade that the French hold every year to mark the day, which he reviewed alongside French President Emmanuel Macron, and suggested that we should have something similar here in the United States, and suggested July 4th as the day for such a parade. At the time, most people dismissed the comment as just another random comment from a President apt to make such comments without ever actually following up on them, and the idea largely disappeared from the news rather quickly. Trump never really dropped the idea, though, and by early February of this year, it was being reported that Trump had asked his top military and Defense Department advisers to put together a proposal for such an event. Within days, though, some of President Trump's own advisers put the potential cost of such an event at as much as $30,000,000, Despite that, by March it was being reported that the Pentagon was moving forward with plans for a parade, with Veterans Day being seen as the most likely date for the event. For logistical and other reasons, it was reported that the cost estimate for the parade had fallen to $12,000,000, although this was largely due to the fact that it would be coordinated with the Veterans Day Parade that already takes place in Washington every year. Now, though, the entire parade has apparently been postponed amid reports that the estimated cost of the event is skyrocketing:
WASHINGTON — A military parade ordered up by President Trump and planned for Veterans Day this year could be postponed until 2019, the Pentagon said Thursday.

The abrupt decision to look into changing the parade date came as Defense Department officials said that the event could end up costing more than $90 million and as the Pentagon emerges from years of required budget caps.

"We originally targeted Nov. 10, 2018, for this event, but have now agreed to explore opportunities in 2019," said Col. Robert Manning, a Pentagon spokesman, in a statement.

Defense Department officials said that the White House made the decision on Thursday after seeing the new proposed price tag.

(…)

Soon after he was elected, Mr. Trump and his advisers floated the idea of a parade of military convoys through Washington. The committee planning his inaugural ceremony reportedly explored, but rejected, the idea of highlighting military equipment in the traditional parade, from the Capitol to the White House, after Mr. Trump was sworn in.

In July 2017 in Paris, Mr. Trump saw firsthand the full potential and grandeur of a military parade as he sat alongside President Emmanuel Macron of France and by all accounts enjoyed a Bastille Day celebration. Upon returning home, Mr. Trump told Defense Secretary Jim Mattis that he wanted a similar parade in the United States.

Mr. Mattis was not enamored of the idea, according to two other Defense Department officials. But the defense secretary, who carefully picks his battles with Mr. Trump, has since gone ahead with plans in tandem with a long-running Veterans Day parade in Washington.
This announcement came just hours after it CNBC had reported that the estimated cost of the event had soared far beyond even the initial estimates:
President Donald Trump's military parade — postponed after this article was originally published — is shaping up to cost $80 million more than initially estimated.

The Department of Defense and its interagency partners have updated their prospective cost estimates for the parade, according to a U.S. defense official with firsthand knowledge of the assessment. The official spoke on the condition of anonymity.

The parade, originally slated for Nov. 10 but now potentially set for 2019, is estimated to cost $92 million, the official said. The figure consists of $50 million from the Pentagon and $42 million from interagency partners such as the Department of Homeland Security. An initial estimate last month pegged the prospective cost for the parade at $12 million.

A Pentagon spokesman said in an email to CNBC that the Defense Department expects to make an announcement soon, but he would not comment further. The White House referred questions to the Defense Department.

The $92 million cost estimate includes security, transportation of parade assets, aircraft, as well as temporary duty for troops. The official also noted that while the size and scope of the military parade can still shift, the plans currently include approximately eight tanks, as well as other armored vehicles, including Bradleys, Strykers and M113s.

The official also said that experts put to rest concerns about whether the Abrams tank, which weighs just shy of 70 tons, would ruin infrastructure in Washington. Their analysis found that, because of the vehicle's distributed weight and track pads, the streets of the nation's capital would not be compromised.

The parade is also expected to include helicopter, fighter jet, transport aircraft as well as historical military plane flyovers. Troops in period uniforms representing the past, present and future forces will march in the parade, as well.
The postponement also came amid criticism from one of the nation's largest veterans groups, which urged that the cost of the parade be used to actually help veterans:
Opponents to President Donald Trump's plans for a costly military parade in Washington now include the American Legion, the nation's largest wartime veterans service organization.

"The American Legion appreciates that our President wants to show in a dramatic fashion our nation's support for our troops,"American Legion National Commander Denise Rohan said in a statement Thursday night. "However, until such time as we can celebrate victory in the War on Terrorism and bring our military home, we think the parade money would be better spent fully funding the Department of Veteran Affairs and giving our troops and their families the best care possible."

Her statement was issued after reports that the cost for the parade have risen dramatically. In February, White House budget director Mick Mulvaney estimated the cost to be from $10 million and $30 million. That number was reported to be perhaps $92 million on Thursday.

A Pentagon spokesman said Thursday that the parade originally was being planned for Nov. 10, to honor veterans and to commemorate the centennial of World War I. But now, it may be delayed until 2019.

The president developed parade envy after watching a military parade in Paris, when he was a guest of French President Emmanuel Macron for Bastille Day festivities in 2017.

Trump brought up the idea of a military parade in Washington during a meeting with Macron a few months later.

"We're going to have to try and top it," he said. "It was really a beautiful thing to see."

Rep. Brad Schneider of Illinois and Sen. Ben Cardin of Maryland introduced measures in February seeking to thwart Trump's parade plans.

"We have the best armed forces in the world. We don't need to flex our muscle to showcase our military hardware," Cardin tweeted at the time. "Our brave military men & women flex their might around the world every day on behalf of our nation."
On Twitter this morning, the President is claiming credit for canceling the parade:
President Donald Trump said Friday that he canceled a US military parade planned for Veterans Day weekend, blaming Washington city officials for inflating costs amid reports that indicated the event's price tag had soared over initial estimates.

"The local politicians who run Washington, D.C. (poorly) know a windfall when they see it. When asked to give us a price for holding a great celebratory military parade, they wanted a number so ridiculously high that I cancelled it," Trump tweeted Friday morning.

The President said he will instead "attend the big parade already scheduled at Andrews Air Force Base on a different date, (and) go to the Paris parade, celebrating the end of the War, on November 11th."

He added, "Maybe we will do something next year in D.C. when the cost comes WAY DOWN. Now we can buy some more jet fighters!"

CNN has reached out to the Washington, DC, mayor's office for response.
Here are the President's tweets on the matter:
The local politicians who run Washington, D.C. (poorly) know a windfall when they see it. When asked to give us a price for holding a great celebratory military parade, they wanted a number so ridiculously high that I cancelled it. Never let someone hold you up! I will instead…

— Donald J. Trump (@realDonaldTrump) August 17, 2018
….attend the big parade already scheduled at Andrews Air Force Base on a different date, & go to the Paris parade, celebrating the end of the War, on November 11th. Maybe we will do something next year in D.C. when the cost comes WAY DOWN. Now we can buy some more jet fighters!

— Donald J. Trump (@realDonaldTrump) August 17, 2018
As I have noted before, a military parade in Washington, D.C. would not be unprecedented. Perhaps the most famous of these events occurred at the end of the Civil War, when Union forces consisting of units of the Army of the Potomac, the Army of the Tennessee, and the Army of Georgia, along with President Andrew Johnson and commanders such as Ulysses S. Grant and William T. Sherman gathered to mark the end of the war just over a month after President Lincoln's assassination.  Similar events took place both in Washington and other major American cities after both World War One and World War Two. The Inaugural Parades for both President Eisenhower and President Kennedy also featured military elements although they were not, strictly speaking, a military parade.
The most recent such event, though, occurred nearly twenty-seven year ago after the end of the Persian Gulf War when General Norman Schwarzkopf led American troops and a display of some military equipment down Constitution Avenue on in Washington, D.C. as part of a celebration of the troops in that war that included events on the National Mall that day that included a display Patriot missile batteries that had become famous for their role as part of a rudimentary missile defense during the war and a fireworks display that night. I attended that parade as did a crowd that likely amounted to tens of thousands of people. The parade consisted mostly of troops marching in formation, military bands, and some smaller vehicles such as the Humvee, which had become famous during much of the media coverage both during Operation Desert Shield and Operation Desert Storm. Additionally, there were flyovers by some of the types of aircraft that had taken part in the war, including a Harrier Jump Jet that landed on the National Mall, an event that I didn't personally witness.  There were even Abrams Tanks, which proved to be a problem when it turned out that the massive vehicles and their treads had left indentations in the streets that cost a not insignificant amount of money to repair in the months afterward. There was a similar parade, of the ticker tape variety down New York City's "Canyon of Heroes" around the same time. It was, a fun event, but it was also the last time that we've seen any such parade in the Washington, D.C. area or any other American city. Instead, Americans have traditionally opted for parades featuring floats, marching bands, and local groups such as Boy Scouts and Girl Scouts.  Finally, as noted above, there was some discussion about having a parade for Iraq and Afghanistan War veterans, but those plans were pushed aside when it was pointed out that such an event might not be appropriate while American men and women were still fighting and dying in both countries.
It's also not surprising that Trump has become enamored with the idea of a massive display of military might with him at the center.
From his comments and the way he acts, it has become quite clear over the past year and a half that the President is utterly fascinated by displays of military might, and that he enjoys that kind of adulation given to the kind of authoritarian rulers he gravitates toward. We can see evidence of this both in the way that he revels in the adulation of the crowds that attend the campaign-style rallies that he continues to hold on a regular basis and in the affinity he shows toward the leaders of nations such as the leaders of Egypt, Saudi Arabia, and The Philippines and, of course, Russian President Vladimir Putin. The prospect of being able to put himself at the center of a similar nationalistic, militaristic display is no doubt something that appeals to those instincts, and the fact that his Administration will pass it off as a celebration of "the troops" will provide him with the kind of cover he needs to justify the absurdity of a spectacle like this and make it appears that those who are either opposed to or skeptical of it are against the troops and, of course, "un-American. He may even dust off the claim that such critics are "treasonous," just as it is in his mind treasonous to fail to stand and applaud for the President even when you disagree with his policies. While this rhetoric may not play well beyond Trump's base, it will resonate with many Americans in some respect, especially if it is sold as a tribute to the truth, and that will achieve Trump's purposes as much as anything else.
Even with the increased cost estimate, the parade will no doubt continue to go forward. As Greg Sargent noted in a column posted yesterday, while several Republicans criticized the idea of a massive show of military might on the streets of the nation's capital when the idea was first proposed, they ultimately authorized spending for such a parade in the latest Defense Department spending authorization bill that even most Democrats ended up supporting. Additionally, as Allahpundit notes, there isn't any incentive to try to stop this idea from going forward regardless of how ridiculous it actually is. Any Republican who opposes it will be attacked for going against the President. Any Democrat who opposes it will be attacked as being "against the troops." Not even the so-called fiscal conservatives in the Republican Party, who remarkably seem to have disappeared as of the day Barack Obama left office, will make an effort to stop this parade or restrict the amount of money that can be spent on it.  Surely, there are better endeavors we can spend this money on, though. As the American Legion notes, $90 million would be better spent on care for the veterans of the wars that are still being fought, and those in the past. Additionally, this projected cost would pay for six years worth of the military exercises with South Korea that President Trump described as being "tremendously expensive" when he canceled them in the wake of his June summit meeting with North Korean leader. Apparently, price is no object when it comes to stoking this President's ego, though.