A Simple Question about Partisanship
A further attempt to explain how party is such a key variable.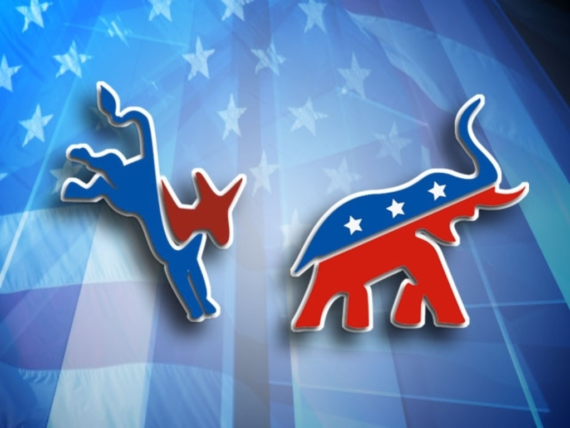 Here's a question: have you ever been voting and come to an office on the long ballots that we have here in the US and not known anything about the candidates running that office? How did you choose for whom to vote?
The answer is: you picked the candidate in the party you identify with.
This is an illustration of how partisan identification is a primary way that people make political decisions. We all use it as a shorthand to help us sort out political choices.
If you are going to assert that you go into the polling booth fully versed on the personal details and qualifications of each and every candidate and that you know what every office does, I will take you at your word, but I am going to be highly skeptical. (And, I suppose some people abstain in offices where they really don't know anything about the candidates, but again, that is rarer than just going party).
I have been a political news junkie since I was a kid. I have a Ph.D. in Political Science who focuses on parties and elections and I have to admit that I do not go into the voting booth thoroughly educated on every office being contested.
After all, our ballots look like this:
There are roughly 20 offices on this page of the 1996 general election ballot from Texas (it was one I had handy, but this is fairly representative still–certainly the length is no different) and there can be multiple pages in a given election. A given election in the US can have multiple dozens of candidates as well as ballot measures, state constitutional amendments, bond issues, and other choices.
So even if you are the weirdo who shows up with detailed knowledge of every office on the ballot, what do you think is true of the typical voter? As a group, most people (i.e., in the aggregate) use the Rs and Ds to guide their way.
And since most people have had their partisan ID for some time, and they rarely change, partisanship becomes a powerful explanatory variable.
And because people are deeply entrenched in their identities and slow to change, they often have to rationalize what their side does long before they are willing to abandon that side.
Despite the fact that people often like to say "I vote the person, not the party" the reality is that most people very much vote party and it is just a staggering coincidence that all the good people happen to have the same label by their names.