Nevada 'Blue Shift' Expected to Keep Senate Democratic
Adam Laxalt's big lead is slowly erodiing.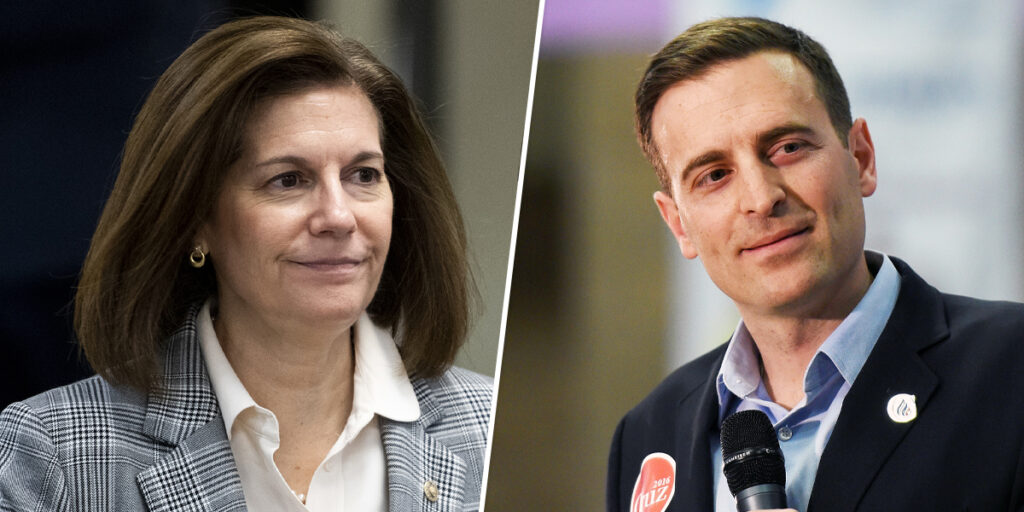 While the "red mirage" of big Republican leads on Election Night* slowly fading to Democratic wins as more votes got counted didn't really materialize writ large this cycle, it appears to be happening in the Nevada Senate race, where Republican challenger Adam Laxalt's 3 percentage point lead over Democratic incumbent Catherine Cortez Masto has all but evaporated.
David Becker, the Executive Director and Founder of the Center for Election Innovation & Research, takes to CBS News to explain, "Why don't we have a final count of ballots in some states? No state has ever counted all of its ballots on election night."
The disinformation war is kicking into high gear. Candidates who perceive they are going to lose, aided by election deniers — and even some members of Congress — are falsely claiming that some states (conveniently always ones that align with their political views) are long since finished with counting or raising suspicion about counting delays.
He points to a Tweet by Sen. Marco Rubio asking, "If #Florida can count 7.5 million ballots in 5 hours how can it take days for some states to count less than 2 million?"
These claims are inaccurate, and as importantly, they are potentially dangerous.

These are the facts. No state, in the history of the United States, has counted all of its ballots on "Election Night." In fact, our Constitution and state laws have always recognized that it takes days or weeks to count all of the ballots.

State laws allow for weeks to officially certify election results, as we check and double-check the counts. This is as it should be. We have never truly "known" who won an election on election night. We only think we know, based on large margins, exit polls, and ballots counted to that point. But we only truly know who won when official results are certified — weeks later.
The problem, frankly, is that this is both true and a distraction. It's true that no state certifies the vote on Election Night. It's also true that most states announce the result on Election Night. Even in notoriously close contests like the 2000 Presidential election, where George W. Bush was a mere 537 votes ahead of Al Gore, Florida was able to announce a winner in the wee hours.
Regardless, Becker's larger point is right:
While some are accusing election officials in states like Arizona and Nevada of "corruption" for diligently verifying and counting legal ballots in the immediate days after an election, we should recognize that literally every state is still counting some ballots. 
That mail-in ballots traditionally shift the count in a Democratic direction looks bad from the perspective of those deeply invested in a Republican victory, it's easily explainable by differences in voter behavior and not a function of corruption.
Many states still have mail ballots they are counting, and every state is still reviewing provisional ballots and counting military ballots. In fact, Ohio still reports over 180,000 mail and provisional ballots still to count, as of Friday morning, which is likely more than all the remaining ballots left to count in Nevada. And all of that counting is transparent, under observation by observers of both parties. Not a single state has certified official results, and the first state to do so won't certify for several days.
But, again, while Ohio is still counting, they managed to announce the winners on Election Night. They did so in 2004, when the Bush-Kerry margin was razor thin.
We vote in many different ways as Americans. Many of us vote in person, on Election Day or during early voting, and those ballots tend to be among the first counted: they're loaded into scanners for tabulation as they're cast. After the polls close, we can get an initial, unofficial count of those ballots almost immediately.

But other types of voting often take longer to count. Provisional ballots need to be verified before processing. We allow for military ballots to be given extra time to arrive after Election Day. And mail and absentee ballots received on or close to Election Day need to be processed as well — all of which takes time, and cannot begin until Election Day or after.

Processing of mail ballots is crucial to election integrity because it entails validating the voter's identity and eligibility (usually by matching their signatures or identification number), and confirming the voter hasn't attempted to vote more than once. We want and we need this process to be undertaken diligently before counting those ballots, as every state does, and "election integrity" advocates should be celebrating this process, not attacking it.
Again: a crucial point. Part of the reason counting takes so long is that there has long been a concern—mostly, in recent years at least, on the Republican side—about fraud in voting that doesn't take place in person. The measures to protect against fraud, naturally, slow down the process.
And, again, all of this is not only predictable but predicted. CNN's Marshall Cohen published a piece titled "Here's a breakdown of the shifts we might see as votes are counted in six battleground states" at 8:16 AM Election Day. It was largely accurate but, interestingly, labeled the direction of the likely post-Election Night shift in Nevada "unclear."
The situation is unclear in Nevada, where there are competitive races for Senate and governor. Like Arizona in 2020, there was a noticeable blue-to-red shift in Nevada years ago – with Trump narrowing the lead over time, but not netting enough votes to overtake Biden.

It's unclear if this post-election dynamic will repeat this year.

Election officials in the state have not released many details about the vote-counting process, like which types of ballots will be reported first, and which will be reported later. This information is essential to figuring out the possible complexion of the early vote, compared with the later-reporting figures.

Furthermore, this is the first midterm election in Nevada with universal mail-in voting. The state adopted this system in 2020 when the Covid-19 pandemic hit, and it's still in place for the 2022 cycle.

Another variable are the ballots postmarked by Election Day that arrive at election offices after the polls close. Some people call these "late-arriving ballots." In Nevada, they're still completely legal votes and get counted, as long as they arrive by November 12.

All of this uncertainty – from figuring out which kinds of ballots have been counted already, and how many legal votes will arrive after Election Day – will make it challenging to project winners on Tuesday night.
Regardless, there's simply no evidence that the shift is nefarious. There are just too many safeguards in place. Oh: and MAGA Republican Joe Lombardo has been announced as the winner of the state's gubernatorial contest, defeating Democratic incumbent Steve Sisolak. Rather obviously, if Democrats had the capacity and intent to steal the Senatorial election, they would have managed to do so in the governor's race.
But, again, it just looks bad. We should have uniform voting procedures for national elections, given that the impact of these races—especially given our recent propensity for near-lockstep partisan conformity in Congress—is national, not local. Given that most of our largest states (with the notorious exception of California) and most other countries can sort out winners and losers in near-real time, we've got to figure this out.
Further, the reporting on all of this is just atrocious. References to "late arriving ballots," "ballot drops," and the like feed suspicions that officials are somehow mysteriously finding new votes to count. And, since they tend to disproportionately go in a single direction (blue in most states but red in some others) it's going to raise red flags.
You can decry that, expecting voters to be rational. But it's just not human nature. When we have a rooting interest in an outcome, we're going to blame the refs.
____________
*For the purposes of this discussion, before noon on the day after the election counts.