A Strong January Jobs Report, But Signs Of Possible Weakness Ahead
The first Jobs Report of 2017 saw healthy jobs growth in January, but there are signs we may be reaching a point where hiring could slow down.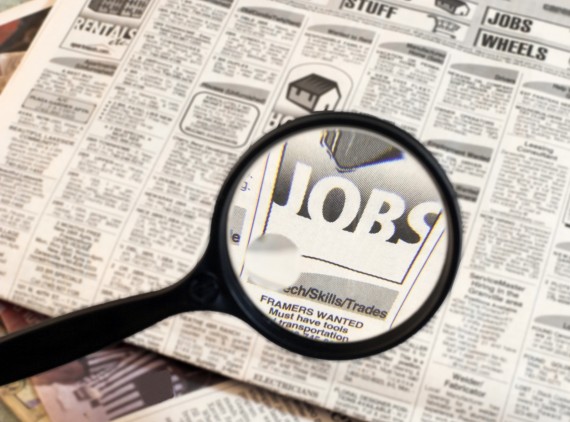 The first Jobs Report for 2017 and the first to cover any period while Donald Trump was in office revealed slightly stronger jobs growth in January but revisions for November and December that reveal 2016 to have been a weaker year for jobs growth than previously believed:
Both the number of unemployed persons, at 7.6 million, and the unemployment rate, at 4.8 percent, were little changed in January. (See table A-1. For information about annual population adjustments to the household survey estimates, see the notes at the end of this news release and tables B and C.)

Among the major worker groups, the unemployment rate for Asians (3.7 percent) increased  in January. The jobless rates for adult men (4.4 percent), adult women (4.4 percent), teenagers (15.0 percent), Whites (4.3 percent), Blacks (7.7 percent), and Hispanics (5.9 percent) showed little or no change over the month. (See tables A-1, A-2, and A-3.)

In January, the number of long-term unemployed (those jobless for 27 weeks or more) was essentially unchanged at 1.9 million and accounted for 24.4 percent of the unemployed. Over the year, the number of long-term unemployed has declined by 244,000. (See table A-12.)

After accounting for the annual adjustments to the population controls, the civilian labor force increased by 584,000 in January, and the labor force participation rate rose by 0.2 percentage point to 62.9 percent. Total employment, as measured by the household survey, was up by 457,000 over the month, and the employment-population ratio edged up to 59.9 percent. (See table A-1. For additional information about the effects of the population adjustments, see table C.)

(…)

Total nonfarm payroll employment rose by 227,000 in January. Employment increased in retail trade, construction, and financial activities. (See table B-1. For information about the annual benchmark process, see the notes at the end of this news release and table A.)

Retail trade employment increased by 46,000 over the month and by 229,000 over the year. Three industries added jobs in January–clothing andc lothing accessories stores (+18,000), electronics and appliance stores (+8,000), and furniture and home furnishings stores (+6,000).

Employment in construction rose by 36,000 in January, following little change in December. Residential building added 9,000 jobs over the month, and employment continued to trend up among residential specialty trade contractors (+11,000). Over the past 12 months, construction has added 170,000 jobs.

Financial activities added 32,000 jobs in January, with gains in real estate (+10,000), insurance carriers and related activities (+9,000), and credit intermediation and related activities (+9,000). Financial activities added an average of 15,000 jobs per month in 2016.

In January, employment in professional and technical services rose by 23,000, about in line with the average monthly gain in 2016. Over the month, job gains occurred in computer systems design and related services (+13,000).

Employment in food services and drinking places continued to trend up in January (+30,000). This industry added 286,000 jobs over the past 12 months.

Employment in health care also continued to trend up in January (+18,000), following a gain of 41,000 in December. The industry has added 374,000 jobs over the past 12 months.

Employment in other major industries, including mining and logging, manufacturing, wholesale trade, transportation and warehousing, information, and government, showed little change over the month
Additionally, the Bureau of Labor Statistics reported that the jobs number for November was revised downward from +204,000 to +164,000 while the number for December was revised upward from +156,000 to +157,000, making for a net adjustment for those to months -39,000. This means that for the past three months, jobs growth has averaged a somewhat tepid 182,667 (rounded) per month, which represents an increase from the three-month average we saw last month thanks mostly to the strong numbers for January. For 2016 as a whole, though, the total jobs created number dropped from +2,155,000 to +2,116,000 new jobs for the twelve month period from January to December 2016. This represents a monthly average for the year just passed of 176,333 (rounded)  Looking deeper into the report, the long-term unemployment rate and employment participation rates were essentially unchanged in January suggesting that there remains a significant portion of the population that has essentially given up on finding work. Beyond the jobs numbers, the report shows a modest increase in both average hourly wages and the average work week. As I've said before, wage growth has been one of the most positive areas of the economy for the year that just concluded and at least for now it appears that we're seeing at least modest growth in that area heading into the beginning of 2017.
The New York Times notes the strong jobs growth, but cites the weak growth in wages as sign of a potential problem in the jobs market in the year ahead:
Employers added a healthy 227,000 workers to their payrolls in January, the government reported on Friday. But despite a surge of local minimum-wage increases, average hourly earnings grew by only 0.1 percent.

The official jobless rate rose slightly, to 4.8 percent, as more people returned to the work force.

"The labor market started 2017 on the front foot," said Carl R. Tannenbaum, chief economist at Northern Trust. "This is a good, good number."

The meager monthly growth in wages, however, brought the year-over-year trend back down to a disappointing 2.5 percent, after shooting up to 2.9 percent in December, he added.

Economists at the Federal Reserve and elsewhere have been debating whether the low official jobless rate is signaling that employment is near capacity. January's report, with its disappointing wage growth and bump up in the jobless rate, is evidence that there is still slack in the labor market.

Representative Kevin Brady of Texas, the Republican chairman of the House Ways and Means Committee, said in a statement: "Today's jobs report is good news. Our economy is gaining some ground — but we have a lot of work ahead of us to get our economy running at full speed."

But for Americans who have been cut out of the rewards delivered by the nearly eight-year recovery, upbeat assessments do not mirror their personal experiences. A mismatch of skills or location, the lack of support like child care and day care and employer discrimination are some of the reasons that high school graduates, laid-off factory workers, members of minorities, aging baby boomers and others have failed to find or regain a comfortable footing in the labor force.

The share of the working-age adults who are in the labor force is still at historical lows, but bumped up to 67.9 percent, a sign that at least some sidelined workers are being lured back. A broader measure of unemployment, which includes the millions who are working part time but would prefer full-time jobs and those so discouraged by rejections that they've given up searching, also rose, to 9.4 percent from December's 9.2 percent.

However strong (or not strong) last month's totals are judged to be, they are a legacy of the Obama administration, based on surveys before President Trump took office on Jan. 20. While some employers may have made staffing decisions in anticipation of a Republican administration, this report does not reflect any specific policy changes. (The way the government estimates the jobless rate does not change from one administration to the next.)

Still, given the timing, the January job figures will end up serving as one benchmark against which a new president's stewardship of the economy is judged.

During the campaign, when the official unemployment rate never rose above 5 percent, Mr. Trump called the measure "one of the biggest hoaxes in American modern politics" and suggested that the true rate could be several times as high. Steven Mnuchin, his choice for Treasury secretary, said "the unemployment rate is not real" at his confirmation hearing last month, while Andrew Puzder, who was nominated to take over the Labor Department, has belittled the figure's usefulness. (A survey last fall found that nearly half of Mr. Trump's supporters "completely distrust the economic data reported by the federal government.")
The Times also reports that some employers are seeing signs that we may be nearing a point that economists would call "full employment" and that they are finding it harder and harder to fill positions:
Regardless of government estimates, however, employers across sectors and across the nation have increasingly complained about the difficulty of finding workers, a competition that kept the increase in the average hourly wage ahead of a 1.6 percent price inflation rate.

"We're still continuing to see wage pressure as the candidate market continues to shrink," said Amy Glaser, senior vice president of Adecco Staffing USA, which has 300 branch offices. In addition to the omnipresent hunger for engineers, Ms. Glaser said there is a demand for those with middle-level trade skills like welding that fell into disuse during the recession, as well as entry-level warehouse and light assembly workers.

"Employers are getting very creative," said Ms. Glaser, whose office is in Lexington, Ky. "We're seeing sign-on bonuses. They have added sabbaticals to their packages, increases to stock options, free child care on site and free meals. Anything to get a competitive edge."

"I'm definitely seeing a trend of employers targeting certain pools of workers like the disabled, retirees that may be looking to return to the work force, and stay-at-home moms," she added.

Companies that employ trade workers like welders and mechanics are increasingly joining with community colleges, technical schools and even high schools to develop a new generation of skilled employees. Other businesses are experimenting more with apprenticeships and internships.

David Nilssen, chief executive of Guidant Financial, a small-business financier based in Seattle, added 30 additional employees last year to its 80-person work force. The trouble he has had recruiting and retaining staff members was echoed in a Guidant survey of about 2,000 clients, who listed the worker shortage as their main challenge.

"A lot of small and mid-sized businesses are facing what I call a war for talent, especially tech talent," Mr. Nilssen said, explaining that it was harder for them to compete with larger salaries and perks offered by bigger firms.
As noted, this number doesn't really tell us much of anything about the economic impact of President Trump's economic policies since the majority of the month, and most importantly the survey period upon which the unemployment rate itself is based, covered a period when President Obama was still in office. Additionally, with only two weeks under their belt, there really hasn't been any time for the Administration to implement any economic policies, although one might argue that some employers may be basing their future hiring decisions on what they believe the Administration will be able to accomplish over the coming months and years. At the very least, though, this month's report will set a benchmark by which future reports under the Trump Administration can be judged, and will give us some indication of the impact of Trump's policies as time goes on. As it stands, Trump has set a high bar for himself in that he promised during the campaign that
As it stands, Trump has set a high bar for himself in that he promised during the campaign that he would deliver 25,000,000 new jobs to the U.S. economy, a number far higher than the number of jobs created over the course of the entire Obama Presidency. In order to accomplish that over the course of a four-year first term, we would need to see roughly 6,250,000 new jobs created each year on average, which represents a monthly average of more than 520,000 new jobs per month. This is a number far higher than what we have seen so far since the end of the Great Recession in 2009, and far higher than even the tremendous jobs growth we saw during the economic booms under Presidents Reagan and Clinton. Over the course of an eight-year two terms, we would need to see an average of roughly 3,125,000 new jobs per year or an average of 216,000 new jobs per month. Later during the campaign, the Trump campaign said that the 25,000,000 new jobs claim covered a period of ten years, but even that would require an average of 2,500,000 new jobs per year and 208,000 per month. More importantly, all of these forecasts also seem to assume that we would be able to avoid a recession for the next eight years, which would make the period from 2009 to 2023 the longest period of economic growth in modern history. By way of contrast, the eight years under President Reagan, a period which started out with two years during which the economy was still shaking off a decade of slow growth, record high inflation, and record high interest rates, saw jobs growth of just under 18,800,000 new jobs, an average of just over 1.5 million new jobs per year and 133,000 per month. Under President Clinton's eight years, which began shortly after the recession of the final year of the Bush 41 Administration had ended, we saw 22,900,000 new jobs, an average of 2,862,500 per year and 239,000 per month over the course of eight years (Source) This is one reason why economists called Trump's promise unrealistic even when he made it during the campaign.
In any case, the number reported today was decent, but it remains unclear what it means for the year ahead, never mind the next four, eight, or ten years. Given the relatively lack of wage growth and the anecdotal reports from the field, though, one wonders how much more positive growth we're actually going to see on the jobs front.