A Stunning Contrast
Obama v. Trump in handling protesters at rallies (and a helping of untruth from Trump).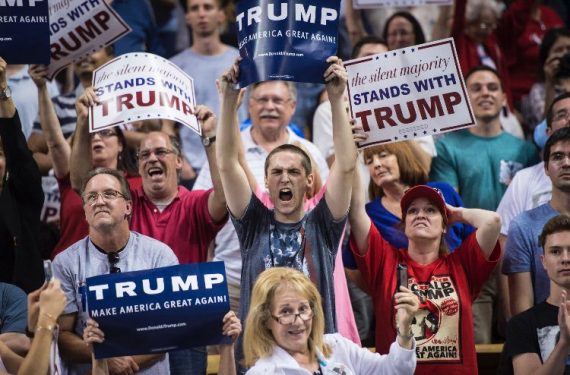 The topic of this post is, in some ways, small but I also think it is profound.  It is about protesters at political rallies (a common enough occurrence in our politics) and how two different politicians dealt with them.  It is also about basic truth.
To wax a little idealistic for a moment, it is important to underscore that the relatively commonality of peaceful protest at political events is a testament to democracy and a constitutional order that allows for freedom of assembly and free expression.  And while protests can be disruptive, they ought need to be understood in the context of basic political freedom.
This leads me to the following video of Hillary Clinton campaign event at which President Obama was speaking.  At this event an older gentleman dressed in a military uniform displayed a Trump/Pence sign and began shouting to the crowd/to Obama (it is unclear to me what he was saying):

The President handled the situation quite well, in my opinion.  In watching the video I was struck by a) the fact that he tried to reign in the crowd, rather than inciting them, and b) he used the situation to extol basic democratic values and human decency.
Of course, in watching this video, I could not help but think of the numerous videos of Trump actually egging on his audiences in their negative reactions to protesters.  A stark contrast, to say the least.
Obama:  "First of all—hold up—we live in a country that respects free speech. Second of all, it looks like maybe he might have served in our military and we gotta respect that. Third of all, he was elderly and we gotta respect our elders, and fourth of all, don't boo. Vote."
Contrast this with Trump in similar situations:
"Oh, I love the old days, you know? You know what I hate? There's a guy, totally disruptive, throwing punches, we're not allowed to punch back anymore. I love the old days. You know what they used to do to guys like that when they were in a place like this? They'd be carried out on a stretcher, folks," (source).
"I'd like to punch him in the face" (source)
"If you see somebody getting ready to throw a tomato, knock the crap out of them, would you? Just knock the hell- " Trump said, before offering to pay to defend them in the court system…I will pay any legal fees. I promise, I promise." (source)
Not only is there a remarkable contrast between the way Obama handled a protester and the way Trump has repeatedly addressed the issue, the events with Obama gave Trump an excellent opportunity to blatantly lie (from the Business Insider:  Donald Trump gave a startlingly different account of how Obama handled a protester in North Carolina):
"He was talking to the protester, screaming at him, really screaming at him. By the way, if I spoke the way Obama spoke to that protester, they would say, 'He became unhinged!' … And he spent so much time screaming at this protester and frankly, it was a disgrace."
If one did not watch the video Obama, go give it a look and then re-read Trump's words. This is simply a straight-up example of a blatant lie.  This isn't spin or an alternative interpretation.  It is just a direct example of untruth.
So, any supporters of Trump out there note the contrast in how to handle protesters and note how your candidate is simply lying.  It is truly stunning (or should be).