A Tale of Two Cities: El Paso and Ciudad Juárez
Despite assertions that the violence in Mexico is spilling over the border, we find a rather stark comparison of two key border cities.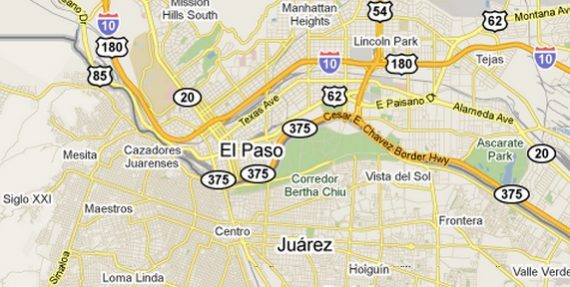 Via the El Paso Times (El Paso murders, crime rate overall fall) we have the factoid of the day:
About 1,700 homicides have occurred in Juárez this year. El Paso has had one.
Further:
Despite the rampant bloodshed in Mexico, the overall crime rate in El Paso has decreased slightly this year.
The piece includes the following table:
Exactly why crime is down is unclear.  What is clear, however, is that this is further evidence that as horrible as the drug war violence in Mexico is (and it is quite horrible), it is not spilling over into the United States.  This is especially remarkable given the proximity of Juárez to El Paso (cities separated by the narrow waters of the Rio Grande and chain-link fences, on balance).  Indeed, if there was a place where such a spill-over would seem likely, it would be in El Paso.
Such observations are not meant to diminish the significance of violence in Mexico nor is it to suggest that there should be no concern whatsoever about potential spill-over (although it does draw attention to the "potential").  What they are meant to do, however, is to underscore what actually is currently happening along our border, contra what a lot of politicians and others are saying.
h/t:  Greg Weeks.