What's Wrong with this Picture?
Trump's trip to El Paso in one photo and two videos.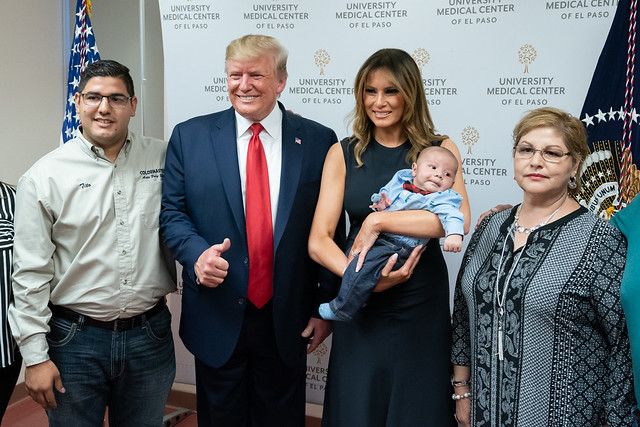 This week, in the aftermath of two mass shooting, President Trump made trips to both Dayton, OH and El Paso, TX. He did so under a cloud of controversy as many local politicians and citizens (to include a lot of the survivors) were not keen on his presence. A headline in the El Paso Times well illustrates the general atmosphere: President Trump visits to El Paso, Dayton prompt tears, anger, debate.
This is not how we would typically describe a visit by a president of the United States in his role as head of state. Normally, as with George W. Bush immediately after 9/11, a president takes on the role as a point of unity. Yes, our political polarization is part of the problem, but the main problem is that Trump never governs, in any circumstance, like he is President of the entire United States, but rather he governs as President of the Trump Base.
Worse, his rhetoric cannot be ignored in the context of the El Paso event in particular (for example, see my 2018 post, Words Matter, or this clip of him making a joke about shooting immigrants, or this clip of the "send her back" chant, and on and on and on).
The El Paso Times story describes the basics of the visit thusly:
In El Paso, after an earlier trip to Dayton, Ohio, Trump met with two survivors' families, but none of the eight wounded in the massacre, the El Paso Times learned. He also met with people like Army Pfc. Glendon Oakley, Jr., who is credited with saving children during the attack.

"I just want to thank you," the president said, addressing a crowd of first responders at the Emergency Operations Center on Threadgill Avenue. Trump called El Paso police Chief Greg Allen a "winner," and added the shooter, who was arrested, "went out like a coward."

Much of the visit to El Paso was conducted in private. There was no public apology for rhetoric that many El Pasoans believe fueled the hate that inspired the attack, nor were there any announced plans for any solutions to the country's recent misery.

By dinnertime, he was gone, tweeting from the air: "Leaving El Paso for the White House. What GREAT people I met there and in Dayton, Ohio. The Fake News worked overtime trying to disparage me and the two trips, but it just didn't work. The love, respect & enthusiasm were there for all to see. They have been through so much. Sad!"
For example, note this tepid response to the pending visiting from El Paso Mayor Dee Margo (a Republican):
"I want to clarify for the political spin that this is the office of the mayor of El Paso, in an official capacity, welcoming the office of the president of the United States, which I consider as my formal duty."

Source: NPR's Morning Edition: Trump As 'Consoler-In-Chief'
And this hostile response from Representative (D-TX):
"He is not welcome here. He should not come here while we are in mourning."

Source: ibid.
It should be noted that most of the survivors did not want to meet with Trump.
There were similar responses from Dayton, such as Mayor Nan Whaley's (D) comment that Trump's has "unhelpful" on gun violence.
All of this paints a highly dysfunctional picture of a presidency unable to undertake one of its easiest functions. Easy in the sense of needing no political capital nor not needing anyone else's help. Easy in the sense that all it should take is some empathy and human compassion. Certainly, it is not easy in the sense of having to deal with the tragedies that spark the need for this role in the first place.
But, let's get to an actual picture.
This one: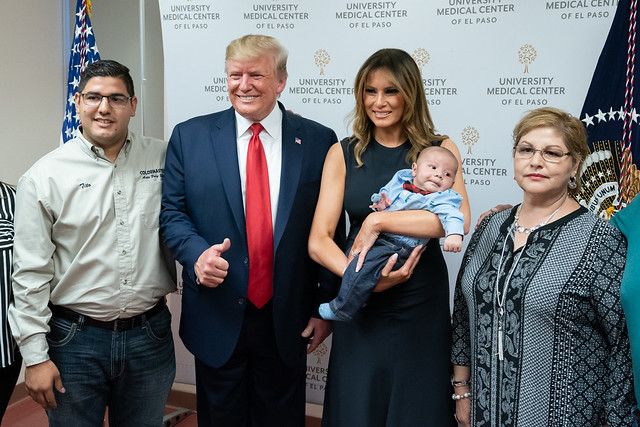 The story behind this visit can be found here (via WaPo: Why one family mourning El Paso victims chose to meet with Trump).
Beyond that, let's look to two video clips.
First, from his visit with hospital staff:
In this clip he goes from praising the medical staff to talking about his crowds at a previous El Paso rally to slamming Beto O'Rourke in less than a minute and a half. He also gets in some digs on the media. The clip is less than two minutes in length.
This is not presidential.
It is not empathy.
This is narcissism.
Then we have this video from Trump's own twitter feed:
What is that? How could anyone think that appropriate?
All of this is, in a word, grotesque.
One does not grin and "thumbs up" a photo with a mass shooting victim's family. One does not lapse into talk about crowd sizes and political opponents while visiting with hospital staff who have been helping the victims of mass shootings. And one does not post a self-aggrandizing, campaign-style video after visiting the sites of two mass shootings.
Or, rather, one does if one is Donald Trump.
Writing about the photo in The Atlantic (Trump's El Paso Photo is Obscene) Graeme Wood said the following which applies to more than just the photo, but the entirety of the topic of this post):
If Trump had failed to visit El Paso, liberals would surely be criticizing him, rightly, for his absence. So it isn't his presence alone that makes the photograph odious. First there are the smiles, so chipper in the aftermath of mass murder. For some reason, this Trump smile calls to mind the one in his famous tweeted portrait in which he's eating a taco bowl ("I love Hispanics!") served by Trump Tower Grill. Then there is the thumbs-up, also present to signal approval of the taco bowl, and in this case to signal approval of what, exactly? The narrow survival of the infant? The heroism of the hospital staff and first responders who cared for the wounded? Somehow neither of these possibilities seems quite right, and contemplation has brought me no closer to a better answer. I do not imagine that Trump is applauding the slaughter. But few gestures are appropriate for both a taco bowl and the death of a baby's parents.
He's not wrong about the taco bowl photo:
Wood continues:
The president of the United States is photographed wherever he goes, and of course some of those photos will show him picking his nose or smirking when he should be serious. The optical demands of the job are impossible to appreciate, and we should forgive him for the occasional failure to twist his face into an appropriate expression. But sometimes—and this is one of those times—the optical demands of the office are the only demands. In the immediate bereavement of an infant's parents, nothing is needed but respectful silence.
(Emphasis mine).
And I will conclude with: indeed.