Obama Gets Failing Grade On Oil Spill Response
President Obama continues to suffer politically as a result of the oil spill crisis.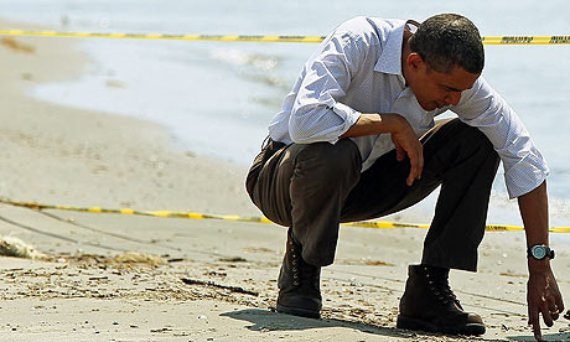 Two new polls show that President Obama is continuing to suffer political consequences for his Administration's response to the Gulf of Mexico oil spill.
First, from CBS News:
Most Americans do not believe President Obama has a clear plan to deal with the oil spill in the Gulf, according to a new CBS News/New York Times poll.

Just 32 percent say Mr. Obama has a clear plan to deal with the oil leak, while 59 percent (including 64 percent of Gulf coast residents) say he does not.

The numbers are not much better among those who watched the president's Oval Office speech on the spill last week, with 35 percent of that group saying he has a clear plan and 56 percent saying he does not.

The spill isn't the only issue on which the president is seen as lacking a plan of action: Just 41 percent say Mr. Obama has a clear plan for developing new sources of energy, while 45 percent say he has no clear plan. And when it comes to creating jobs, just 34 percent say he has a clear plan; 54 percent say he does not.

A majority of Americans – 61 percent – says the president's response to the oil spill was too slow. Just 31 percent say they have "a lot" of confidence in his ability to handle a crisis, though a majority has at least some confidence that he can do so. Since January, the percentage who says Mr. Obama has strong qualities of leadership has fallen from 70 percent to 62 percent.

Overall, 43 percent approve of Mr. Obama's handling of the oil spill, while 47 percent disapprove.

The president's overall approval rating stands at 47 percent, unchanged from one month ago. The percentage who disapproves of his performance has also held steady and now stands at 43 percent.
And, also, from Gallup:
PRINCETON, NJ — Americans give President Obama a 44% approval rating on his handling of the oil spill in the Gulf of Mexico, up slightly from 40% in early June. Meanwhile, 16% of Americans approve of BP's handling of the spill.

These data are based on Gallup Daily tracking interviews conducted June 19-20. During the three-day period of June 18-20, President Obama's three-day job approval rating was 49%. Obama's approval on the oil spill trailed his overall approval rating by seven percentage points in polling conducted during the period of June 4-6, 40% to 47%, meaning approval on both measures has increased at least marginally over the past two weeks.

In the current poll, 40% of Americans disapprove of how both Obama and BP are handling the spill. The next-largest group of 32% approve of Obama's actions relating to the oil spill, but not BP's. Ten percent approve of both; 6% approve of BP but not Obama.
So far, though, the oil spill  seems to be having only a marginal effect on the President's overall approval rating, as this chart of the trend since the date of the accident shows:
The one thing these polls do show, though, is that last Tuesday's speech and Thursday's announcement of the BP escrow fund seem to have had almost no effect on the public perception of the Administration's handling of this crisis, and that's unlikely to change as long as oil continues to bleed from the floor of the Gulf of Mexico.