BP Agrees To Creation Of $ 20 Billion Escrow Fund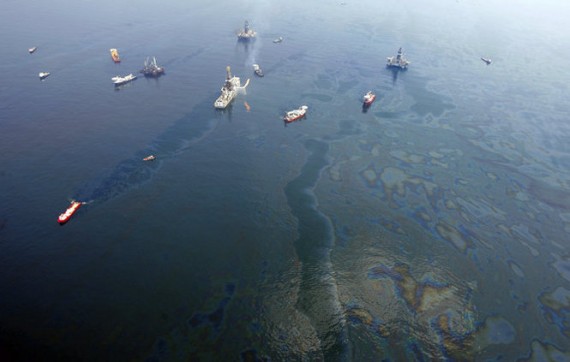 One of the few concrete ideas to come out of President Obama's speech last night appears to be a done deal:
WASHINGTON — The White House and BP tentatively agreed on Wednesday that the oil giant would create a $20 billion fund to pay claims for the worst oil spill in American history. The fund will be independently run by Kenneth Feinberg, the mediator who oversaw the 9/11 victims compensation fund, according to two people familiar with the deliberations.

The agreement was not final and was still being negotiated when President Obama and his top advisers met Wednesday morning with BP's top executives and lawyers. The preliminary terms would give BP several years to deposit the full amount into the fund so it could better manage cash flow, maintain its financial viability and not scare off investors.

The talks have been complicated by the fact that BP's ultimate liabilities for the cleanup and lost business are unknowable since the two-month-old leak of its well in the Gulf of Mexico could be spewing oil for months more. To date, BP has spent more than $1 billion on containment, cleanup and claims from the Coast Guard, fishermen, oil workers and other businesses from Louisiana to Florida.
Notwithstanding the fact that BP is agreeing to this — just how voluntary that agreement might be is left for the reader to ponder — one has to wonder where the legal authority for the fund will come from. The 9/11 fund that Mr. Feinberg oversaw was established by an Act of Congress, for example, and there does not appear to be any independent statutory authority for the President to establish this fund on his own.
Also unanswered is the question of what claims will be covered by the fund:
BP officials are adamant that the company should not be liable for the lost wages of oil workers laid off because of the six-month moratorium that the Obama administration imposed on deepwater offshore drilling after the Deepwater Horizon explosion and fire. But Interior Secretary Ken Salazar and other administration officials repeatedly have cited idled oil workers as among those who could press claims.
It may turn out that some claims will have to be litigated before recovery is possible, especially since the idea that BP should be responsible for a losses like the lost wages of oil workers idled by a government-imposed drilling moratorium, which only seem to be tangentially related to the explosion of the Deepwater Horizon.
In any event, this news is likely to be well-received by Gulf Coast residents who have been harmed by the oil spill. What remains to be seen is how it will be implemented.