A Timeline of Denial and Incompetence
A non-exhaustive tour of Trump's utterances on the pandemic since January.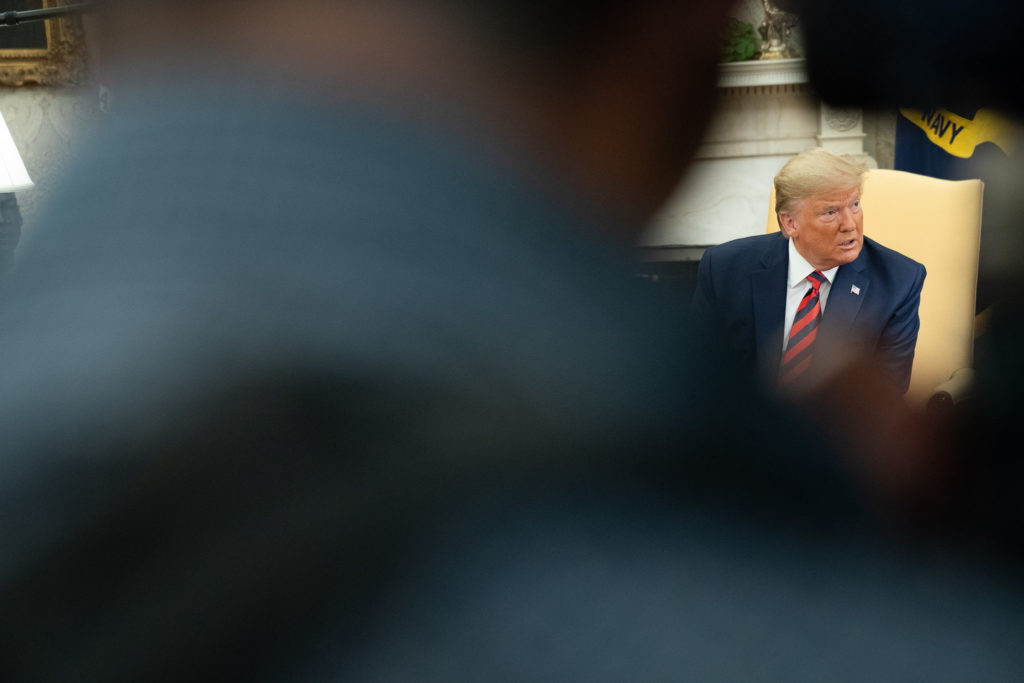 I started to write a post about incompetence and this administration as it pertains to the Covid-19 pandemic which led me to start this list of Trump statements about the virus as a reference point (which then consumed the time I had for blogging today).
Some of this was harvesting previous posts, and others were just items I had not yet commented upon. This list is not exhaustive (a truly exhaustive list would be, well, exhausting to compile). Indeed, I am fairly certain one could write a book along the lines of Drezner's The Toddler-in-Chief based on quotes from Trump regarding the pandemic, journalistic accounts regarding the admin's response, and fact-checking those items.
Broadly speaking, I think there are the following eras of Trump's response.
The initial denial/downplaying (from January into March).
The period of pretending to take it seriously (from roughy around his Oval Office address through his Aló Presidente period) which ended in May.
His current period of insisting he did a great job, asserting that we have cases because of tests, and pretending like it is all over so we should just stop worrying about it all.
These are all represented below, mostly without additional commentary.
---
All block-quotes are the words of Donald J. Trump. Any emphases are mine.
January 22, 2020, in an interview with CNBC:
It's one person coming in from China. We have it under control. It's going to be just fine
January 30, 2020, Remarks by President Trump at a USMCA Celebration with American Workers | Warren, MI:
We have very little problem in this country at this moment — five. And those people are all recuperating successfully. But we're working very closely with China and other countries, and we think it's going to have a very good ending for it. So that I can assure you.¨–Donald J. Trump,
February 4, 2020, Remarks by President Trump in State of the Union Address:
Protecting Americans' health also means fighting infectious diseases. We are coordinating with the Chinese government and working closely together on the coronavirus outbreak in China. My administration will take all necessary steps to safeguard our citizens from this threat.
Note: that is the totality of the discussion of the virus in the SOTU.
February 24, 2020:
February 26, 2020, Remarks by President Trump, Vice President Pence, and Members of the Coronavirus Task Force in Press Conference:
We — we're ready to adapt and we're ready to do whatever we have to as the disease spreads, if it spreads. As most of you know, the — the level that we've had in our country is very low, and those people are getting better, or we think that in almost all cases they're better, or getting. We have a total of 15. We took in some from Japan — you heard about that — because they're American citizens, and they're in quarantine. And they're getting better too.

But we felt we had an obligation to do that. It could have been as many as 42. And we found that we were — it was just an obligation we felt that we had. We could have left them, and that would have been very bad — very bad, I think — of American people. And they're recovering.

Of the 15 people — the "original 15," as I call them — 8 of them have returned to their homes, to stay in their homes until fully recovered. One is in the hospital and five have fully recovered. And one is, we think, in pretty good shape and it's in between hospital and going home.

So we have a total of — but we have a total of 15 people, and they're in a process of recovering, with some already having fully recovered.
February 27, 2020, Remarks by President Trump in Meeting with African American Leaders:
And you know what? If we were doing a bad job, we should also be criticized. But we have done an incredible job. We're going to continue. It's going to disappear. One day — it's like a miracle — it will disappear. And from our shores, we — you know, it could get worse before it gets better. It could maybe go away. We'll see what happens. Nobody really knows.

[…]

To think of it — with all of what you see going on — 15 people. We brought in the others, but — and they're doing good. But 15 people is almost, I would say, a miracle.
March 6, 2020, during a tour of a CDC facility:
anyone who wants a test can get a test.
This assertion was not true (and still isn't true).
March 9, 2020:
March 17, 2020, during a press conference at the White House:
This is a pandemic. I felt it was a pandemic long before it was called a pandemic.
March 27, 2020, Remarks by President Trump, Vice President Pence, and Members of the Coronavirus Task Force in Press Briefing:
You can call it a germ, you can call it a flu, you can call it a virus. You know, you can call it many different names. I'm not sure anybody even knows what it is.
March 29, 2020:
April 16, 2020, during a daily briefing from the White House:
Suppose we hit the body with a tremendous ultraviolet or just very powerful light?

[…]The disinfectant knocks it out in a minute. One minute. Is there a way we can do something like that by injection inside?
May 10, 2020:
More on the H1N1 claim here.
June 20, 2020, at his tally in Tulsa:
Here's the bad part. When you do testing to that extent, you're going to find more people, you're going to find more cases. So I said to my people, 'Slow the testing down, please!'
July 1, 2020 in an interview with Fox Business:
I think we're gonna be very good with the coronavirus, I think at some point that's going to sort of just disappear, I hope.
July 4, 2020, Remarks by President Trump at the 2020 Salute to America:
Likewise, testing — there were no tests for a new virus, but now we have tested over 40 million people. But by so doing, we show cases, 99 percent of which are totally harmless. Results that no other country will show, because no other country has testing that we have — not in terms of the numbers or in terms of the quality.
This is not true. The current mortality rate is ~3.7% and the risk of hospitalization is higher than that, and we still do not know what the longer-term effects are. This is a highly misleading statement.
July 19, 2020, interview with Chris Wallace on Fox News Sunday:
Many of those cases are young people that would heal in a day. They have the sniffles and we put it down as a test. Many of them — don't forget, I guess it's like 99.7 percent, people are going to get better and in many cases they're going to get better very quickly.
Treating a disease that has infected, as of this writing, 3.8 million Americans and killed 143,226, as if it can in any way be classified as the "sniffles" (as he has done on multiple occasions) is, simply, a remarkable abdication of responsibility and a downplaying of tragedy.
To be continued, it would seem…