A Word About Jumping To Conclusions, Boston Edition
There's a lot we still don't know about what happened in Boston, so maybe it's time to stop speculating.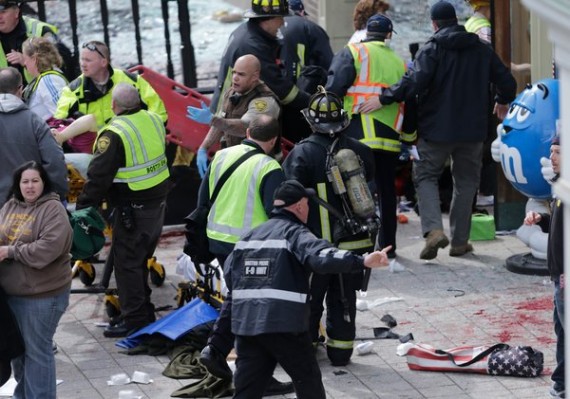 While less than 24 hours have passed since two bombs exploded near the Finish Line of the Boston Marathon, that hasn't stopped the media from passing on endless rounds of speculation about what is going on in the case. The New York Post, for example, spent the better part of yesterday claiming that there were twelve people dead in the attack. We now know that the actual death toll, at this time, is three with 140 injured, 17 of whom are listed in critical condition. The Post, along with CBS News also reported that police were holding a Saudi national who had been injured and was for some reason believed to be either a "suspect" or a "person of interest," terms with two very distinct legal  meanings. There does seem to be some truth to this in that, last night, Federal and local authorities conducted a search of an apartment in the Boston suburb of Revere, Massachusetts. This morning, CNN reported that this search was done with the consent of the resident, strongly suggesting that this is a person who is cooperating rather than someone authorities consider a suspect. It was also reported yesterday that there had been a third explosion at the JFK Library. Indeed, the Boston Police Commissioner said as much at the initial press conference that was held by local officials. As it turned out, there was no explosion and that the facility had suffered an unrelated fire in a Mechanical Room. Finally, there were multiple reports that authorities had recovered multiple unexploded devices. The Wall Street Journal reported that as many as five other devices had been recovered, potentially a very important investigatory lead. This morning, it was made clear by all the levels of government investigating this matter that there were no unexploded bombs found by any authority.
This isn't the first time that we've seen this kind of baseless media speculation. In the immediate aftermath of the Gabby Giffords shooting, a false report that the Congresswoman had died blasted its way around cyberspace in a matter of minutes, only to be revealed to be untrue within a matter of minutes. For hours after the shooting at Sandy Hook Elementary School, the media was reporting incorrectly that (1) that the suspect was named Ryan Lanza rather than his brother Adam Lanza, (2) that there was more than one shooter, and (3) posting portions of the Facebook page of a "Ryan Lanza" who wasn't even related to the shooter.  And, of course, going back even further, there's the example of Press Secretary James Brady being declared dead by the news media as he was fighting for his life on an operating table at George Washington University Hospital.
The reasons that things like this happen are easy to understand. When there's a breaking news story like this, the media beast demands that it be fed. At the same time, law enforcement has the understandable desire to keep information related to the investigation close to the vest, especially when it's possible that the perpetrator (and possible confederates) are on the loose and monitoring media reports about the investigation. That's been true as long as television as existed, I think, and has become even more prevalent with the advent of 24/7 cable news channels. The media wants something to talk about, and they want to be able to claim that they got a story "first," and law enforcement wants to conduct its investigation, which can be a slower process than the modern news cycle is willing to tolerate. Add in the world of the Internet and especially Twitter, and the pressure to report something, anything becomes very strong. And, hence, we have news outlets reporting half-baked rumors as if their fact, many times provided by law enforcement sources who may not be as close-in to the investigation as reporters think they are.
There's another aspect to this type of news cycle, though, and it brings up memories of a man named Richard Jewell. Jewell, you'll recall, is the security guard who ended up getting caught up in the whirlwind of the 1996 Centennial Park bombing. He had apparently noticed a suspicious package that night, told a nearby police officer, and helped warn people to get out of the park. For his trouble, he ended up getting caught up in a month-long media maelstrom in which he was accused, tried, and convicted in the court of public opinion. As it turned out, of course, Jewell was completely innocent, the bomb had been set by Eric Rudolph, but it took years for that fact to come out and Jewell's life had still been ruined. Indeed, even the libel settlements he got from several major news outlets likely were insufficient to make up for the hell that he was put through.
So, perhaps, we should keep Jewell in mind as the information about the tragedy in Boston trickles out:
If the FBI, and CNN, and NBC, and the New York Post, and the Atlanta Journal Constitution, and All Of Us, could get the Atlanta bombing sotragically wrong in 1996, they, and we, can do it today. In the days to come, it would behoove All Of Us to take what the FBI, and CNN, and NBC, and the New York Post, and their ilk, have to say about suspects and motives with a grain of salt.

Lest we find outselves owing someone a Richard Jewell-sized apology.

Perhaps the best apology we, All Of Us, can give to Richard Jewell is to be a little more skeptical of what we're told by the FBI, and CNN, and NBC, and the New York Post, and the Atlanta Journal Constitution, and their ilk.

It will do Richard Jewell no good whatsoever, but it will make All Of Us better citizens.
To which I can only say, agreed.