Herman Cain Goes For the "Nuts Or Sluts" Defense
Herman Cain response to the latest round of allegations against him leaves much to be desired.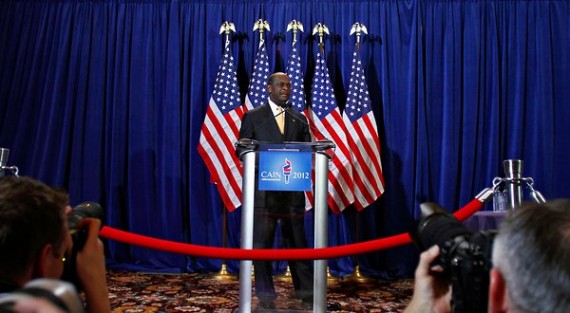 Embattled Presidential candidate Herman Cain walked into a press malestrom late this afternoon hoping, no doubt, to put an end to the sexual harassment allegations against him:
In a 30-minute press conference on Tuesday, Herman Cain repeatedly blasted the media for covering the mounting allegations against him and cast himself as the victim of a smear campaign by people hostile to him.

The Republican presidential candidate, who said he would not drop out of the race, denied that he sexually harassed two women — Sharon Bialek and Karen Kraushaar — in the mid-1990s when Cain was head of the National Restaurant Association.

Refusing to even utter the name of Bialek, who said Cain groped her in July 1997, the former Godfather's Pizza executive dismissed Bialek's accusations as "baseless, bogus and false."

"I don't even know who this lady is," he said at a press conference in Scottsdale, Ariz., describing the former NRA employee who sought help getting a job from him as a "troubled woman."

"I have never acted inappropriately with anyone, period," Cain said, adding, "the charges and accusations I absolutely reject. They simply didn't happen."

Cain's denials came as Karen Kraushaar, who accused Cain of sexual harassment when they both worked at the NRA in the '90s, confirmed publicly for the first time late Tuesday that she had made allegations against Cain.

Kraushaar, 55, who is employed at the Treasury Department's inspector general office, said she never wanted to go public as one of Cain's accusers. But as news outlets began publishing her name Tuesday, she said she is ready to talk publicly.

"I am interested in a joint press conference for all the women where we would all be together with our attorneys and all of these allegations could be reviewed as a collective body of evidence," Kraushaar told The Washington Post.

She added, "When you're in a work situation where you are being sexually harassed, you are in an extremely vulnerable position," Kraushaar said. "You do whatever you can to quickly get yourself a job someplace where you will be safe. That is what I thought I had achieved when I left" the NRA in the 90s.

Asked about Kraushaar, Cain said her allegations were "found to be baseless." The NRA did, however, reached a settlement with Kraushaar that it confirmed last week.

Appearing for the first time with his lawyer at the press conference, Atlanta-based L. Lin Wood — who has represented falsely-accused suspects like Richard Jewell and Rep. Gary Condit (D-Calif.) — Cain said anyone who hoped he would leave the presidential race would be disappointed.

"Ain't going to happen," he said. "I'm doing this for the American people."

In an earlier interview with ABC News and YahooTuesday afternoon, the former Godfather's Pizza executive repeatedly said he did not remember even meeting Bialek, who on Monday in a nationally televised press conference said that Cain groped her and made an unwanted advance in 1997.

Cain not only denied Bialek's charges but also rejected the accusations of three other women that emerged over the past 10 days.

"Throughout my career, I have had nothing but utmost respect for any and all women," Cain said. He added, referring to Bialek, that "some of the claims that were made are absolutely ridiculous."

Cain and his supporters have sharply questioned both Bialek's version of events and her motives since Bialek's press conference Monday.

A Cain spokesman on Monday cast Bialek as a "woman with a long history of severe financial difficulties, including personal bankruptcy," and asked: "Was she paid to come forward with these false accusations or was she promised employment?"

Cain's camp also attacked Bialek's attorney, Gloria Allred.

"It is noteworthy that Gloria Allred is a celebrity lawyer who specializes in generating publicity for herself and her clients," Cain spokesman J.D. Gordon said in a statement on Monday night. "Ms. Allred is a high-profile Democrat Party donor and activist who has given over $10,000 dollars to liberal Democrats like Barack Obama, Dianne Feinstein and Barbara Boxer."
During the press conference, which was cut short by Cain himself after just 30 minutes, the candidate also referred to Sharon Bialek as "troubled woman" and repeated comments he had made during an interview earlier this afternoon when he said that the charges made by Bialek and all the other women were part of of a conspiracy, apparently inspired by Democrats but he never really makes that clear, to prevent a "businessman" from becoming President of the United States. He provides no support for this conspiracy, of course, but it's the kind of argument that, at least for the moment, is likely to placate his supporters.
The one smart thing that Cain appears to have done is to hire Atlanta attorney Lin Wood to represent him in this whole matter. Wood, you may recall, represented Richard Jewell in the libel suits he filed against The Atlanta-Journal Constitution and other media entities int he wake of the 1996 Centennial Park bombing, in which Jewell was wrongly identified as a suspect by the media. Wood also represented Jon and Patsy Ramsey in the wake of the murder of their daughter Jon-Benet and the numerous investigations and accusations that, again wrongfully, that they were involved in her murder. He also represented former Congressman Gary Condit during the investigation of Chandra Levy, for which Condit was suspected and dragged through the mud by the media. So, in some sense, whether there's something to these charges or not hiring Wood is a smart move on Cain's part.
But hiring Wood may be the only smart thing that Cain did today. The press conference, for the most part, struck me as a train wreck. The "I don't remember" defense isn't an explicit denial even though that's how Cain wants us to take it, and characterizing a single mother of a 13 year old boy as "troubled" and part of a Democratic conspiracy is the kind of paranoia one usually expects from a rabid Palinista. Denying every single accusation and statement that Bialek made opens the door to every investigative reporter in Washington wearing out the shoe leather to try to determine if she is indeed correct that he upgraded her room at the Capitol Hilton and took her to dinner in July 1997. If it turns out that those details of her story are true, then his statement that he has no idea who she is becomes far, far less credible. More importantly, Cain opened the door to every other woman who has made accusations against him to come forward and counter his statement that she is a liar. In other words, all this press conference did is guarantee that this is story will last until at least the end of this week, if not longer.
We still don't know what the truth is here, and we may never know that. To some extent, it's going to depend on who the voters believe is more credible and how they evaluate that. With his press conference today, Herman Cain guaranteed that if there are even a small number of facts that contradict his complete and absolute denial, then he's the one who is going to look like he isn't telling the truth. Tonight, Herman Cain signed on fully to the "nuts or sluts" defense. He'd better hope he turns out to be right.
Here's video of the full Press Conference:
Part I:
Part II:
Video via Hot Air, Photo via The New York Times