Woman Claims Herman Cain Groped Her In 1997
New accusations of inappropriate behavior mean another stressful week for Herman Cain.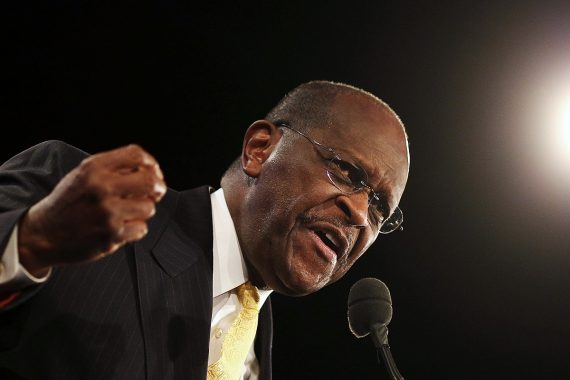 A Chicago woman who used to work for an affiliate of the National Restaurant Association claims that Herman Cain engaged in what would clearly be inappropriate sexual contact when she met him in Washington, D.C. in 1997:
Sharon Bialek, a Chicago woman who worked at the National Restaurant Association in the late 1990s has come forward to say that Herman Cain sexually harassed her while she was looking for a job. In graphic detail, Bialek described an encounter with Cain that happened in July of 1997 in Washington D.C. that left the woman shaken and embarrassed.

After being let go by the NRA foundation, Bialek, who had met Cain on several occasions during conferences and at a dinner, reached out to Cain to obtain guidance on getting a new job.

During their meeting, Bialek alleges that Cain put his hand under her skirt and reached for her genitals and also pushed her head toward his crotch while they were in a car.

She recalls saying: "This isn't what I came here for, Mr. Cain."

The now-GOP presidential candidate responded, according to Bialek, "You want a job, right?"

Immediately following the incident, Bialek, who is a registered Republican, homemaker, and single mom, said that she told her then-boyfriend and another person, according to her lawyer, Gloria Allred. Allred presented the two sworn statements of the people Bialek told at the news conference.

Speaking at a news conference in New York, Bialek said that she spoke out in order "to give a face and a voice to those other women" who chose not to, referring to two women who filed complaints against Cain, but have thus far remained anonymous.

"I want you, Mr. Cain, to come clean," Bialek said. "I implore you, make this right."
What Bialek is describing here isn't really sexual harassment, of course, because she was no longer employed by the NRA by the time it occurred. What it could constitute, however, is a case of sexual assault or, at the very least battery. Based on what I've been able to determine, it would appear that the statute of limitations on either charge, or any other that could be brought arising out of this incident, has expired as have any civil claim that Bialek could have brought against Cain. Nonetheless, many will ask, legitimately why she did not report the matter when it happened, or why she didn't press charges. The affidavits corroborating that she told others about the incident do tend to lend some credibility to what she says, but in the end people will either believe her, or they will believe Herman Cain. Not surprisingly, the Cain campaign is denying the charges:
"Just as the country finally begins to refocus on our crippling $15 trillion national debt and the unacceptably high unemployment rate, now activist celebrity lawyer Gloria Allred is bringing forth more false accusations against the character of Republican front-runner Herman Cain," said spokesman J.D. Gordon.

"All allegations of harassment against Mr. Cain are completely false. Mr. Cain has never harassed anyone. Fortunately the American people will not allow Mr. Cain's bold "9-9-9 Plan," clear foreign policy vision and plans for energy independence to be overshadowed by these bogus attacks."
It's going to be hard for Cain to get this story to go away with just a statement through a spokesperson now that there's a name and a face attached to the accusation. More importantly, there's this comment from the attorney for another of Cain's accusers who settled her claims with the NRA:
In an interview after Ms. Bialek's news conference, Joel P. Bennett, a lawyer for one of Mr. Cain's anonymous accusers, said that Ms. Bialek's claims were "very similar" in nature to the incident that occurred between his client and Mr. Cain…

"It corroborates the claim," Mr. Bennett said of Ms. Bialek's allegation. Asked whether that meant that Mr. Cain had physically touched his client inappropriately, Mr. Bennett said "I can't get more specific" but added that "I can say it is corroborating."

Mr. Bennett also said that a woman named Sharon from Chicago left a message on his answering machine over the weekend saying that she, too, had been the subject of harassment at the hands of Mr. Cain. Mr. Bennett said he called her back to suggest that he could arrange for her to come forward confidentially, but that she said that she would think about it.
As I noted this morning, the involvement of Gloria Allred in this case will cause some people to doubt the credibility of Bialek's claims, but I'm not sure that it's fair to judge a client by the fact that she happened to choose a controversial attorney known for seeking the media spotlight. It also depends on how Bialek comes across in public. In the press conference she seemed nervous and read her statement from a copy that she was holding in front of her, which really doesn't indicate much of anything to me. At some point, I assume she'll end up on cable being interview by someone and then we'll see how she comes across. If she's credible, it's going to be difficult for Cain to just say "she's lying" and assume that this story is going to go away. Moreover, if there are any other women out there, the fact that one of them has now come forward may cause others to do the same. For better or worse, this story isn't going away.
Cain is likely to be benefited somewhat by the fact that the two debates coming up this week are limited to the topics of the economy and foreign policy, at least he won't have to worry about facing a question from the audience about this issue. The one thing that's for sure, though, is that this is another week when most of the public exposure he gets in the media is going to be about an alleged sex scandal rather than what he'd rather be talking about. Whether that will have an impact on voters is something we'll have to wait and see.