Herman Cain's Low Class Attack On Sharon Bialek
Herman Cain's initial response to the allegations made yesterday leaves much to be desired.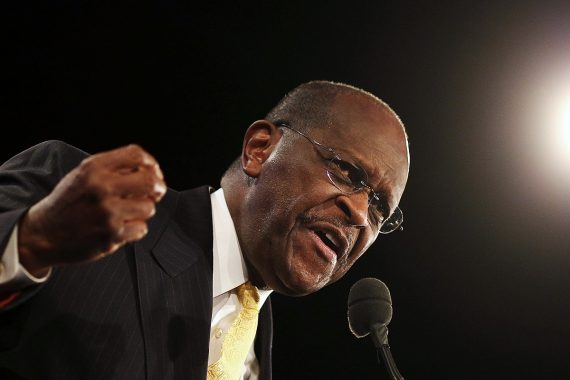 At 5:00pm Eastern Time today, Herman Cain will reportedly hold a press conference to address the allegations made yesterday by Sharon Bialek that he accosted her during an encounter in 1997. We get what looks to be a preview of what he will have to say in an email from the campaign:
In stark contrast to Mr. Cain's four decades spent climbing the corporate ladder rising to the level of CEO at multiple successful business enterprises, Ms. Bialek has taken a far different path.

The fact is that Ms. Bialek has had a long and troubled history, from the courts to personal finances – which may help explain why she has come forward 14 years after an alleged incident with Mr. Cain, powered by celebrity attorney and long term Democrat donor Gloria Allred.

In the courts, Ms. Bialek has had a lengthy record in the Cook County Court system over various civil lawsuits. The following cases on file in Cook County are:

·         2000-M1-707461 Defendant against Broadcare Management
·         2000-M1-714398 Defendant in lawsuit against Broadcare Management
·         2000-M1-701522 Defendant in lawsuit against Broadcare Management
·         2005-M1-111072 Defendant in lawsuit against Mr. Mark Beatovic.
·         2007-M1-189176 Defendant in lawsuit against Midland Funding.
·         2009-M1-158826 Defendant in lawsuit against Illinois Lending.

Ms. Bialek was also sued in 1999 over a paternity matter according to ABC 7 Chicago (WLS-TV).  Source: WLS-TV, November 7, 2011

In personal finances, PACER (Federal Court) records show that Ms. Bialek has filed for bankruptcy in the Northern District of Illinois bankruptcy court in 1991 and 2001. The respective case numbers according to the PACER system are 1:01-bk-22664 and 1:91-bk-23273.

Ms. Bialek has worked for nine employers over the last seventeen years. Source: WLS-TV, November 7, 2011

Curiously, if Ms. Bialek had intended to take legal action, the statute of limitations would have passed a decade ago.

Which brings up the question of why she would make such reprehensible statements now?

The questions should be – who is financing her legal team, have any media agreed to pay for her story, and has she been offered employment for taking these actions?
Even if all of these facts are true, I struggle to understand how they are at all relevant to the question of whether or not what Ms. Bialek says happened in July 1997 happened or not. She obviously had some personal financial problems throughout her life (one of the bankruptcies she filed came before she ever met Herman Cain) and she also had personal problems apparently arising out of a child born out of wedlock. She's had a number of jobs. Why does that matter at all? Bialek said today that she is not getting paid for coming forward, and that seems to be a matter that could be easily verified at some point.  As for the question of who is paying Gloria Allred, that's not necessarily relevant either. For all we know, Allred is working pro bono on this matter.
Cain isn't the only one going after Bialek. Within hours after her press conference yesterday, conservatives on Twitter were circulating a link to one of the lawsuits noted above which showed that the attorney for one of the Plaintiffs that sued Bialek in 2009 was named "David A. Axelrod." That led many to make the leap, without thinking, to the conclusion that the attorney David Axelrod was the same person as President Obama's political adviser. As a quick search on Wikipedia would have revealed to them, the David Axelrod who advises the President is not an attorney, and never actually received any degree higher than a B.A. in political science from the University of Chicago. The attorney David Axelrod is an entirely different person. It didn't stop there, though. This morning, the hosts of Fox & Friends decided to find some sinister conspiracy in the fact that Bialek and the "real" David Axelrod live in the same building in Chicago.  As it turns out, that building, 505 North Lake Shore Drive, is Lake Point Tower, a 70 floor mixed-use but mostly residential building on the shores of Lake Michigan with more than 1,200 residents. Obviously, evidence of a conspiracy there.
Perhaps the most bizarre part of the Cain campaign's attack is when it notes that the statute of limitation for any legal action, civil or criminal, expired long ago. Doesn't that discount the argument that Bialek is in this for the money?
This strikes me as the same kind of "nuts or sluts" defense we usually see from politicians accused of sexual wrongdoing. Rather than addressing the merits of the charges, the politician charged with inappropriate behavior attacks the accuser. It was wrong with Bill Clinton's campaign did it to people like Gennifer Flowers, and it's wrong now. It may turn out that Sharon Bialek is being less than truthful here, but the way that Herman Cain has chosen to respond to her is low-class, contemptible, and not fitting of someone running for President.
H/T: Matt Lewis