AAAS Leader Falsely Claimed Doctorate on Grant Proposals
Leslie Cohen Berlowitz, president of the American Academy of Arts and Sciences, is under fire for academic fraud.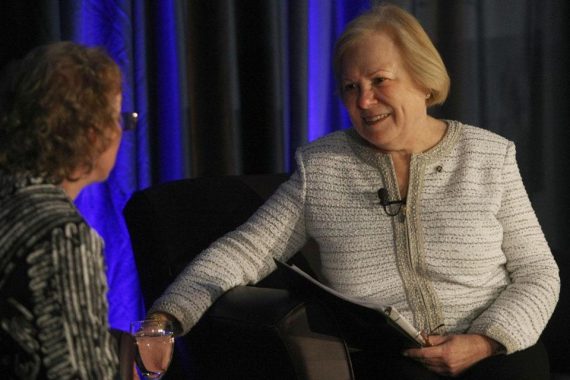 Leslie Cohen Berlowitz, president of the American Academy of Arts and Sciences, is under fire after discovery that she lied about having a doctorate on at least two government grant proposals.
NYT ("Arts and Sciences Academy Defends Leader's Honesty"):
 The American Academy of Arts and Sciences, the prestigious 233-year-old scholarly society in Cambridge, Mass., said on Tuesday that it is standing behind its president, Leslie Cohen Berlowitz, after accusations that she had falsely claimed on at least two grant proposals to have a doctorate.

The accusations, reported in The Boston Globe on Tuesday, sent shock waves through intellectual circles in Cambridge and beyond, along with speculation that a leader who has long weathered criticism about her sharp-elbowed management style might be out the door.

But a spokesman for the academy, Ray Howell, said that Ms. Berlowitz had never claimed to have earned a doctorate, and blamed the mistakes on "an iteration of her résumé created at the staff level."

"Her official résumé on file with the academy does not contain the inaccurate information," the statement continued. "President Berlowitz takes full responsibility for the error, and the academy is working to correct the information with relevant funding agencies."

In a separate statement, Louis W. Cabot, the chairman of the academy's executive board, said Ms. Berlowitz had the board's "unqualified support." He added, "We look forward to her leading the academy for years to come."

The National Endowment for the Humanities received at least two grant applications, in 2003 and 2010, listing Ms. Berlowitz as having received a doctoral degree from New York University. The grant applications — including one signed directly by Ms. Berlowitz — were obtained by The Globe under the Freedom of Information Act and were posted on the newspaper's Web site, along with another document prepared by the academy that also repeated the claim.

James Devitt, a spokesman for N.Y.U., confirmed that Ms. Berlowitz, 69, who holds a master's degree in English from Columbia, was enrolled in N.Y.U.'s Ph.D. program from 1967 to 1978, but the university had no record of her having received a doctorate.

Ms. Berlowitz arrived at the American Academy in 1997 as its executive officer, following a 27-year career at N.Y.U., where her most recent title had been vice president for institutional advancement. In 2010, she became the academy's president, previously an unpaid position held by a distinguished scholar. Her total compensation for the fiscal year ending March 2012 was more than $598,000, according to Internal Revenue Service filings. She did not respond to requests for comment Tuesday.
This is bizarre all around.
First, of course the lie was intentional. How does one inadvertently claim a doctorate? Why would there be "an iteration of her résumé created at the staff level" that falsely claims she has a doctorate? It just doesn't add up. Further, the BoGlo story makes it clear that she continually lied about many aspects of her career.
Second, why would a scholarly society hire someone who spent nine years in a PhD program and failed to actually complete it as its head? There isn't exactly a PhD shortage.
Third, what in the world does the AAAS president do that's worth $598,000? That's more than most college presidents make.