Addiction and the Public Health Question
A brief foray into looking at Alabama state policy on fighting addiction.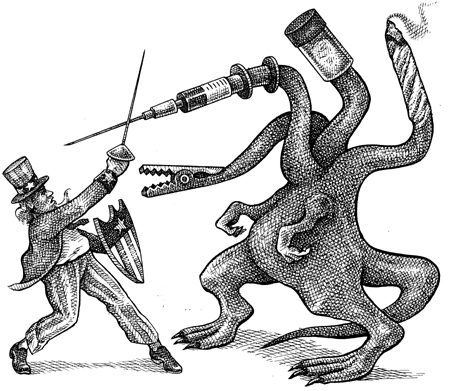 (Sometime a quick take ends up not being so quick….).
Via AL.com: Alabama could soon make it harder to get addiction treatment, doctor says.
Many patients must travel long distances to seek care, Eaton said. Requiring patients to visit the doctor every two weeks or ween off medications for anxiety as a condition for receiving buprenorphine could discourage people from seeking care, she said. That could increase the number of overdoses.

In a statement, members of the Alabama Board of Medical Examiners said legislators required new rules to prevent the abuse of buprenorphine. The treatment contains an opioid and naloxone, which counters the effects of the opioid. Users can feel high, but the sensation is muted compared to heroin or fentanyl, according to Harvard Medical School.
What is striking to me about this story is that it tracks long-term, ill-conceived ways of dealing with addiction in the United States. That is: treat addicts like criminals (or, at least, barely worthy of help) and create pathways to treatment that disincentivize that treatment. Moreover, the main motivator is not public health outcomes, but instead operating from some alleged moral high ground. It makes me think of needle exchange programs, which have been demonstrated to cut down on HIV and hepatitis infections.
Alabama has long had the highest number of opioid prescriptions per capita, but those numbers have fallen in the state and across the nation in recent years. Although prescription opioids once drove the overdose crisis, they have now been overtaken by heroin and fentanyl sold on the street. Eaton said state officials recently announced that fentanyl had been found in illicit drugs passed off as Adderall, methamphetamine, cocaine and marijuana gummies.

[…]

"There is a bit of a disconnect in what I'm hearing at the state level is driving the crisis and the response, which is tightening restrictions on physicians," Eaton said.

In addition to creating barriers for patients, Eaton said the proposed rules could prevent some doctors from prescribing buprenorphine. The changes to federal law were supposed to make it easier for family doctors, obstetrician/gynecologists and others to treat addiction.

"My main concern is that patients will not have access to care, the most vulnerable," Eaton said. "And that providers who are primary care providers who are well-positioned to respond to this are already burned out after the last few years and then we give them multiple pages of new requirements. The last thing we need are fewer doctors prescribing buprenorphine."
I will note, the story is about the proposed change, not one that has been instituted.
I tried to find additional coverage on this topic, including what the motivations might be for the proposed rules. Instead, I found another AL.com piece from last July reporting on another example of regulations making treatment more difficult: New Alabama rules on telemedicine hurt opioid users who need help, says startup founder.
The operation, dubbed Alabama Airdrop, was needed to comply with a law passed earlier this year regulating the practice of telemedicine in the state. The law requires physicians to see patients in-person at least once a year and sparked a scramble by Bicycle Health – a telemedicine startup focused on opioid addiction. They found a partner, Aletheia House, to help them organize and host the check ups.

[…]

Patients who might have feared being seen at an in-person clinic could log on without leaving home. The company provides access to medication alongside counseling and peer support.

It's patient load in Alabama swelled to more than 500. But the telemedicine law signed by Gov. Kay Ivey in April has halted its plans in Alabama. For months, Bicycle Health staff have tried to help patients find local doctors who can prescribe Suboxone, but only about 10 percent found new providers.
Look, I am insufficiently expert to know if having one in-person visit is vital or not. On the one hand, it sounds reasonable. On the other, it is my experience that when it comes to doctor's appointments linked to medication maintenance, the visit is wholly about talking, so whether one is in the same room or not seems to matter little.
In general, I think that the attitude about addiction is that since it is self-destructive (and often linked to consuming illegal substances) addicts are not fully worthy of treatment (indeed, many think they should simply be punished).
While early in my life I took a prohibitionist view of certain substances, I change my mind pretty quickly when I actually confronted the subject in research and teaching (while I do not focus on the politics of the drug war, per se, it hard to study Colombia* and to teach courses on US-Latin American relations without dealing with the drug war). Without any doubt, the cost of treating the abuse of drugs as a "war" is a waste of money. It does not result in the desired outcomes and it costs one heck of a lot of money.
So, rather than a war paradigm, I have long advocated for a public health approach. And while there has been some progress in these areas, as the above notes, we still are too focused on the worthiness of those receiving help instead of just figuring out the best ways to reduce the effects of addiction.
---
*The amount of money the US poured into fighting the cocaine trade in Colombia, to mention Peru and elsewhere in the region, is obscene, especially when one looks at the lack of efficacy of the policies and the very real collateral damage it created.