COVID Overwhelming ICU Beds
It's happening again. This time, it was easily preventable.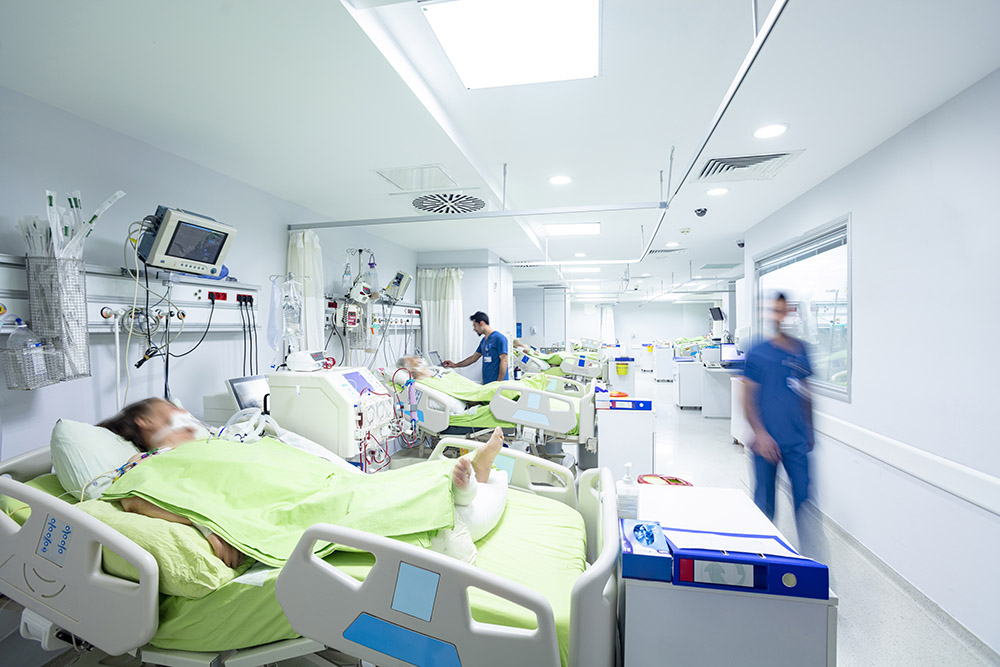 Yesterday evening, the Washington Post get around to a story ("Alabama man dies after being turned away from 43 hospitals as covid packs ICUs, family says") that's been circulating elsewhere for a couple of days:
When Ray DeMonia was having a cardiac emergency last month, his Alabama family waited anxiously for a nearby hospital with available space in its intensive care unit.

But in a state where coronavirus infections and unvaccinated patients have overwhelmed hospitals in recent months, finding an available ICU bed was an ordeal. It was so difficult, his family wrote this month, that the hospital in his hometown of Cullman, Ala., contacted 43 others in three states — and all were unable to give him the care he needed.

DeMonia, who was eventually transferred to a Mississippi hospital about 200 miles away, died at 73 on Sept. 1 — three days shy of his birthday.

Raven DeMonia, his daughter, told The Washington Post on Sunday that it was "shocking" when the family was told that dozens of ICUs were unable to treat her father.

[…]

Jennifer Malone, a spokeswoman for Cullman Regional Medical Center, confirmed to The Post that Ray DeMonia was "a patient in our care and was transferred to a different facility." She declined to offer specifics of his situation, citing privacy reasons.

"The level of care he required was not available at Cullman Regional," Malone said.

DeMonia's case comes as Alabama hospitals grapple with a lack of ICU resources amid a surge in patients — many of whom are unvaccinated. Scott Harris, head of the Alabama Department of Public Health, said Friday that while the state's increase in hospitalizations appears to have stabilized, there are still more patients who need ICU care than there are available beds.

"We continue to have a real crisis in Alabama with our ICU bed capacity," Harris said at a news conference, adding that there were about 60 more ICU patients than there were open beds in the state last week.

Nearly 2,800 people in the state were hospitalized with covid-19 on Sunday, including 768 in the ICU, according to data compiled by The Washington Post. The number of total hospitalizations over a seven-day average decreased by 4 percent compared with the previous period. Although Alabama is averaging 3,641 new infections a day, that is also an improvement compared with its latest seven-day average for daily cases.

Vaccinations are also up, but with just 40 percent of residents fully immunized, Alabama still has the fourth-lowest vaccination rate among all states — ahead of Idaho, West Virginia and Wyoming, according to tracking by The Post.

After President Biden promised last week to use his power to circumvent the actions of Republican governors and elected officials who were "undermining" pandemic-relief efforts, Alabama Gov. Kay Ivey (R) challenged the president to "bring it on." Ivey, who has pushed for the unvaccinated to get their shots but said the state would never mandate it, allocated $12 million in federal funding this month to bring travel nurses to Alabama hospitals experiencing staffing shortages, such as the ones that DeMonia's family encountered.
The juxtaposition of idiot politicians grandstanding on the vaccine issue, an out-of-control pandemic that's easily controllable, and the death of someone from another disease who might otherwise have been saved is hard to take. It's the very thing that many of us have been warning about—huge negative externalities being imposed by the politicization and scaremongering over the vaccine and, indeed, the virus itself.
It's not just one 73-year-old man in Alabama, either. There are several similar cases.
CBS ("Veteran dies of treatable illness as COVID fills hospital beds, leaving doctors 'playing musical chairs'," August 27):
When U.S. Army veteran Daniel Wilkinson started feeling sick last week, he went to the hospital in Bellville, Texas, outside Houston. His health problem wasn't related to COVID-19, but Wilkinson needed advanced care, and with the coronavirus filling up intensive care beds, he couldn't get it in time to save his life.

"He loved his country," his mother, Michelle Puget, told "CBS This Morning" lead national correspondent David Begnaud. "He served two deployments in Afghanistan, came home with a Purple Heart, and it was a gallstone that took him out."

Last Saturday, Wilkinson's mother rushed him to Bellville Medical Center, just three doors down from their home.

But for Wilkinson, help was still too far away.

Belville emergency room physician Dr. Hasan Kakli treated Wilkinson, and discovered that he had gallstone pancreatitis, something the Belville hospital wasn't equipped to treat.

"I do labs on him, I get labs, and the labs come back, and I'm at the computer, and I have one of those 'Oh, crap' moments. If that stone doesn't spontaneously come out and doesn't resolve itself, that fluid just builds up, backs up into the liver, backs up into the pancreas, and starts to shut down those organs. His bloodwork even showed that his kidneys were shutting down."

Kakli told Begnaud that his patient was dying right in front of him. Wilkinson needed a higher level of care, but with hospitals across Texas and much of the South overwhelmed with COVID patients, there was no place for him.

Kakli recalled making multiple phone calls to other facilities, only to get a lot of, "sorry … sorry … sorry," in reply. Places had the specialists to do the procedure, but because of how sick he was Wilkinson needed intensive care, and they didn't have an ICU bed to put him in.
He was 46.
KLTV 7 ("Man dies waiting for ICU bed, family says," August 27):
Close friends and family say a 44-year-old man died unexpectedly waiting for a hospital ICU bed to open up.

Robert Van Pelt was hospitalized for an issue unrelated to COVID-19, but because COVID patients are taking up so many hospital beds, his friends and family told KWCH-TV he wasn't able to get the immediate care he needed.

They warn dying while waiting on a hospital bed is a reality as hospital occupancy is officially at dangerous levels.

"There are a lot of people who don't believe the hospitals are full. It's really hard to listen to when one of my friends' husband was lying in a hospital dying, because he couldn't get the treatment he needed, because the beds were full," said family friend Liz Hamer, speaking on behalf of Van Pelt's family.

[…]

Van Pelt died waiting three days for a bed in the ICU as unvaccinated patients overwhelmed rooms across the state, his family said. Kansas hospitals reached out to 20 states, trying to find just one available ICU bed. However, there wasn't a single ICU bed open and emergency rooms were full.

"The family will never know if having an open hospital bed or open neuro ICU beds, specifically, in any of the 20 states where he could have found urgent care, they'll never know if that could have kept him here," Hamer said. "And that's something that's extra hard for them to carry right now."
Three cases in a nation of 330 million barely qualify as anecdotal. But that's not even counting reports like this:
WMC5 Action News Memphis ("Mississippi reports seventh COVID-19 pediatric death as lack of ICU beds continues," September 8):
Mississippi health officials say the state remains in the thick of the Delta surge.

This comes as the state reports another child has died from COVID-19 and there continues to be a lack of ICU beds.

Wednesday, Mississippi reported over 1,900 new cases and 102 new deaths. Ten of those deaths are in DeSoto County.

[…]

Mississippi has now lost seven children to the coronavirus. The state is also seeing a significant number of pregnant women not survive COVID.

"Currently, we're investigating eight reports of pregnant women who have died within the past several weeks, all of whom are unvaccinated," State Health Officer Dr. Thomas Dobbs said.

ICU bed availability continues to be very scarce. As of Wednesday morning, critical care hospitals reported 10 ICU beds available with 202 emergency room holds.

"The bed capacity for ICU space is effectively zero still in the state of Mississippi. We have additional ICU capacity in some hospitals in the state. It could be used, but the problem remains of insufficient staffing," said Jim Craig, senior deputy and director of health protection.
Nor the ones where people are dying from COVID itself, like this one.
Charlotte Observer ("COVID patient dies in Oregon emergency department waiting for ICU bed. 'Very real'," August 20):
A person who tested positive for COVID-19 needed extra medical care.
They went to an emergency room in Oregon, expecting they could get the crucial care they needed. Instead, they died Wednesday in the emergency department because there were no beds available in the medical center's intensive care unit, the staff at the hospital said.

"It had been several hours because other COVID positive patients had filled those beds," staff at CHI Mercy Hospital in Roseburg said in a letter. "Even after expanding ICU care onto other floors, there weren't any beds available for this patient."

The patient died in the emergency department waiting for intensive care, the hospital said. Staff did not identify the patient in the letter they sent to Douglas County officials.
Still, this was not only predictable but predicted. And likely to get worse before it gets better.
Forbes ("In Idaho And Other States, The Delta Covid-19 Surge Is Forcing Hospitals To Ration ICU Beds," September 7):
The Delta surge of Covid-19 is forcing hospitals in parts of the U.S. to plan for or implement rationing of intensive care unit (ICU) beds. On September 6th, Dr. Anthony Fauci, Director of the National Institute for Allergy and Infectious Disease, said that as hospitals in a number of states fill up with Covid-19 patients, doctors will have to make "tough choices" regarding who will get an ICU bed.

In a growing number of states, doctors and hospital administrators are already making these hard decisions. And not just in the South; also in states like Idaho.

Idaho public health officials have enacted what they call "crisis standards of care," as the latest Covid-19 surge overwhelms hospitals, particularly in the Northern part of the state. State officials have warned that some patients there may not be able to get needed care.

The state's crisis standards of care guidelines stipulate that those deemed in most need of care and most likely to benefit are placed on priority lists for scarce resources, such as ICU beds. This means that if a patient requires ICU care, someone else may have to be removed from a ventilator to make room.

What this implies is that these hospital decision-makers and physicians will be placed in the uncomfortable role of being the ones rationing care, effectively granting death sentences to some. Not every Covid-19 patient can be helped, and this will also include non-Covid-19 patients as lack of ICU space applies to them as well.

The problem of hospitals bumping up against capacity constraints certainly isn't limited to Idaho. In at least six states – Alabama, Arkansas, Florida, Georgia, Mississippi, and Texas – more than 90% of ICU beds are occupied. In some states, such as West Virginia, several hospitals have no ICU beds available. Neighboring states, including Kentucky, have declared crises are imminent. Kentucky's Governor Beshear asserted that the state's "situation is dire." Even Hawaii, a highly vaccinated state, is preparing for possible rationing action as the Delta wave intensifies. Last week, Governor Ige signed an executive order releasing hospitals and healthcare workers from liability if they must ration healthcare.
Tri-Cities [Washington] Herald ("Sickest patients overflowing ICU at Tri-Cities largest hospital. Almost all unvaccinated," September 9):
The Tri-Cities largest hospital is looking closely at how to ration its intensive care unit beds, as ICU patients are overflowing into other departments due to COVID-19.

On some days every staffed bed in the intensive care unit at Kadlec Regional Medical Center is used for a COVID patient, said Dr. Phani Kantamneni, medical director of the Kadlec ICU at a news briefing of the Benton Franklin Health District on Thursday.

Already the state of Idaho has taken the unprecedented step of activating its crisis standards of care for parts of the state, requiring rationing of hospital care because of a lack of beds and staff solely due to the impacts of COVID, said Dr. Amy Person, health officer for Benton and Franklin counties.

Beds and equipment are not available for all patients admitted to hospitals, the Idaho Department of Health and Welfare said earlier this week.

Already at Kadlec surgical cases are being canceled each day and some patients ill enough to need ICU care are instead being treated in the post-operative ward or the emergency department because the ICU is full, Kantamneni said.

Demand for intensive care unit treatment at Kadlec has continued to increase over the last few weeks, with 60% to 100% of staffed ICU beds occupied by COVID-19 patients, he said.

At one time last week the ICU had 21 patients on mechanical ventilators, all of them COVID patients, he said.

And he said the ICU is treating more people ages 20 to 50 for COVID than elderly people, a shift from a year ago in the pandemic.

"Almost everyone that is sick enough to come to the ICU and be on the mechanical ventilator is unvaccinated," Kantamneni said.
Not surprisingly, these reports are sparking obvious backlash, with even medical ethicists flat out of patience.
Nancy Gibbs, the director of the Shorenstein Center on Media, Politics and Public Policy at Harvard University, "Do the unvaccinated deserve scarce ICU beds?" (WaPo, September 1):
Compassion fatigue is a rising condition, as public sympathy for unvaccinated covid-19 patients sinks beneath the weight of news reports. Need brain surgery? Better not live in Gulfport, Miss., where brain and heart surgeries are being postponed at one hospital for lack of intensive care unit beds. Need an ambulance? Wait times are spiking as multiple hospitals go on "critical care bypass" and first responders have to drive farther to find space.

No surprise, then, to see the backlash, including the Alabama doctor who announced that he would not treat patients who refused to get vaccinated, after Gov. Kay Ivey (R) said "it's time to start blaming the unvaccinated folks" for the jump in cases. Social media hosts the bloodless celebration of celebrities who wind up in the ICU or the morgue, such as Tennessee radio host Phil Valentine, who once made a song mocking vaccines, and whose death from covid inspired responses along the lines of "#COVIDiots thanks for playing the natural selection game." The less and less "silent majority" from business leaders to health-care workers to much of Blue America, leans toward making the unvaccinated pay for holding everyone else hostage.

But even as the culture wars rage over masks and mandates, access to health care adds a new dimension. ICU beds are a finite resource; so is time, and this is a zero-sum game. Hallways, conference rooms and cafeterias are being turned into covid wards, but what happens when the ambulance pulls up with a stroke victim, the clock is ticking and there's no space left? "We're going to have to choose who gets care and who doesn't get care," says New Mexico Health and Human Services Secretary David Scrase of the state's looming crisis, "and we don't want to get to that point."
We are, alas, at that point.