Administrative Bloat at America's Colleges and Universities
One major factor in the skyrocketing cost of a college education in America is a huge increase in overhead costs.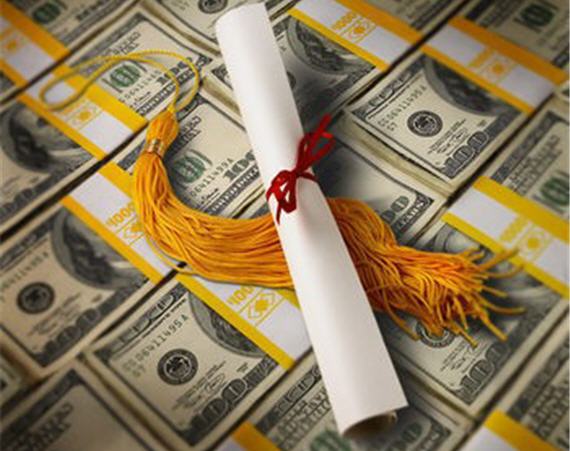 One major factor in the skyrocketing cost of a college education in America is a huge increase in overhead costs.
WSJ ("Deans List: Hiring Spree Fattens College Bureaucracy—And Tuition"):
A Wall Street Journal analysis of University of Minnesota salary and employment records from 2001 through last spring shows that the system added more than 1,000 administrators over that period. Their ranks grew 37%, more than twice as fast as the teaching corps and nearly twice as fast as the student body.

Across U.S. higher education, nonclassroom costs have ballooned, administrative payrolls being a prime example. The number of employees hired by colleges and universities to manage or administer people, programs and regulations increased 50% faster than the number of instructors between 2001 and 2011, the U.S. Department of Education says. It's part of the reason that tuition, according to the Bureau of Labor Statistics, has risen even faster than health-care costs.

[…]

At Minnesota, tuition and fees for state residents have more than doubled in a decade, to $13,524. That far exceeds the average at four-year public colleges of $8,655, which also represents a doubling, according to the College Board. Private-college tuition averages $29,056, but has risen more slowly.

For students, the effect is striking. In 1975, a University of Minnesota undergraduate could cover tuition by working six hours a week year-round at a minimum-wage job, the Journal calculated. Today, a student would have to work 32 hours at minimum wage to cover the cost.

[…]

The bureaucracy finds numerous ways to spend money. Officials have spent millions planning a not-yet-built residential community 20 miles from the University of Minnesota Twin Cities campus designed in part to showcase sustainable energy and environmental stewardship.

Administrative employees make up an increasing share of the university's higher-paid people. The school employs 353 people earning more than $200,000 a year. That is up 57% from the inflation-adjusted pay equivalent in 2001. Among this $200,000-plus group, 81 today have administrative titles, versus 39 in 2001.

Administrators making over $300,000 in inflation-adjusted terms rose to 17 from seven.

Many forces besides administrative overhead add to universities' cost pressures, among them health-care and retirement expenses. And among the administrative spending, some is unavoidable, such as that owing to federal rules requiring greater spending to oversee research grants or accommodations for students with disabilities.

Schools also compete—by necessity, they say—to offer fancier dorms, dining halls, gyms and other amenities, to raise their rankings and attract students. "It's a competitive business, and institutions compete for students the same way Lexus and Mercedes compete for car buyers," says Paul Lingenfelter, executive director of the State Higher Education Executive Officers Association.

To compete, schools have stepped up borrowing for construction. Total debt at public four-year colleges more than tripled between 2002 and 2011, to $88 billion, according to the Department of Education. At the University of Minnesota, the yearly cost of servicing debt more than doubled to $106 million in that time.

For decades, public universities were somewhat insulated from financial rigor by steadily increasing state funding. That has slowed or stopped in many states in tight budgetary times. Minnesota's government last year contributed $570 million to university operations, which was about the same as in the 2003-04 school year despite inflation and roughly 10% increased enrollment.
It's not really shocking that colleges have experienced administrative creep. In any organization, those who directly report to and support the boss are in the best position to argue for more staff. Deficiencies in fundraising or personnel management impact the whole organization and are easily seen by the key decision-makers, whereas weaknesses at the department level are more isolated. A college president will be much more acutely aware of a failure to meet a reporting deadline or being out-competed by rival schools in some key area than a lack of expertise to teach classes in some sub-subfield of some academic discipline. So, it'll always be easier for the Vice President for Institutional Advancement or Director of Admissions to secure a new staff line than the head of the biology or modern languages department.
Additionally, a changing regulatory environment and other external pressures contribute to the problem:
In its Office of Equity and Diversity, the number of people with "director" in their title grew to 10 in the 2011-2012 school year from just four directors five years earlier, by a university official's count.

Growth in the diversity office is an attempt to make the campus "more inclusive and more welcoming to people of different backgrounds," Dr. Kaler says.
Forty years ago, one presumes the university had no Office of Equity and Diversity. Now, it's a burgeoning enterprise. And, bureaucracies being what they are, one suspects the Office will continue to grow long after its original purpose has been fulfilled.
Caution fed bureaucratic growth after the school agreed to pay the federal government $32 million in 1998 to settle allegations relating to sales of an unlicensed transplant drug. The school acknowledged mismanagement of grant funds, and the National Institutes of Health put its grant applications under special scrutiny, creating research delays and faculty departures.

To prevent a repeat, officials imposed "fairly onerous bureaucratic processes," said R. Timothy Mulcahy, vice president for research. He said the university "evolved a very, very risk-averse, very, very conservative culture."
As institutions become more dependent on government and foundation grants, they eventually have to create a bureaucracy to manage the process, which is is complex and onerous enough that it can't be freelanced by even highly intelligent professionals in other fields. A physics professor simply doesn't have the expertise to navigate the reporting and other compliance requirements of the manifold grants he's managing. Further, as the institution attracts enough grants, threshold requirements kick in that individual grant holders would be completely unaware of.
While adding additional administrative staff is initially helpful to the organization, bringing substantial benefits to the core operators that they might not even be aware of, eventually the layers of bureaucracy escalate the cost of doing business:
Several years ago, Russell Luepker, a professor of epidemiology at the school of public health, sought reimbursement for a $12 parking bill. The form went from a secretary to the head of his department to an accountant who entered it in a computer to a senior accountant responsible for approving it. Richard Portnoy, chief administrative officer in the epidemiology department, estimates it cost $75 to move the paperwork. When Dr. Luepker heard of it, he stopped filing for parking reimbursements.
Of course, if everyone follwed Dr. Luepker's example, the school would save money! But most will naturally expect to be reimbursed for expenses incurred carrying out school business.
Note, too, that while the focus of the article is on the explosion of administrative staff, massive increases in physical plant, retirement pensions, and health care costs are mentioned as asides. They're huge costs and very difficult to contain.
While fancy dorm rooms and dining halls strike those of us who went to school in a more austere time as absurd luxuries, the fact of the matter is that the major universities compete with one another for the best students and athletes. If Wisconsin-Madison has substantially more impressive facilities than Minnesota-Minneapolis, outstanding students torn between the two schools will naturally gravitate toward the former. If Ohio State has better football dorms or practice facilities or locker rooms than Michigan or vice-versa, they'll have a substantial recruiting advantage over their rival. It's essentially an arms race.
Unless and until we move to a single-payer healthcare system, removing the burden from employers, institutions that depend on a quality workforce will continue to be faced with escalating costs that have nothing to do with their core mission. (That's true in other sectors of the economy as well, of course, especially those in competition with overseas firms not similarly burdened.)
Similarly, so long as people retire at a relatively young age and draw a pension from their former employer for decades after they've left, institutions will be dragged down by those costs. Alas, universities are indirectly dealing with that in the worst possible way: by hiring temporary workers rather than full-time professionals to do their core mission, teach students.
Indeed, that's the irony here: as with many institutions, the easiest place in higher education to hold down costs is by scrimping on what is ostensibly the main thing the institution does. With state tax dollars going away and costs going up, college presidents are adding highly paid staff to go after outside funds. Meanwhile, they're closing entire academic departments if they're seen as revenue losers and being very frugal in replacing departing faculty with tenure-track hires.