After A Bizarre Day, Rangel Ethics Trial Ends
There was bound to be entertainment during Charlie Rangel's Ethics Committee hearing, and the Harlem Congressman did not disappoint this morning.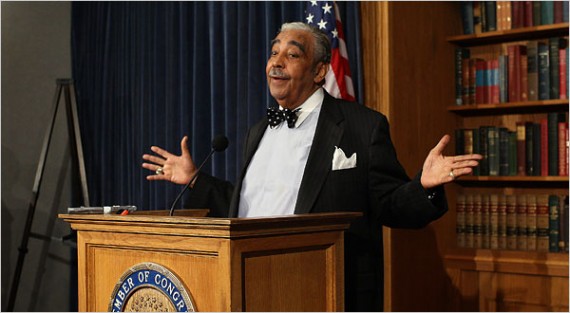 I suppose we should have expected that Charlie Rangel would make a splash at the House Ethics Committee hearing on the 13 charges against him, and Rangel certainly didn't disappoint:
Rep. Charles B. Rangel (D-N.Y.) pleaded with a House panel Monday to delay his long-awaited public trial on corruption charges, saying he needed time to find a new lawyer, but his request was rejected and the session went ahead without him.

The panel later deemed the charges against Rangel to be "uncontested" and decided to deliberate on them, dispensing with the trial phase of the case.

In the hearing, conducted by an eight-member panel of Rangel's congressional peers, Rangel faced allegations that he broke congressional rules in his personal finances and his fundraising efforts for a New York college. He and his previous legal team parted ways last month.

"I object to the proceeding," Rangel told the House panel. "With all due respect, since I don't have counsel to advise me, I'm going to have to excuse myself from these proceedings."

He said he cannot afford a lawyer at present because his campaign account has been depleted.

The panel later went into a three-hour closed session and emerged to announce a unanimous decision to end the trial phase, moving into deliberations on the 13 counts of Rangel's alleged violations.

Rep. Zoe Lofgren (D-Calif.), who chairs the full House ethics committee, said the panel found that the case presented by committee staff, including 549 exhibits, would be considered "uncontested factual record." She said the eight lawmakers now would deliberate and vote on the 13 counts. "No material fact is in dispute," Lofgren said.

The panel needs to find "clear and convincing evidence" that a violation has occurred, she noted. The next phase of deliberations will occur in private with no time limit. A public declaration will come once the panel members have voted on all 13 counts. Any finding of guilt will be sent to the full ethics committee, which is in charge of administering sanctions against Rangel.
Here's video of part of Rangel's bizarre monologue:
It was an absurd argument, of course. Rangel has been aware of these charges for two months now, and he's had more than a month to get new counsel since his first set of attorneys announced that they were withdrawing from representation, apparently due to the fact that Rangel was unable or unwilling to pay the trial fee that they had requested. During that time period he participated in pre-trial correspondence with the committee and gave no indication that he was unwilling to represent himself at today's proceedings. There was really no question that his request for a delay was going to be denied, and his decision to walk out of the hearing was little more than grandstanding, albeit grandstanding that probably played well with the constituents back home who have apparently bought into his characterization of himself as a victim.
There's no telling how long it's going to take the Ethics Committee to reach a decision here, although we'll presumably hear something before the end of the lame duck session. In the end, though, I doubt Rangel is any serious danger of being expelled from the House at this point. At most, he'll get a Congressional censure. And, if he decides to run for re-election in 2012, he'll probably be re-elected.
There's something wrong about that, but frankly the blame lies as much with the voters in Rangel's district as it does with the Congressman.