Ethics Committee Recommends Censure For Charlie Rangel
Less than expulsion, but more than a slap on the wrist. The House Ethics Committee recommends that New York Congressman be censured for cheating on his taxes and breaking the rules of Congress.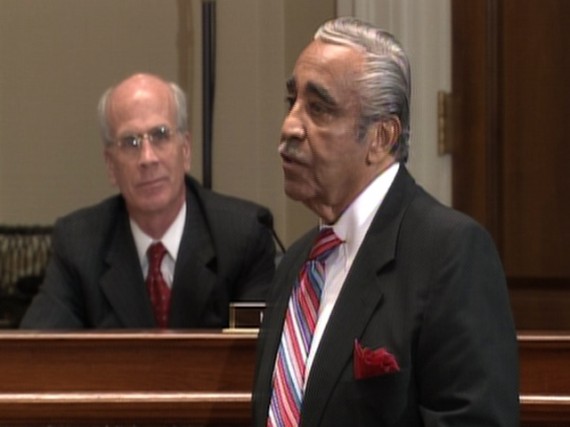 If the full House of Representatives follows the recommendation of the House Ethics Committee, Charlie Rangel will become the first member to be censured in 27 years:
Despite an impassioned, tearful apology and a plea for leniency, Rep. Charles B. Rangel on Thursday became the first House member in nearly three decades to be recommended for censure.

The House ethics committee voted 9 to 1 in favor of censuring Rangel (D-N.Y.), who was found guilty this week of 11 violations of House rules, including improperly using his office to raise money and failing to pay taxes.

Censure, which is just below expulsion, is the second most serious punishment the House can impose on a member. The recommendation will next go to the full chamber, which will probably vote the week after Thanksgiving and is expected to endorse the committee's decision.

Three months ago, Rangel dared the committee to "fire your best shot" and said he was confident that he would be cleared of the charges.

He took a much different approach Thursday as he implored the panel to preserve his dignity and to declare that he is not "a crook."

"I just hope no matter what you decide in the sanctions, that you put in that report Charles Rangel never sought any personal gain," said the former chairman of the powerful Ways and Means Committee.

Rangel made one final request – that the ethics report to the full House take note that he was not found guilty of corruption.

"That would be of great help," he said.

The conviction covers four areas of unethical behavior, the committee ruled. Rangel, 80, was found to have improperly used his congressional staff and official letterhead to solicit donations from corporate charities and chief executives for a college wing named in his honor, contributions that soared into six- and seven-figure range once he became chairman of the tax-writing committee. The committee also found that he violated New York City rules by housing his political committees in rent-controlled apartments in Harlem, did not pay taxes on a villa he owns in the Dominican Republic, and did not properly disclose hundreds of thousands of dollars in personal financial assets.

After spending about $2 million on two teams of lawyers, Rangel had paid five years of back taxes on the villa. The committee ordered him to do more and make restitution on more than a decade's worth of taxes and interest.

If the full House supports the ethics panel's recommendation, it will be the first censure since two congressmen were found to have had sexual relationships with congressional pages in 1983.

Rangel would still be sworn in for his 21st term Jan. 5. But many of his colleagues said Thursday that this once formidable, even revered, lawmaker, who has served nearly four decades in the House and who was one of the co-founders of the Congressional Black Caucus, will never regain his stature.
While some will criticize censure as a slap on the wrist, it's far more severe than the reprimand that Rangel was no doubt hoping for. Moreover, it's not clear that the evidence against Rangel rises to the level needed to justify expulsion. Unlike James Traficant, for example, there are no criminal charges pending against Rangel at this point. Therefore, it's not entirely surprising that the committee went this route. Additionally, if Rangel is censured, it's unlikely that he'd regain his spot as ranking member on the Ways & Means Committee as well as much of the influence that he once wielded on Capitol Hill. Whether that leads him to step aside is something only time will tell.