Charles Rangel Facing Ethics Charges
Charles Rangel, who recently stepped aside as Chairman of House Ways And Means Committee, is facing ethics charges.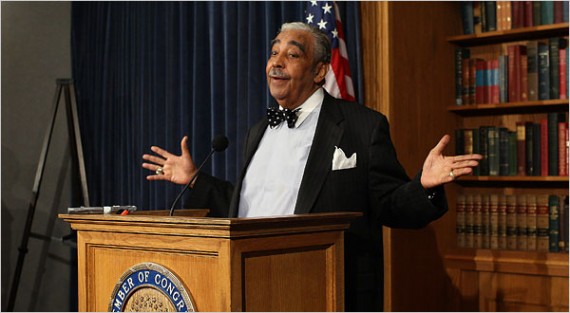 Charles Rangel, a member of Congress who's represented Harlem since 1971, has been formally charged with violating House ethics rules:
WASHINGTON — A House investigative panel has found "substantial reason to believe" that Representative Charles B. Rangel violated a range of ethics rules, dealing a serious blow to Mr. Rangel, a Harlem Democrat, in the twilight of his political career.

The finding means that he must face a public trial before the House ethics committee, the first member of Congress to be forced to do so since 2002, when Representative James A. Traficant Jr. was expelled from Congress after a corruption conviction.

The investigative panel did not disclose any details about the nature of the violations.

But two Democrats with knowledge of the investigation said the committee found evidence to support accusations that Mr. Rangel, 80, wrongly accepted four rent-stabilized apartments in Manhattan and misused his office to preserve a tax loophole worth half a billion dollars for an oil executive who pledged a donation for an educational center being built in Mr. Rangel's honor.

The committee also found evidence to support a charge that Mr. Rangel failed to report or pay taxes on rental income from his beachfront Dominican villa.

They are among the most serious of the assortment of charges against Mr. Rangel that the panel has been examining for nearly two years.
Indeed, since those are the charges that could potentially lead to criminal charges down the road.
This is one that's been a long time coming. Rangel is the type of Congressman who's managed to find a way to profit off of his time in office, and he's never seem the least bit ashamed of the fact that he lives in relative luxury while his constituents live in some of the most crowded housing projects in New York City. Several years ago, for example, when stories broke about Members of Congress using taxpayer funds to lease or purchase luxury vehicles, Rangel said his constituents expected him to drive around in a fancy car:
Congressman Charles Rangel was recently seen getting out of his Cadillac DeVille, which he leases for $774 per month.

(…)

Rangel spoke to CBS 2 HD by phone about the seemingly extravagant expenses being racked up on the taxpayers' dime:

CBS 2 HD: "How would you answer those people who say, 'Well, but it's taxpayer money. Instead of $700 a month, could you find something for, say, $300 a month?'"

Rangel: "I could probably find something for … one of those red cars and then I think my constituents would say, 'With all the money that he gets, this is the respect he shows us?'"
And, you know, I think he really believes that.
In addition to the Ethics Committee hearing, Rangel also faces an electoral test in September. For the first time in a long time, Rangel is opposed in the Democratic Primary. His opponent is Adam Clayton Powell IV, son of Adam Clayton Powell, Jr.* who had preceded Rangel in Congress. Ordinarily Rangel would be a shoe-in for re-election, and he may well still be, but the combination of these ethics charges and this political year certainly provides Powell with an opportunity he wouldn't have had otherwise.
Rangel, though, doesn't seem all that worried, as this confrontation with MSNBC's Luke Russert (who displayed a bit of his dad's talent for putting politician on the spot) shows quite clearly:
Visit msnbc.com for breaking news, world news, and news about the economy
That's Charlie Rangel, arrogant to the end.
_________
*(James Joyner):  Powell Jr. had two sons named after him, ACP III (b. 1946) and Adam Clayton Powell Diago (b. 1962), with different mothers.  The latter changed his name to ACP IV 30 years ago.   Adding to the confusing, ACP III had a 10-year-old a son (b. 1970) named ACP IV at the time of Diago's name change.