After Two Solid Months, January Brings A Decidedly Mediocre Jobs Report
January's Jobs Report was nothing to write home about.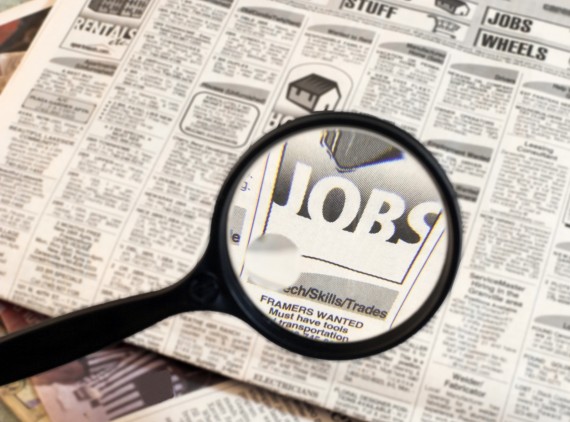 After two months of solid employment reports, the January Jobs Report came back with numbers that were somewhat disappointing when it comes to jobs growth, and which put both Federal Reserve policy and the state of the economy going forward into question:
Total nonfarm payroll employment rose by 151,000 in January, and the unemployment rate was little changed at 4.9 percent, the U.S. Bureau of Labor Statistics reported today. Job gains occurred in several industries, led by retail trade, food services and drinking places, health care, and manufacturing. Employment declined in private educational services, transportation and warehousing, and mining.

Among the major worker groups, the unemployment rates for adult men (4.5 percent) and Whites (4.3 percent) declined in January. The jobless rates for adult women (4.5 percent), teenagers (16.0 percent), Blacks (8.8 percent), Asians (3.7 percent), and Hispanics (5.9 percent) showed little change over the month. (See tables A-1, A-2, and A-3.)

(…)

Total nonfarm payroll employment increased by 151,000 in January. Employment rose in several industries, led by retail trade, food services and drinking places, health care, and manufacturing. Private educational services and transportation and warehousing lost jobs. Mining employment continued to decline. (See table B-1 and summary table B. See the note at the end of this news release and table A for
information about the annual benchmark process.)

(…)

The average workweek for all employees on private nonfarm payrolls rose by 0.1 hour to 34.6 hours in January. The manufacturing workweek edged up by 0.1 hour to 40.7 hours, and factory overtime was unchanged at 3.3 hours. The average workweek for production and nonsupervisory employees on private nonfarm payrolls was unchanged at 33.8 hours. (See tables B-2 and B-7.)

In January, average hourly earnings for all employees on private nonfarm payrolls increased by 12 cents to $25.39. Over the year, average hourly earnings have risen by 2.5 percent. In January, average hourly earnings of private-sector production and nonsupervisory employees rose by 6 cents to $21.33. (See tables B-3 and B-8.)
The New York Times coverage notes the rise in wages, and the fall in the U-3 rate to argue that the report is mostly good news despite the decline in job growth:
The American economy's jobs machine cooled in January, but still performed well enough to push unemployment to an eight-year low and deliver some much-needed wage gains for ordinary workers.

The Labor Department said Friday that payrolls rose by 151,000 in January, a falloff from the year-end sprint that helped make 2015 the second-best year for job creation since the late 1990s. The slowdown makes it more likely that the Federal Reserve will not raise rates again when it meets next month.

"I don't think 151,000 jobs added last month takes a Fed rate hike off the table this year, but it probably does push the next one off until June at the earliest," said Scott Anderson, chief economist at Bank of the West in San Francisco.

Given the outsize gains late last year, as well as much colder weather last month after the warmest December on record, some payback in January was to be expected.

"The headline number was a bit of a disappointment but not too bad, and the rest of the report suggests steady improvement," said Michael Hanson, a senior economist at Bank of America Merrill Lynch. "The financial markets are leery, but the labor market still looks like it's continuing to grow."

Indeed, investors have lately been edgy, concerned about weakness in China, plunging oil prices and a series of reports suggesting the American economy may have hit an air pocket in recent weeks.

The latest figures on the job market — plus a slight fall in the unemployment rate to 4.9 percent, from 5 percent in December — suggest that some modest strength persists. January was the first time since February 2008 that the unemployment rate fell below 5 percent, just before the collapse of Bear Stearns set the stage for the financial crisis.

To be sure, markets are famously mercurial, foreseeing recessions that never come to pass and assuming the good times will go on right up until the music stops.

"We don't think the economy is sliding into a recession," said Michael Gapen, chief United States economist at Barclays. "We do think the unemployment rate will continue to drift lower and that will support wage growth."

Last month, average hourly earnings rose by 0.5 percent, leaving wages up 2.5 percent over the last 12 months. That was the best showing since January 2015 and suggested some of the benefits from the falling unemployment rate were beginning to flow to ordinary workers.

"That gain in average hourly earnings is significant," said Diane Swonk, an independent economist in Chicago. "That's not strong enough, but it's a move in the right direction and that's reassuring."

(…)

All of these crosscurrents — steady hiring but anxious markets, falling unemployment but flat wages — underscore the delicate task now facing the Fed.

The central bank raised short-term interest rates in December, confident that the economy could withstand the impact of a quarter-point tightening in monetary policy after almost a decade of near-zero rates.

But the sell-off in global stock markets, as well as disappointing retail sales and a gloomier trade balance, have prompted some experts to conclude that the Fed will not move again until summer at the earliest.

Ms. Swonk said the report for January has ammunition for Fed officials who favor a rate-tightening sooner rather than later, as well as those who are more dovish. The jump in average hourly earnings last month might be evidence that wage pressures are building, ultimately triggering more inflation, while the slowdown in payroll growth is an indicator that the economy is nowhere near overheating.

The overall picture in Friday's report obscures spots of real strength, along with some real pain.

Sectors tied to the domestic economy, like retail, education and health care, restaurants and professional services, are performing well. Businesses linked closely to export markets or the energy industry, on the other hand, are suffering.
Many people, no doubt, will focus on the fact that the top-line unemployment rate dropped below 5.0% for the first time since February 2008, but it's worth noting that there are several caveats to that number. For one thing, the long-term unemployment rate, which economists consider a far better measure of the state of the labor market than the top line U-3 number remains at 9.9%, well above what is generally considered full employment. This suggests that there remains a lot of slack in the labor market that isn't being taken up, and that ongoing uncertainty elsewhere in the economy may cause employers to be cautious about new hiring. Additionally, the number of people not in the labor force rose by 360,000 people in one month after having risen by 284,000 the month before. The number people not in the labor force who want a job increased by 461,000, which follows an increase in that number in December of 379,000. Additionally, the report measured some 2.1 million people as "marginally attached to the labor force," meaning that they are not in the labor force, wanted and are available for work, and had looked for a job within the last year. These people are not counted in the topline unemployment rate number. All of this left the labor participation rate at 62.7% and the employment population ratio at 59.6%, both numbers that are at or near historic lows, and suggests that the labor market is not as strong as the topline number would suggest.
Compared to the very good news we got in November and December, this January Jobs Report was disappointing with respect to the jobs growth numbers, but it turns out that the numbers for both of those months have been significantly adjusted in any case. November's numbers were revised upward from 252,000 net jobs created to 280,000 jobs created, but December's numbers were adjusted downward from 292,000 new jobs to 262,000 new jobs, leaving us with a net decrease of 2,000 jobs for that two month period. Additionally, the average job creation number over the past three months stands at 231,000 new jobs, which puts the January figures well below average, and also well below the rough average of 220,000 new jobs created during the 2015 calendar year. To the extent that there is good news in these numbers, it can be seen in the hourly earnings and average workweek figures, but even those figures suggest that we remain in an economy where employers find that they are able to get by with the work force that they have and suggests that significant new hiring may not be around the corner.
Hanging over all of this, as The Wall Street Journal notes, is the issue of where the Federal Reserve may go from here:
Friday's jobs report likely leaves Federal Reserve officials in a "watchful waiting" mode as they consider whether to lift short-term interest rates at their next policy meeting in March.

Growth in employment was expected to slow down after hefty increases late in 2015. Thereported increase of 151,000 jobs in January was a bit less than Wall Street analysts expected, but still enough to absorb new entrants into the labor force and reduce economic slack.

Fed Chairwoman Janet Yellen, in testimony to the Joint Economic Committee of Congress in December, said the economy needed to produce fewer than 100,000 jobs a month to absorb new entrants into the labor force and stabilize unemployment.

Fed officials were expecting a slowdown. Payroll gains averaged 279,000 a month in the fourth quarter, too much for an economy that was barely growing.

Loretta Mester, president of the Federal Reserve Bank of Cleveland, said Thursday, "I wouldn't be surprised if the pace of job gains slowed somewhat, but the gains should be strong enough to put additional downward pressure on the unemployment rate."

Meantime, the jobless rate decline by 0.1 percentage point to 4.9%, its lowest level since February 2008, reinforces the central theme behind the Fed's December rate increase—slack in the job market is diminishing and will eventually lead to more wage and inflation pressure.

A 12-cent increase in average hourly earnings, which lifted wages by 2.5% from a year earlier, underscores that theme. The 2.5% increase is small by historical standards, but shows signs of lifting.

Fed officials will be wary of moving in March after the market turbulence of recent weeks. Economic growth was slow in the fourth quarter and appears to be off to a slow start in the first. Officials will want to look at more data in coming weeks to assess whether a slowdown is taking place or, instead, if the trend of 2% annual economic growth remains intact.
Combined with the relatively weak economic growth in the last quarter of 2015 and the ongoing economic uncertainty in China, this at best fair jobs report arguably adds to the reasons for Federal Reserve caution when it comes to raising rates for fear that increasing those rates at too fast a rate could slow the economy too far too fast. The Fed, however, seems committed to a gradual increase in its main interest rates over the coming year and it is apparent that only a drastically bad set of economic data may deter them from that path. At the point we have that bad data, though, it may be too late to do anything.