Al Jarreau, Jazz Singer Who Spanned Musical Genres, Dies At 76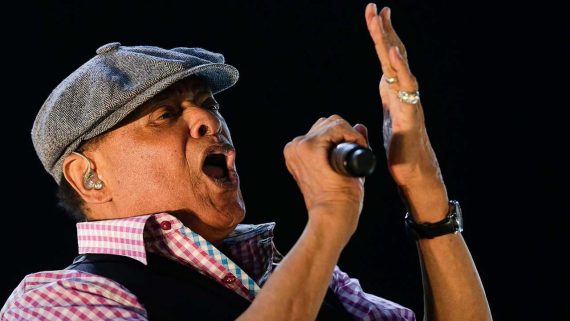 Al Jarreau, a singer whose half-century career spanned a number of musical genres, has died at the age of 76 only days after announcing his retirement from touring:
Al Jarreau, a versatile vocalist who sold millions of records and won numerous Grammys for his work in pop and R&B as well as his first love, jazz, died on Sunday in Los Angeles. He was 76.

His death was announced by his manager, Joe Gordon, who said Mr. Jarreau had been hospitalized for exhaustion two weeks ago.

A preacher's son, Mr. Jarreau started singing in public as a boy but did not begin a full-time musical career until the late 1960s, when he was nearly 30. Before that, he had worked as a psychologist and rehabilitation counselor.

By the 1970s he had became a widely popular jazz singer, touring extensively and appearing often on television. Critics praised his supple voice, his improvisational skill and, in particular, his virtuosic ability to produce an array of vocalizations, ranging from delicious nonsense to clicks and growls to quasi-instrumental sounds.

Over time, Mr. Jarreau's work — both his singing and his original compositions — came to incorporate elements of pop, folk, soul, gospel, rhythm and blues and Latin music. The result was a highly accessible, intensely personal and commercially successful style that defied easy genre classification, though some jazz purists derided it as fusion or, worse still, smooth jazz.

Writing in The New York Times in 1981, Stephen Holden reviewed a concert by Mr. Jarreau at the Savoy in New York. The review encapsulated both the pros and the cons of his singular style

"Al Jarreau may be the most technically gifted singer working in jazz-fusion today," Mr. Holden wrote. Of the evening's performance, however, he continued: "Mr. Jarreau's concert lacked the emotional range of great jazz. He is such a prodigious talent that the absence of even the slightest blues inflections kept his music from cutting deeply."

Mr. Jarreau released more than 20 albums. He won seven Grammy Awards, and it was a mark of his eclecticism that they spanned three different categories: jazz, pop and R&B.

He won a Grammy in 1978 for best jazz vocal performance, for his album "Look to the Rainbow." He won his last in 2007, for best traditional R&B vocal performance; the award was shared by Mr. Jarreau, George Benson and Jill Scott for their collaborative performance, "God Bless the Child."

In between, in 1982, Mr. Jarreau earned a Grammy for best pop vocal performance by a male artist for the title track of his album "Breakin' Away." That year, he also received the Grammy for best jazz vocal performance by a male artist, for his version of Dave Brubeck's "Blue Rondo à la Turk," from the same album.

His other Grammys came in 1979 for the album "All Fly Home" (in the jazz category) and in 1993 for the album "Heaven and Earth" (in R&B).

Alwin Lopez Jarreau was born in Milwaukee on March 12 , 1940 . His father, a minister, was a fine singer; his mother played the piano in church. Young Al began singing at 4, harmonizing with his siblings. As a youth he sang in church, as well as with street-corner harmony groups and local jazz bands.

Mr. Jarreau earned a bachelor's degree in psychology from Ripon College in Wisconsin in 1962, and a master's in vocational rehabilitation from the University of Iowa in 1964. Afterward he moved to San Francisco, where he worked as a rehabilitation counselor for people with disabilities.

But Mr. Jarreau found he could not resist the pull of jazz and before long was singing in small clubs. By the late '60s he had quit his day job and embarked on a nightclub career, first on the West Coast and eventually in New York.

The album advertised as his debut, "We Got By," was released by Warner Bros. in 1975 to critical praise. (A decade earlier, Mr. Jarreau had quietly recorded an album, later released on the Bainbridge label under the title "1965." Though Mr. Jarreau took legal action, without success, to block its belated release in 1982, it is esteemed by jazz connoisseurs today.)

His other albums include "Glow" (1979) and "Accentuate the Positive" (2004).
Jarreau likely hit the peak of his national noteiety in the 1980s when he broke into the Pop charts with several hits that entered into widespread play on radio and led to a hugely successful opportunity to perform before larger audiences than he had in the past. It also led to perhaps his best known contribution to popular culture as the writer and performer of the theme to the mid-80s comedy/drama "Moonlighting," which starred Cybill Shephard and a then newcomer by the name of Bruce Willis as the two heads of an offbeat detective agency with a relationship that eventually ended in romance. Even after that period passed, though, Jarreau continued to tour right up until this year, and it was only a few days ago that his publicist announced his retirement from touring and performing due to health issues.
As with all those like him, Jarreau is survived most importantly by his music.
Here he is singing the "Moonlighting" theme:
;
And here is his performance of "We're In This Love Together," one of his most commercially successful singles: